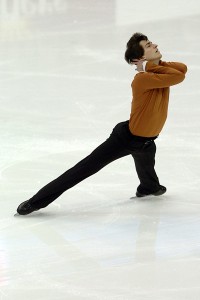 Jonathan Cassar, who made his senior debut at the 2009 U.S. Championships, is proud to open his official Web site at www.figureskatersonline.com/jonathancassar/.
Cassar trains with coaches Julianne Berlin and Jason Dungjen at the Detroit Skating Club in Bloomfield Hills, Mich. His programs are choreographed by David Wilson.
He made his international debut with a seventh place finish at 2008 Coupe de Nice. He also won the bronze medal at the Midwestern Sectional Championships and finished 16th at the U.S. Championships in Cleveland, Ohio.
"My favorite thing about skating is the feeling of it," Cassar said. "The noise your blades make as they carve through fresh ice. The feeling of the cold air against your skin as you move. The feeling and ease and harmony that come over your mind and body. Being able to enjoy each movement and moment for exactly what it is, not focusing on anything else."
Fans can visit his Web site at www.figureskatersonline.com/jonathancassar/.
__________
Figure Skaters Online strives to be an accurate source of information related to the sport of figure skating. To report an error, please e-mail the news editor. Include the article date and title in your e-mail.