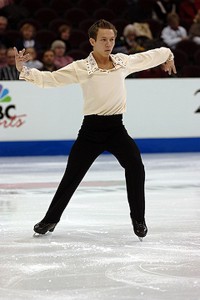 Grant Hochstein is proud to open his official Web site at www.figureskatersonline.com/granthochstein/ as a prelude to his first career appearance on the Junior Grand Prix circuit. Hochstein will compete at JGP Hungary in Budapest, Hungary, Aug. 26-30.
"I'm really happy that I was assigned to Budapest because it was my first choice and I've been scouring the Internet try to find out everything I can about the city," he said. "I have three weeks until I leave and I've been work really, really hard to make sure I'm 100-percent ready."
Last season, he finished first in the junior men's competition at the Midwestern Sectional Championships then won the pewter medal at the 2009 U.S. Championships in Cleveland. He is the 2008 Gardena Spring Trophy Champion.
Hochstein trains under coaches Lindsay O'Donoghue and Maria Moscato in St. Clair Shores, Mich. He represents the St. Clair Shores Figure Skating Club.
"As we move into August I have shifted my focus towards my JGP in Budapest," Hochstein said. "Lindsay and I re-cut my long program to the junior length and I spent over two hours with Jodie [Tasich] rechoreographing sections so that every detail is right."
Fans can visit his Web site at www.figureskatersonline.com/granthochstein/.
__________
Figure Skaters Online strives to be an accurate source of information related to the sport of figure skating. To report an error, please e-mail the news editor. Include the article date and title in your e-mail.