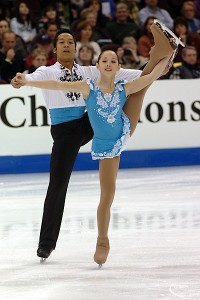 The 2009 U.S. Junior Pairs Champions and 2007 U.S. Novice Pair Champions Tracy Tanovich and Michael Chau are proud to open their official Web site at www.figureskatersonline.com/tanovich-chau/.
Tanovich and Chau, who are ineligible to compete on the Junior Grand Prix and Grand Prix circuits because of their ages, plan to compete as seniors in the 2009-10 season. Their goal is a top eight finish at the U.S. Championships.
The pair has an impressive resume that includes not only two national titles but the 2006 U.S. Championships bronze medal (novice), 2007 Eastern Sectional Championship (junior), 2008 U.S. Championship silver medal (junior) and 2008 Eastern Sectional Championships (junior).
Tanovich and Chau are members of the Southwest Florida Figure Skating Club who train with coaches Jim Peterson, Allison Smith and Lyndon Johnston. Among their training mates are U.S. silver medalists Caydee Denney and Jeremy Barrett as well as pewter medalists Amanda Evora and Mark Ladwig.
Fans of Tanovich and Chau can visit their Web site at www.figureskatersonline.com/tanovich-chau/.
__________
Figure Skaters Online strives to be an accurate source of information related to the sport of figure skating. To report an error, please e-mail the news editor. Include the article date and title in your e-mail.