Josh Farris leads at Junior Worlds
March 1, 2012
No Comments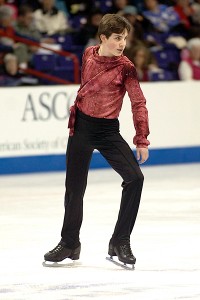 Joshua Farris (USA) grabbed the lead in the Junior Men's Short Program, but China's Han Yan in second and Denis Ten of Kazakhstan in third place are not far behind.
Skating to "Clair de Lune", Farris nailed a triple Axel, a triple flip-triple toe, the required triple Lutz and picked up a level four for his three spins. The 17-year-old scored 75.43 points. "I felt really good about the performance. I think a couple of things could have been better, but overall this was probably my best all year and I couldn't ask for more."
Yan's routine to "Waltz No.2" by Dmitri Shostakovitch featured a triple Axel, triple flip-triple toe combination, triple Lutz and a level-four flying sit spin. The ISU Junior Grand Prix Final silver medalist posted a new seasons best of 74.88 points. "I performed up to my level today and I'm happy with that. The spins could have been a bit better, though. Overall I think the level of the competition is higher than last year", the 15-year-old pointed out.
Ten opened his program to Rachmaninov's Elegie op. 3 with a triple Axel, followed by a triple flip-triple toe and a triple Lutz. But the flying sit was wobbly and the combination spin was graded a level one. The skater from Kazakhstan scored 73.78 points. "I am not too happy with my performance, the spins didn't work out so well. I hope to do better in the free skating", Ten commented. "I want to skate well and in Kazakhstan we didn't have yet a medalist, so it would be nice to win a medal and to do something for the history of Kazakhstan figure skating", he added.
Jason Brown (USA) came fourth at 70.20 points. He turned in a clean performance as well with a double Axel, triple flip-triple toe and triple Lutz. Zhan Bush (RUS) finished fifth after stepping out on his triple Axel (65.21 points) and He Zhang (CHN) placed sixth (64.63 points).