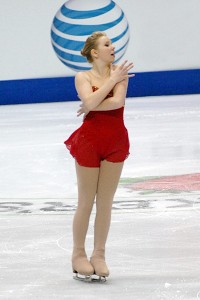 Rachael Flatt has a pair of silver medals from the national championships. When she takes the ice Thursday in Spokane, Wash., for her short program at the 2010 U.S. Championships, the high school senior is looking for the gold medal that eluded her the two previous years.
A consistent performer with a repertoire of triple jumps, Flatt comes into nationals following a silver medal performance at November's Skate America in Lake Placid, N.Y. In the free skate, she nailed seven triple jumps in her "Rhapsody on a Theme of Paganini" program to Kim's three, beating the 2009 World Champion in that portion of the competition, which helps make her a favorite in Spokane.
She was fourth at Cup of China to open the season. "In Beijing, I did not skate as well as I had been practicing so that was certainly a little bit disappointing. But I really learned a lot from that competition and learned where I needed to put more of my practice time, " said Flatt, who was fifth at the 2009 World Championships.
Flatt followed up her silver medal at the 2008 U.S. Championships by winning the World Junior Championship. She finished fourth at October 2008's Skate America, ahead of teammates 2008 U.S. Champion Mirai Nagasu and 2006 World Champion Kimmie Meissner, and then improved to silver at Cup of Russia. She has been continuing her climb since then.
Contenders
• Reigning U.S. Champion Alissa Czisny comes into the nationals following a silver medal performance at Skate Canada in November. She was also fourth at Rostelecom Cup despite a second place short program. Following her win at the national event last year, she was ninth at Four Continents and 11th at the World Championships, struggling to land her jumps cleanly in both events. She earned her first trip to the World Championships in 2007 when she won the nationals free skate to take the bronze.
• Mirai Nagasu knows what it feels like to be on top. At the 2008 U.S. Championships in St. Paul, Minn., Nagasu made the successful leap from juniors to seniors, winning the senior gold medal only a year after claiming the top junior prize. But the next season saw Nagasu struggle with an ankle injury. At the 2009 U.S. Championships, she took the ice in tears, upset by her poor skating, and stumbled to a fifth place standing. She was fifth at Cup of China and fourth at Skate Canada, skating under the direction of her new coach Frank Carroll.
• Current national pewter medalist Ashley Wagner comes into Spokane with a silver medal from the 2009 Rostelecom Cup and bronze from the NHK Trophy, a combination that qualified her for the Grand Prix Final. Wagner, the only American woman to compete at the Final, placed fourth. At the U.S. Championships last year, she won the free skate but could only manage a fourth place finish overall because she was 12th in the short program. Wagner was third at the 2008 U.S. Championships and 16th at the World Championships.
Sleeper
• Olympic silver medalist Sasha Cohen will make her return to competitive skating at the 2010 U.S. Championships after withdrawing from her two Grand Prix events due to injury. She last competed at the 2006 World Championships, where she finished third to American teenager Kimmie Meissner and Japan's Fumie Suguri. Since then, Cohen has kept active in skating, performing with the Stars on Ice tour, but has also dabbled in acting, appearing in both movies and television.
Missing
• Angela Maxwell, eighth in her senior debut at the 2009 U.S. Championships, withdrew from the competition in Spokane due to injury. Earlier this season, she won consecutive silver medals at her Junior Grand Prix events in Hungary and Germany. She was sixth at the Junior Grand Prix Final.
_________
Figure Skaters Online strives to be an accurate source of information related to the sport of figure skating. To report an error, please e-mail the news editor. Include the article date and title in your e-mail.