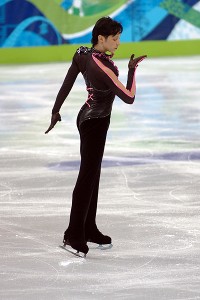 The Human Rights Campaign Seattle will honor Johnny Weir with the Visibility Award. He will receive the award at the 11th Annual Pacific Northwest Dinner, September 25, at the Westin Seattle.
"I am so flattered to be honored by the Human Rights Campaign," said Weir, who was honored in April with a similar award by Equality California. "I never think of myself as an activist in any capacity but I am glad that people can find strength and inspiration in my triumphs and defeats.  I hope that I can continue to inspire individuality in people regardless of age, sex, race, sexual orientation or religion."
Janice Langbehn will receive the Equality Award.
To purchase tickets to dinner, visit www.hrcseattle.org/dinner/.
In 2010, Weir made the U.S. Olympic team for the second time and represented his country in the Olympic Winter Games in Vancouver, where he finished sixth. Post Games, Johnny has put his fame to good use, appearing at various benefits and charity events across the U.S., including the 88 for AIDS event in New York City and Skate for Hope in Columbus, Ohio, while also performing in skating shows throughout the world.
He is the star of his own reality series, Be Good Johnny Weir, on the Sundance Channel, for which he won the 2010 NewNowNext Award for Most Addictive Reality Star. Most recently, he won U.S. Figure Skating's 2010 Readers' Choice Award for Skater of the Year (Michelle Kwan Trophy). He is the only skater other than Kwan to be honored with the award more than once.
Founded in 1980, the Human Rights Campaign advocates on behalf of lesbian, gay, bisexual and transgender Americans, mobilizes grassroots actions in diverse communities, invests strategically to elect fair-minded individuals to office and educates the public about LGBT issues. The organization represents a grassroots force of over 750,000 members and supporters nationwide.
Past recipients of the coveted National Visibility Award include WNBA star Sheryl Swoopes and "Young and the Restless" star Thom Bierdz, among others. At the National Dinner in October, the Campaign will honor Lee Daniels, the producer and director of Precious and Monster Ball, with the Visibility Award and Grammy winner Pink with the Ally for Equality Award.
__________
Photo courtesy of Leah Adams
Figure Skaters Online strives to be an accurate source of information related to the sport of figure skating. To report an error, please e-mail the news editor. Include the article date and title in your e-mail.