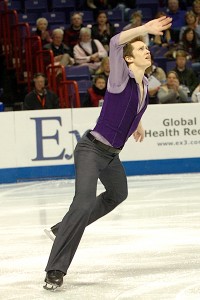 Despite boot problems, Jeremy Abbott made a podium appearance at the NHK Trophy in Nagoya, Japan. He finished second to Japan's two-time World Champion Daisuke Takahashi (234.79), who relied n a quadruple toe early in his routine to finish comfortably ahead of Abbott (218.19) and France's Florent Amodio (213.77).
"For the first competition of the Grand Prix series I did well," Takahashi said. "Things were going well in the first part of the program but I made some mistakes later on."
Takahashi, who led after the short program, successfully landed the quad toe on his opening element and survived a late fall on his triple lutz, double toe.
"Last year I was fourth at NHK Trophy, so I'm very happy to be at the top of the podium," he said. "I was able to land the quadruple toe at the Japan Open and at NHK Trophy, which was unthinkable last year at this time. But regarding my spins, steps, transitions and other things such as stamina and the attack in my program, there is still a lot of room for improvement."
Abbott, the two-time U.S. national champion, skated a clean program but did not attempt a quad. He singled a triple Axel midway through his routine and had the first jump in his triple lutz, double toe combination downgraded. He was otherwise clean, receiving credit for six clean triple jumps and four doubles.
"It was my first competition of the season and I've never started with a Grand Prix before," Abbott said. "To to start with this much pressure,  I'm really proud of how I kept myself together and I feel much stronger than I have in previous seasons, and I feel that my programs are stronger."
The 2008 Grand Prix Champion picked up 143.57 points for the free skate and remained in second place.
"I feel great," said Abbott. "I had about a month of boot issues where I couldn't train at 100 percent and have only had two weeks where I felt comfortable."
Takahashi started to tire late in his routine and singled a triple salchow before the fall on his triple Lutz. But the lead he had built up from his quad was more than enough to carry him through.
Ross Miner, making his senior Grand Prix debut, placed ninth with 186.62 following a 10th place free skate. He received credit for six triple jumps, although both triple flips received deductions for the wrong takeoff edge.
__________
Photo courtesy of Leah Adams
Figure Skaters Online strives to be an accurate source of information related to the sport of figure skating. To report an error, please e-mail the news editor. Include the article date and title in your e-mail.