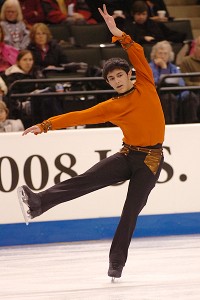 Michal Brezina of the Czech Republic won the short program at Skate America in Ontario, Calif., with 79.08 points. He topped Japan's Takahiko Kozuka (70.69), the reigning World Championship silver medalist, and Daisuke Murakami (70.67) in the opening event of the 2011 International Skating Union (ISU) Grand Prix of Figure Skating Series.
Richard Dornbush (Corona, Calif.) placed the highest of the American contingent, taking fifth place with 70.03. Armin Mahbanoozadeh (Great Falls, Va.) finished seventh with 64.54 while Douglas Razzano (Chandler, Ariz.) was ninth with a personal best 60.69.
Brezina's short program included triple Axel, a triple flip-triple toe and a triple Lutz along with two Level 4 spins. He did not attempt a quadruple jump, although he landed both the quad Salchow and the quad toe at the recent Worlds, where he was fourth for the second consecutive year.
"We decided to go for a triple-triple and a triple Lutz right before I skated because my coaches were watching the competition," Brezina said. "They decided we would go for a clean skate for the beginning of the season. I did a quad in my first short program of the season at Nebelhorn. There is no question that the quad isn't going to be in the short program. My coaches decided we would go competition to competition. There is nothing that will hold for the entire season. I'm really good with that. I like the way they decided that."
Despite a fall on his quadruple toe and a downgrade on the triple toe in his triple Lutz-triple toe combination, Kozuka fought back by completing a triple Axel and two level four spins later in his performance. "I felt like I was going into the jump a little left and I couldn't correct so that made the jump shaky," he said.
A heavy favorite for the gold medal, Kozuka said he was not at ease in Ontario. "I was nervous because this was the first competition of the season and I hadn't competed in a long time."
Murakami, who competed for the United States until 2007, was the only competitor to land a quad in the short program. He completed a flawless short program landing a quad Salchow-double toe, a triple Axel, a triple flip and two level four spins.
Dornbush completed a triple Lutz-triple toe, three Level 4 spins and expressive Level 3 footwork sequence but his triple Axel was downgraded and his triple flip received an edge call. Despite a fifth-place finish in the short program, Dornbush, who was second at the 2011 U.S. Championships, sits only 0.66 points away from second.
"My triple Axel was a downgrade so I was disappointed in that," he said. "I think that's only about the third time I have ever been downgraded on a jump. Other than that, I thought the program was great and I was really happy with it. I think I got plus GOEs on everything else, except maybe the flip that looks a little low. It was nice to skate well in front of a home crowd, that felt good."
Mahbanoozadeh completed a triple flip-triple toe, a triple Lutz and a level four combination spin. However, his triple Axel received a slight downgrade.
"I felt pretty good skating out there," he said. "I know I put a hand down on the triple Axel even though the ones in the warm up were really good. I was disappointed with my marks. The under-rotate on the Axel I'm not happy about. I did what I could and tomorrow will be better."
Razzano performed a triple Axel and triple toe-triple toe as well as two level four spins, but popped an intended quadruple toe into a double.
"I was not pleased with that," Razzano said. "It is hardly like I practiced this morning. I did decide to put the quad in this morning after because they were so good in practice this morning. I let it get away. I was actually very calm. I was more nervous waiting in my hotel room than I was this evening when I got here. I'm glad I got through it after the big pop. I keep saying I would rather be perfect in January."
The reigning World champions Meryl Davis (West Bloomfield,  Mich.) and Charlie White (Ann Arbor, Mich.) look to continue their unbeaten streak from last season as they hold a more than 10-point advantage after the short dance. Davis and White, who won each of the six events they entered last season, were dazzling as they completed two Level 4 elements and a step sequence which earned the competitions highest point value.
"I think we can look forward to attacking the program a little bit more," White said. "We definitely try to go with the flow. Like Meryl said, we haven't had a ton of time with the program yet, so we just want to go out there and do the program like we know how, so I think with training more we'll be able to feel a bit more comfortable and get into character more, show off deeper edges. Just little things everywhere."
Despite a fall, Nathalie Pechalat and Fabian Bourzat of France are in second place after the short dance with a more than five point lead ahead of Nelli Zhiganshina and Alexander Gazsi of Germany. Newly formed team Madison Hubbell (Sylvania, Ohio) and Zachary Donohue (Waterford, Mich.), who started their season with a win at Nebelhorn Trophy, placed sixth in their Grand Prix debut with 49.71.
"The experience, competition-wise, in this venue has been great," she said. "It's very comfortable. It feels like we're at nationals, it's my first time at Skate America so it's nice to stay inside the country. The actual performance today, it was an improvement than what we did in Oberstorf. I think the short dance, unfortunately, is our weakness right now compared to our free dance. You know, we have a lot of questions for the technical panel and everything. Judges and technical panel. The score in general wasn't what we were hoping for obviously. It was a significant step down from our performance in Oberstorf, so that's disappointing of course, but all we can do is look forward to tomorrow and prove our strengths in the free dance."
Isabella Cannuscio (Egg Harbor Township, N.J.) and Ian Lorello (Gambrills, Md.), who are making their series debut, fell on their twizzels. They are currently seventh with 42.05.
"It's one of those fluke things that kind of happens and you can't really control that stuff," Lorello said. "You just have to be prepared that if it does happen you can get the best recovery you can and keep going in the program so it doesn't affect your other elements and your performance."
__________
Photo courtesy of Leah Adams
Figure Skaters Online strives to be an accurate source of information related to the sport of figure skating. To report an error, please e-mail the news editor. Include the article date and title in your e-mail.