By Maura Sullivan Hill, Team FSO Staff Writer
All photos by KrPhotogs Photography/U.S. Figure Skating
As organizers scramble to reconfigure Grand Prix events and other fall competitions for singles, pairs, and ice dance amid the COVID-19 pandemic, synchronized skating has a distinct advantage: "Our season is really far out. Synchronized skating doesn't really start until after the new year [though there are limited competitions in November and December]," said Kelly Vogtner, senior director of special projects for U.S. Figure Skating.
With that extra time in mind, U.S. Figure Skating announced a new plan for the 2020-21 synchronized skating season on Thursday, Oct. 8. Vogtner said the plan was created after surveying coaches, skaters, and families, where a common theme emerged.
"We were taking their temperature—no pun intended—about where they are in the process, whether or not they were practicing, what was the most important thing for them this season. And what came back after multiple surveys was that the number one thing teams were looking for was an opportunity to perform," she said. "What was not as important as in other years was a placement or a specific competition or beating somebody. What kept coming through was, 'We want the opportunity to be able to perform, whatever that looks like.'"
As a result, the 2020-21 synchro season will include a national challenge competition open to all teams, as well as a series of competitions dubbed the 2020-21 National Synchronized Skating Series. The series will be held between November and April, in all regions of the country, enabling teams to compete close to home and limit their travel if required by local safety guidelines. Results in the series will generate national rankings at each level.
"Information changes constantly, and one of the biggest challenges for everybody is [that] it's really different from not only one region to another region, but state to state, county to county, cities within the states. The world is not the same in New York as it is in Michigan as it is in Colorado as it is in California and Texas and so forth," Vogtner said.
Vogtner said that U.S. Figure Skating set out to create a plan that could be fluid and not rely on the typical qualifying structure or a series of events that lead to a championship. "We wanted to make sure that the decisions that we make were not dependent on one thing happening…[that] we would not take out one domino piece and have everything fall."
Given that goal, the 2021 U.S. Synchronized Skating Championships and Challenge will be an open event, with teams of all levels able to register and compete. Titles will not be awarded this season, except at the senior and junior level, because they are International Skating Union-level events and impact international competition assignments in the spring.
"We want to encourage participation; we want everybody that can come obviously to be able to do it, but we don't want to penalize a team that maybe has been a past national champion or is always in the top, and pressure them to feel like they had to participate to earn that title," Vogtner said. "It's recognizing that this [event] will essentially be a celebration of our season, whatever that looks like, and whoever can come that is wonderful."
The 2021 U.S. Synchronized Skating Championships and Challenge will take place from Feb. 23-27, 2021, at The Orleans Arena in Las Vegas. Collegiate teams can participate in that event, but, if they do not feel they have adequate preparation time for a competition in late February, they can elect to compete at the 2021 Collegiate Synchronized Skating Final, which will be held in conjunction with the Intercollegiate Final from April 16-18, 2021, in Adrian, Michigan. Because many colleges are deferring sports to the spring semester because of remote learning in the fall semester, Vogtner said it was important to offer collegiate-level teams this option.
While the 2020-21 season won't have the format skaters are used to, Vogtner said U.S. Figure Skating is hoping teams can see a silver lining in the situation.
"What an amazing opportunity for a team to look in the mirror: 'What are our strengths? What are our weaknesses? Let's spend the time developing edge quality, speed, unison, fitness,'" she said. "Looking at all of these attributes that make great individual athletes and spending time working on those core fundamental skills that maybe we don't have the time for in a regular season [that is] focused on choreography."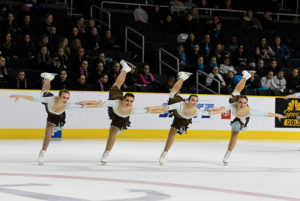 And that's exactly what the Starlights Synchronized Skating Teams in Buffalo Grove, IL, are doing this season. During what would have been their spring training and tryout season, Director of Synchronized Skating Heather Paige and her team of coaches offered a free eight-week session of ballet and off-ice workouts over Zoom, as well as Zoom check-ins to keep the skaters engaged and connected to their teammates. Their training rink, the Twin Rinks Ice Pavilion in Buffalo Grove, reopened on June 1 and the teams have been back on the ice since the summer, practicing unattached while wearing masks. At first, they limited the number of skaters on the ice at one time, but now full teams are able to be on the ice together.
"Right now in Chicago, we have restrictions for contact sports and synchro is considered a contact sport; [because] we're connected to each other the majority of the time," Paige said. "We're unable to connect right now [during practice]. We started to add choreography and work on different transitions and elements being disconnected. It is working on pieces of the program, just doing it in an individual way."
All the Starlights teams are working on new programs, but their main goal for the season is to improve skating skills while they have to practice without connecting.
"It's changed my focus a little bit in that we always had to put a program together and then went back to the basics," Paige said. "In a normal season, we'd be connected and…for me, I see the whole team, I'm watching them as a group. I see the big picture before I zero in. And it's been interesting to see all of their individual accomplishments [while practicing unattached]. I'm actually super excited to see how that's going to help improve their connected skills and how they work together as a team and what that's going to do for the look of the team."
While the Starlights haven't committed to specific competitions yet, Paige says they are excited about U.S. Figure Skating's plan for the season.
"I think that's really what everybody needed, that there is a competition. It's hopeful," she said.  "Things can change at any given point in time leading up to it, we all know that. It just gives a little bit of hope and a destination."
And whatever happens this season, both Paige and Vogtner said that skaters and parents alike have been telling them how happy they are to be back at practice.
"We've heard really interesting, positive things from families," Vogtner said. "Like, 'I didn't realize how much my daughter just loves to skate,' whereas before, teams were focused on how we're going to win or how we're going to earn this achievement. I think that's a really healthy thing, that parents are appreciating how skating fits into their life, and how they can learn from this, and that one season that is totally different isn't the end, it's simply a moment in time.
Paige added that returning to the ice has been especially helpful for her skaters who are doing distance learning and unable to go to school or see their friends as usual.
"It's so obvious that they cherish their time on the ice, and it's really the one and only time that things start to feel semi-normal," Paige said. "We have our masks on and we can't connect and it's not normal synchro practice, so to speak. But it's our happy place at the end of the day, and we've tried to keep it that way. It's been fun to be on the ice. Regardless of what the practices look like or mean, it's the one time they can be social and be with their friends and be in a safe environment."