By Gina Capellazzi, Team FSO website administrator
Photos by Robin Ritoss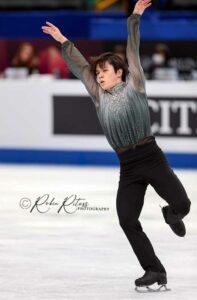 Since 1896, no man from Japan has ever won two World titles back-to-back. That changed at the ISU World Championships in Saitama, Japan as Shoma Uno made history for his country becoming the first man from Japan to win two World titles. Fittingly, he did it in front of his home country in Japan.
However, fans were a bit concerned if Uno was going to be able to win his second title. Earlier in the week, Uno noted that he injured his ankle recently, and he had some tough practices in Saitama.
After a season's best short program score of 104.63 and 4 point lead heading into the free skate, Uno opened his "Air on the G String" and "Sanctus Petrus Et Sancta Maria Magdalena" with a quadruple loop. Uno also landed a quadruple flip and two triple Axels. His quadruple toes were called on the quarter and he also stepped out of an underrotated quadruple Salchow. He won the free skate with a score of 196.51 and a total score of 301.14 to win his second World title.
"Honestly, I'm just happy that in both short program and free skating I did better than I expected," Uno said.
"Today's performance was far from perfect, but I put out everything I can do at this moment," he added. "There were many shaky jumps today, but I'm happy I was able to get a good result despite not being in a good condition these past two weeks."
In third after the short program, Korea's Junhwan Cha was looking to win Korea's first World medal for the men. In his James Bond free skate, he executed a quadruple Salchow, quadruple toe, two triple Axels and a triple Lutz-triple loop combination. He earned a personal best of 196.39 points and a total score of 296.03 points, also a personal best score to move up to claim the silver medal.
"It was amazing, and I really enjoyed it and I was really focused on my skating," Cha said following his skate. "I just wanted to do what I trained today, and I think it came out, so I'm very happy about that."
The history continued in the men's event as 2022 World Junior Champion Ilia Malinin, of the U.S., became the first skater to successfully land a quadruple Axel at the World Championships. Malinin also landed a quadruple Salchow, a quadruple toe-triple toe combination and a triple Lutz-triple Axel sequence. Unfortunately, Malinin received a underrotation call on his quadruple Lutz in his combination, and his quadruple flip and quadruple Lutz were called on the quarter. He finished third in the free skating with 188.06 points and slipped from second to third with a total score of 288.44, which was a personal best score.
"I'm just very grateful for the performance I was able to put out," Malinin said. "I put so much effort and work into the last couple of weeks and I'm glad I was able to pull it off.
France's Kevin Aymoz had his best placement at the World Championships, finishing in fourth place (282.97 total score). It was an emotional performance for Aymoz, who is coming back after an ankle injury earlier this season.
"I'm so happy. So happy that I have no words," Aymoz said through tears.
Team USA's Jason Brown finished in 5th place (280.04 total score). It was Brown's first World Championships since 2021 and only his second competition this season after sitting out the Grand Prix Series.
"I'm so happy about today's performance," Brown said. "I did the best I could to just stay in the moment, stay grounded, go out there and skate my skate. And that's what I did, I just soaked in the energy of this arena and the people here, it's been so special."
Japan's Kazuki Tomono pulled up from seventh to sixth (273.41 total score).
In his final World Championships, Canada's Keegan Messing slipped from fourth to end his long and illustrious career in seventh place (265.16 total score).
"I can't keep going," he said about his retirement. "My body hurts too much, I would love to but 28 years is long enough for me."