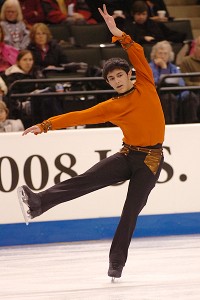 Ice dancers Meryl Davis and Charlie White were in a class of their own as they started their quest for the national title Wednesday at the U.S. Championships in Cleveland.
"When you're out there you really don't think about [being favorites] at all," said White. "I'm smiling at Meryl, pushing hard at the intro, so it's not something we're thinking about."
With five-time U.S. Champions Tanith Belbin and Ben Agosto out of the competition because of Agosto's back injury, reigning silver medalists Davis and White, who finished third at the 2008 Grand Prix Final, are only expected to build on their lead in Thursday's original dance and Saturday's free dance.
"With Tanith and Ben gone, they're the next best here," said Emily Samuelson. "They're what we gauge ourselves against."
Reining pewter medalists Samuelson and Evan Bates have 36.28 points to Davis and White's 39.93. Bronze medalists Kim Navarro and Brent Bommentre are third with 35.22.
The brother-and-sister pair of Madison Hubbell and Keiffer Hubbell made a statement in their first senior appearance at nationals, finishing fourth with 32.52 points. They are the reigning junior champions.
Ross Miner leads the junior men's competition after a 66.62 point performance to the theme from Bonanza and the Raging Cajuns' "Cotton-Eyed Joe".  Three triples including a triple flip-triple toe combination helped the 2008 U.S. Novice men's silver medalist over take Keegan Messing (59.80), who won bronze in the junior event last year.
Junior Grand Prix silver medalist Armin Mahbanoozadeh (59.29) is within striking distance following a solid program "Dark Forest," which included a triple flip-triple toe and a double axel. He popped his triple lutz but made up the lost technical points with solid program component score of 27.53, which was the highest component score awarded.
"I trained really well for [the Junior Grand Prix Series]," said Mahbanoozadeh, who has a contusion on his knee because of a fall from training. "I worked really hard, so I just skated like I had been practicing. The experience has helped, because skating on an international stage is different than at a national level."
Andrew Gonzales (58.76) holds the fourth while 2008 Novice Men's Champion Daniel O'Shea (50.57) is 11th.
Richard Dornbush withdrew from the competition before the short program because of the flu. Earlier this season, Dornbush was near perfect, winning gold medals at Junior Grand Prix Mexico and South Africa. He claimed bronze at the final.
__________
Figure Skaters Online strives to be an accurate source of information related to the sport of figure skating. To report an error, please e-mail the news editor. Include the article date and title in your e-mail.