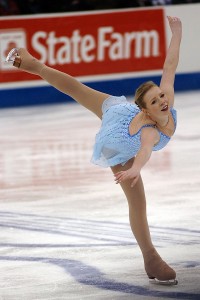 U.S. Championship silver medalist Rachael Flatt finished ahead of 2009 U.S. Champion Alissa Czisny at the Four Continents Championships in Vancouver, Canada. But the top spot among the Americans went to U.S. bronze medalist Caroline Zhang.
Zhang finished fourth overall with 171.22 points. The medalists were Korea's Yu-Na Kim (189.07), Canada's Joannie Rochette (183.91) and Mao Asada (176.52), who won the free skate but took sixth in the short program.
Fifth after the short, Zhang moved up with a fourth place short program that included a triple loop-double toe-double loop combination at the end of her skate as well as her trademark spins.
She opened the program with a triple flip-triple toe combination but the toe was downgraded. The first jump of her the triple lutz-double toe, the second element of her program, also received an edge warning.
Flatt improved to seventh overall after an eighth place short program. She received 162.83 points, skating in the same arena that will host the figure skating and short track speedskating events at the 2010 Olympic Winter Games.
Highlights of Rachael's performance to three C. Debussy songs include her opening double axel and her triple flip-double toe combination. She landed five total triple jumps, though both lutz jumps received an edge alert, five double jumps and four Level 4 elements.
Czisny (159.81) finished ninth in her first competitive appearance as the U.S. Champion. Although she performed three Level 4 elements, and was rewarded for strong program components, she could not overcome problems with her jumps.
She received a negative grade of execution for her opening triple lutz sequence, double axel and triple flip-triple toe. Czisny also had problems on the second element of her program, an under rotated triple flip, which received an edge warning.
Based on their gold and silver medal finishes at the 2009 U.S. Championships in Cleveland, Ohio, both Czisny and Flatt move on to represent the United States at the World Championships. The competition is March 23-29 at the Staples Center in Los Angeles, about two hours from Rachael's hometown Del Mar, Calif.
Zhang will compete at the end of the month at the World Junior Championships in Sofia, Bulgaria, which also hosted last year's event. After winning the 2007 World Junior Championship, Zhang finished second at the 2008 event behind Flatt.
After finishing second in both the compulsory and original dances, newly crowned U.S. Champions Meryl Davis and Charlie White (192.39) won the free dance to overtake Canadians Tessa Virtue and Scott Moir (191.81). The Four Continents bronze medal went to U.S. runners up Emily Samuelson and Evan Bates with 180.79.
Kimberly Navarro and Brent Bommentre finished sixth overall with 151.82.
All of Davis and White's elements received a Level 4 grade with the exception of the circular step sequence. Virtue and Moir were almost as flawless but she had a bobble in the combination spin.
"It was just nice to hear the national anthem up there," White said. "It means a lot and working as hard as we did to get there. When you're up there and the spotlight is on you and you've got the flag rising up, it's a really nice moment."
The season is likely over for Navarro and Bommentre, World Championship team alternates, but Davis and White as well as Samuelson and Bates are headed to Worlds. Also expected to compete for the United States are five-time U.S. Champions Tanith Belbin and Ben Agosto, who withdrew from the national championships because of Agosto's back injury.
The event ends Saturday with Jeremy Abbott and Evan Lysacek competing the men's free skate.
__________
Figure Skaters Online strives to be an accurate source of information related to the sport of figure skating. To report an error, please e-mail the news editor. Include the article date and title in your e-mail.