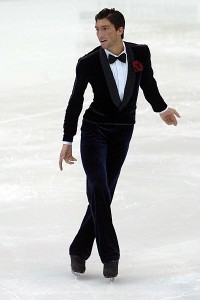 Fresh off a flawed performance at the U.S. Championships that saw him finish third to Jeremy Abbott, two-time U.S. Champion Evan Lysacek regained his edge in Vancouver, British Columbia, Canada. He is second at the Four Continents Championships after scoring 81.65 points after the short program.
"This performance is a definite step up from U.S. Nationals, and I am just trying to gain momentum as I look forward to the World Championships in my hometown," said Lysacek, who is a two-time World Championship bronze medalist.
To the music of "Bolero," Lysacek started with a triple axel and went on to perform a triple lutz-triple toe combination. His program also included a triple flip, with a slight edge call, and two Level 4 spins. Another spin and two step sequences were Level 3.
He received the second highest total element score (44.30) and program components score (37.35) to place behind Canada's Patrick Chan, who had one of the highest scoring short programs in history. Chan scored 88.90 in front of a supportive Canadian crowd.
"For those of us in the last group while were waiting, while Patrick was finishing, and not having the 6.0 scale anymore, for us it was really exciting to see Patrick's score come up and to know that he had done the (second) best short program ever. He inspired all of us," Lysacek said.
Takahiko Kozuka, who beat Lysacek and Johnny Weir for the title at 2008 Skate America, is third with 76.61 points. Fourth and fifth place belong to the Colorado Springs, Colo., duo of Abbott (40.72) and U.S. silver medalist Brandon Mroz (43.60).
Abbott nailed a triple flip-triple toe loop combination and a triple axel. But performing to Adagio in G Minor by Tomaso Giovanni Albinoni, he fell on his easiest jump, the triple lutz, and also stumbled on a step sequence.
"Fortunately this is not a one-program competition, and I have lots of opportunities to earn points in the free skate. I'm kind of killing many birds with one stone here in preparation for future competitions. I am using this competition to put the quad into the free skate before Worlds, and I am getting to try it in the Olympic venue as well," he said.
Although Abbott's technical performance was not as strong as usual, or like the elements he used to become the first American man to win the Grand Prix Final, he had the third highest program component score of the competition. He received 35.95 for the second mark.
In the pairs competition, the impressive 11 competition medal streak of two-time U.S. Champions Keauna McLaughlin and Rockne Burbaker snapped with a fifth place finish in Vancouver. They finished with 164.01 points.
China's former World Champions Qing Pang and Jian Tong (194.94) claimed their fourth Four Continents Champions in Vancouver. Canada's World bronze medalists Jessica Dube and Bryce Davison (185.62) earned the silver medal and the bronze went to Olympic silver medalists Dan Zhang and Hao Zhang (174.98) from China.
McLaughlin and Brubaker were fourth in the free skate. While their pairs elements, including a throw triple Salchow and throw triple loop, were strong, they received negative grades of execution for their individual jumping elements. They performed a side-by-side triple Salchow-single toe combination and later did triple toes.
U.S. silver medalists Caydee Denney and Jeremy Barrett (161.69) finished sixth overall after an eighth place short program and fifth place free skate. Former U.S. Champions Rena Inoue and John Baldwin (157.38) slipped from fifth after the short program to seventh overall.
Denney and Barrett, who have skated together for less than six months, had a program highlighted by side-by-side triple flip-double toe sequences, a throw triple flip, a throw triple loop and three Level 4 elements.
Inoue and Baldwin had trouble on the opening side-by-side double toe combinations. While they recovered with a strong side-by-side double axel-double axel sequences, Inoue later fell on the throw triple loop.
Based on their one-two finish at nationals, McLaughlin and Brubaker will be joined by Denney and Barret at the World Championships. The competition is March 23-29 at the Staples Center in Los Angeles, McLaughlin's hometown.
In the ice dancing competition, Canadians Tessa Virtue and Scott Moir maintained their lead over American training mates Meryl Davis and Charlie White. The Canadians have 97.30 points after the first two dances while the Americans have 95.65.
Moving up to third place overall are Emily Samuelson and Evan Bates (90.89), who finished fourth in the opening compulsory dance but were third in the original dance. Americans Kimberly Navarro and Brent Bommentre are sixth with 78.18 points.
Four Continents continues Friday with the free dance and ladies short program.
The men close out the competition with the free skate Saturday starting at 11:45 a.m. local time.
__________
Figure Skaters Online strives to be an accurate source of information related to the sport of figure skating. To report an error, please e-mail the news editor. Include the article date and title in your e-mail.