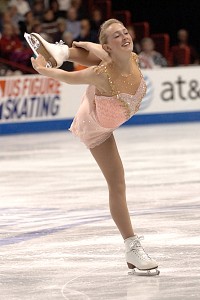 At the Four Continents Championship in Jeonju, Korea, Alexe Gilles is in ninth place following troubles on two jumping passes, including a fall on the opening triple Lutz, and a time violation. She has 48.90 points heading into the free skate.
Japan's Akiko Suzuki (58.88 points), who will compete next month at the 2010 Olympic Winter Games, grabbed the lead in the ladies short program with American Amanda Dobbs (57.56) and Japan's Mao Asada (57.22) coming in second and third. Asada is also competing at the Olympics while Dobbs will compete at the World Junior Championships.
Skating to "Andalucia," Suzuki hit her opening triple flip-double toe combination but singled the loop out of footwork. The Grand Prix Final bronze medalist recovered to land a double Axel and got a rare level four for her straight line footwork.
"I did a single loop instead of a triple, so I'm not satisfied with my performance," Suzuki said. "But after the loop I changed my focus on the other things and I got high levels [for the other elements] which was good."
In her lyrical routine to "The Mission," Dobbs, who was sixth in her debut at the 2010 U.S. Championships, performed a triple toe-double toe combination, a triple Salchow and a double Axel. Her difficult spins, spirals and step sequence were graded Level 3 and Level 4.
"I'm fairly happy with my skate," Dobbs said. "My program was very solid. It was good and strong. I did what I wanted to do and what I've been training for. It's kind of exciting (to be in the top three), because I haven't really been out internationally in seniors. I just finished nationals and I competed in pairs and then in singles. It's really exciting to know that my trainings turned out well and that I'm getting good results."
Asada, who received a deduction for going over the time limit, went for the triple Axel-double toeloop combination but the first jump was downgraded to a double. The 2008 World Champion and reigning World bronze medalist also singled the flip.
"I am disappointed, because I couldn't do two of my highest scoring jumps," Asada said. "It's not good to make mistakes, but it's better that it happened now than at the Olympics. I'm really irritated about the errors."
Coming off a 11th place performance at the national championship, American Caroline Zhang, who won a bronze medal at the 2009 nationals,  finished fourth in the short program with 55.10 points. Her triple flip in combination with a double toe was downgraded.
__________
Figure Skaters Online strives to be an accurate source of information related to the sport of figure skating. To report an error, please e-mail the news editor. Include the article date and title in your e-mail.