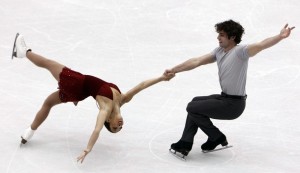 Keauna McLaughlin and Rockne Brubaker were not supposed to be in Jeonju, Korea, this week for the Four Continents Championship. Instead, the 2008 and 2009 U.S. Champions were expected to still be celebrating in Spokane, Wash., where many thought they would win a third consecutive national title and trip to the Olympic Winter Games.
But uncharacteristic mistakes left McLaughlin and Brubaker off the nationals podium for the first time in their career. Clinging to a fifth place finish in Spokane, they were not named to the U.S. Olympic team or the World Championship team, instead being sent to Korea.
They made the most of the opportunity by finishing second in the short program to World silver medalists Dan Zhang and Hao Zhang of China, who narrowly came out ahead, 65.86 points to 64.56. Canada's Meagan Duhmael and Craig Buntin are in third place with 56.90, just edging Americans Caitlin Yankowskas and John Coughlin (56.10).
"For us today to come back and to do a clean short – we had a rough skate at nationals – so to come and skate well was really good for us," Brubaker said. "It's a pretty hard competition, especially it turned up for us so quickly. We haven't been home in two and a half weeks. I think the first few days were hard getting back on the ice and keeping programs going. Once you get out there I think, regardless of the situation, we want to skate well. And this is what we did today. We just went out, we I guess you can say put our competition heads on, and did our best."
Performing to "Unchained Melody," McLaughlin and Brubaker put out a strong program that featured a triple twist, throw triple loop and mostly level-four elements. McLaughlin only wobbled on the side by side triple Salchow. The two-time U.S. Champions earned 38.16 points for technical elements and another 26.40 for program components.
Zhang and Zhang hit a big triple twist and a throw triple loop in their dynamic routine to "Piano Fantasy," a program that they had used two years ago but decided to bring back. But they were not without flaws, as she put her hand down on their side by side triple Salchows.
"This competition is a good practice for us before the Olympic Games," Dan Zhang said. At the 2006 Olympic Winter Games, the couple won the silver medal despite her scary crash into the boards on the opening element of their free skate.
Yankowskas and Coughlin were strong in their debut at Four Continents. In the top of their program, they performed a triple twist, a throw triple Salchow and side by side triple toes. Their spins were Level 4, along with their Group 4 lift, and their death spiral and footwork were graded Level 2.
World Junior Championship bronze medalists Marissa Castelli and Simon Shnapir (44.60) are 10th following problems on the side by side triple Salchows. Also making their first appearance  at Four Continents, they were also shaky on the triple twist and the throw double Salchow.
In the compulsory dance, Canada's Kaitlyn Weaver and Andrew Poje (32.67) captured the lead ahead of China's Xintong Huang and Xun Zheng (30.12) and Canada's Allie Hann-McCurdy and Michael Coreno (29.89). Placing fourth, fifth and eighth, Americans Madison Hubbell and Keiffer Hubbell (29.76), Madison Chock and Greg Zuerlein (29.14) and Jane Summersett and Todd Gilles (25.26).
__________
Figure Skaters Online strives to be an accurate source of information related to the sport of figure skating. To report an error, please e-mail the news editor. Include the article date and title in your e-mail.