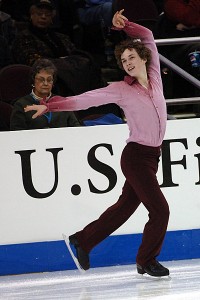 Adam Rippon established himself as a contender for the 2010 Olympic Winter Games team with a bronze medal winning performance Saturday at Trophee Eric Bompard in Paris, France. He finished with 219.96 points, behind Japan's Nobunari Oda (242.53) and Czech Republic's Tomas Verner (229.96).
Oda did not perform a quadruple jump but he landed eight triples and four doubles, including those in his three combinations, all with positive grades of execution. Verner, who won the short program, started with a solid quad toe-triple toe combination but with little bobbles throughout the free, he could not catch Oda.
"It was not my best, but I wanted to put out a strong program, and I did," two-time World Junior Champion Rippon said. "I don't want to peak in October. I was happy with my short here and I'm satisfied with my free."
Former World Champion Brian Joubert (207.39) of France finished off the podium in fourth place, following a disastrous short program Friday, which ranked seventh, and a fourth place free skate. He started his program with a shaky quad toe then encountered more problems when he under rotated a quad Salchow attempt and received an edge warning on his triple flip.
"It's an honor to beat Joubert in any competition, but I know his main goal is Vancouver, not Eric Bompard," Rippon said. The American teenager now has a main goal of Vancouver as well after winning his first medal on the Grand Prix circuit.
"Going into this Grand Prix, I wanted to show everyone in the U.S. that I can be one of those three men going to Vancouver," Rippon. He faces strong competition from several skaters including 2008 Grand Prix Final Champion Jeremy Abbott, 2009 World Champion Evan Lysacek and three-time U.S. Champion Johnny Weir, who will compete on the Grand Prix later this season.
Rippon's started Saturday with a solid triple flip-triple toe combination. Although he received a negative grade of execution on his triple axel-double toe and a Level 1 on his circular steps, he recovered nicely with a triple loop, a triple axel with a step out, a triple lutz, a triple lutz-double toe-double loop, double axel and a triple Salchow.
American Ryan Bradley (177.65) placed ninth overall following a 10th place free skate. The 25-year-old, who finished second at Skate Canada last year ahead of Lysacek, opened with a quad toe but then had a couple miscues that cost him points. Bradley tripled the second quad and did not perform a triple axel.
On Friday night, the ice dancers performed their second of three programs, with Canada's Tessa Virtue and Scott Moir extending their lead with a solid Flamenco. France's Nathalie Pechalat and Fabian Bourzat moved in to second with Sinead Kerr and John Kerr of Great Britain dropping to third, both after performing American folk dances.
"Tessa and I are pretty pleased with our day. It's interesting to have the compulsory and the OD on the same day. It's a little bit of a challenge, but we are always up to that and we felt like we came out strong and did what we set out to do," said Moir. The team has a 8.45-point lead over the field heading into the free dance.
"We were asked a few times why we decided not to do Canadian folk especially given the Olympic Games in our home country," Virtue said. "It's something we actually really wanted to do. We did a lot of research and listened to a lot of music, but we just didn't find a piece of music that we felt attached to."
Performing to the Dixie Chicks, U.S. silver medalists Emily Samuelson and Evan Bates finished sixth in the original dance and are fourth overall. U.S. bronze medalists Kimberly Navarro and Brent Bommentre are fifth after an Afro-Brazilian dance while pewter medalists Madison Hubbell and Keiffer Hubbell, who are brother and sister like the Kerrs, trail after a 10th place Ukrainian folk dance.
The free dance is the final event of Trophee Eric Bompard on Saturday, which kicked off with the men's free skate. The pairs free skate, featuring World Junior Championship bronze medalists Marissa Castelli and Simon Shnapir, is at 3:45 p.m. local time followed by the ladies free skate, featuring 2008 U.S. Junior Ladies Champion Alexe Gilles.
Trophee Eric Bompard is the first event of the 2009 International Skating Union (ISU) Grand Prix of Figure Skating circuit. The series, now in its 15th season, consists of six international events in a cumulative, point-scoring format. The top six scoring athletes in each discipline move onto the Grand Prix Final, Dec. 3-6, in Tokyo, Japan, which will be combined with the ISU Junior Grand Prix of Figure Skating Final for the second consecutive season.
The six Grand Prix events are Trophee Eric Bompard, Oct. 15-18, in Paris, France; Rostelecom Cup, Oct. 22-25, in Moscow Russia; Cup of China, Oct. 29-Nov. 1, in Beijing, China; NHK Trophy, Nov. 5-8, in Nagano, Japan; Skate America, Nov. 12-15, in Lake Placid, N.Y.; and Skate Canada, Nov. 19-22, in Kitchener, Canada.
The points toward the Grand Prix Final that are awarded for each place are 15 points for first; 13 points for second; 11 points for third; nine points for fourth; seven points for fifth; five points for sixth place; four points for seventh place; and three points for eighth. In pair skating, only the top six receive points.
__________
Figure Skaters Online strives to be an accurate source of information related to the sport of figure skating. To report an error, please e-mail the news editor. Include the article date and title in your e-mail.