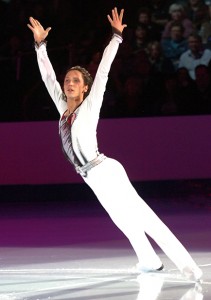 Although three-time U.S. Champion Johnny Weir is from the Pennsylvania countryside, the oldest son in a working class family, Russia is where he feels at home.
"I'm very inspired by the artfulness and soulfulness of the Russian people," said Weir, who trains outside of New York City. "I have Russian coaches [Galina Zmievskaya, Viktor Petrenko and Nina Petrenko] and we train in Moscow periodically, because we have good ice time there and good facilities and doctors.
"We have everything great in Russia, so why not use everything we can?  It's easier for me to go to Russia and train with top coaches and choreographers there than go to Colorado Springs and train with 14 of my competitors."
Weir returned to his adoptive hometown of Moscow earlier this month to train for for the Rostelecom Cup, Oct. 22-25, his first competition since placing a disappointing fifth at the U.S. Championships in January. Weir, who lost training time prior to nationals because of an illness, was left off the 2009 World Championship team, despite being the reigning World bronze medalist.
Although he trains there part-time and has even been spotted in Team Russia and old Soviet Union warm-ups, he has no plans to skate for Russia. He instead will battle for one of the three spots on the 2010 U.S. Olympic team, which will be decided in January.
Skating for Russia is "just as a joke with different people in the Russian Federation and between them and my coach," said Weir, who speaks Russian as well as some French. "I'm American; my allegiance lies with America.  I have always thought that being a good American is appreciating the world, not just your own country."
He has competed for the United States since making his international debut with the novice silver medal at 1998 Triglav Trophy. He first competed at Cup of Russia, now known as Rostelecom Cup, in 2004, placing second. Weir is the 2005 bronze medalist, 2006 silver medalist and 2008 gold medalist.
""Russia is a special place to me," Weir said. "It feels like home."
Rostelecom Cup is the second event of the 2009 International Skating Union (ISU) Grand Prix of Figure Skating circuit. The series, now in its 15th season, consists of six international events in a cumulative, point-scoring format. The top six scoring athletes in each discipline move onto the Grand Prix Final, Dec. 3-6, in Tokyo, Japan, which will be combined with the ISU Junior Grand Prix of Figure Skating Final for the second consecutive season.
The six Grand Prix events are Trophee Eric Bompard, Oct. 15-18, in Paris, France; Rostelecom Cup, Oct. 22-25, in Moscow Russia; Cup of China, Oct. 29-Nov. 1, in Beijing, China; NHK Trophy, Nov. 5-8, in Nagano, Japan; Skate America, Nov. 12-15, in Lake Placid, N.Y.; and Skate Canada, Nov. 19-22, in Kitchener, Canada.
The points toward the Grand Prix Final that are awarded for each place are 15 points for first; 13 points for second; 11 points for third; nine points for fourth; seven points for fifth; five points for sixth place; four points for seventh place; and three points for eighth. In pair skating, only the top six receive points.
__________
Figure Skaters Online strives to be an accurate source of information related to the sport of figure skating. To report an error, please e-mail the news editor. Include the article date and title in your e-mail.