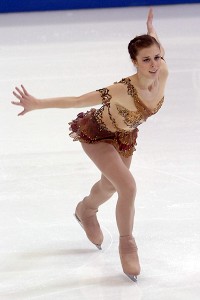 Two-time and reigning World Junior Championship bronze medalist Ashley Wagner has one goal for the Rostelecom Cup, Oct. 22-25, in Moscow. "For the most part, my main goal is to put out two programs that show people that I am going to be a major contender at nationals," she said.
Because she was only fourth at nationals last season, Wagner has been overlooked as a favorite for the 2010 U.S. Championships, a competition that will help decide the U.S. Olympic team. But a strong performance in Russia – where 2007 World Champion Miki Ando, 2008 World Champion Mao Asada and 2009 U.S. Champion Alissa Czisny will compete – would make her an early front runner.
"Hopefully I'll make it onto the podium in Russia," said Wagner, who won the bronze medal at 2007 Trophee Eric Bompard and finished fourth at both her Grand Prix competitions last year. No American lady medaled in the opening event of the 2009 series.
At Trophee Eric Bompard last week, Korea's Yu-Na Kim, Japan's Asada and Nakano took home the gold, silver and bronze. Caroline Zhang, third at the 2009 U.S. Championships and second at the World Junior Championships, placed fourth. Alexe Gilles was fifth in her senior international debut.
"I am really excited for Russia because I think it is going to be a great competition for me," Wagner said. At Rostelecom Cup, she will debut her new short program set to music from the Once Upon A Time in America soundtrack. She will also unveil her "Polovtsian Dances" free skate.
"Lately I've been working on getting my long program set so that I can put out something that is strong and solid," Wagner said. "Prill [coach Priscilla Hill] and I are just thinking about what I should be doing to get the most points, so we've been reworking the set up of my programs some lately."
Although triple-triple combinations have proved as point getters for Wagner in the past, she will leave them out of her programs in Moscow. "I've been working on triple triples but for now I think it is smarter to do something that is more consistent and stronger," she said.
Wagner won the free skate at the 2009 U.S. Championships without a triple-triple. But because of an uncharacteristic 12th place short program, she could only muster a pewter medal. She was third in 2008.
The ladies short program is Thursday at 7 p.m. local time with the free scheduled for Saturday.
Rostelecom Cup is the second event of the 2009 International Skating Union (ISU) Grand Prix of Figure Skating circuit. The series, now in its 15th season, consists of six international events in a cumulative, point-scoring format. The top six scoring athletes in each discipline move onto the Grand Prix Final, Dec. 3-6, in Tokyo, Japan, which will be combined with the ISU Junior Grand Prix of Figure Skating Final for the second consecutive season.
The six Grand Prix events are Trophee Eric Bompard, Oct. 15-18, in Paris, France; Rostelecom Cup, Oct. 22-25, in Moscow Russia; Cup of China, Oct. 29-Nov. 1, in Beijing, China; NHK Trophy, Nov. 5-8, in Nagano, Japan; Skate America, Nov. 12-15, in Lake Placid, N.Y.; and Skate Canada, Nov. 19-22, in Kitchener, Canada.
The points toward the Grand Prix Final that are awarded for each place are 15 points for first; 13 points for second; 11 points for third; nine points for fourth; seven points for fifth; five points for sixth place; four points for seventh place; and three points for eighth. In pair skating, only the top six receive points.
__________
Figure Skaters Online strives to be an accurate source of information related to the sport of figure skating. To report an error, please e-mail the news editor. Include the article date and title in your e-mail.