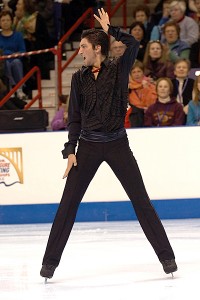 An uncharacteristic mistake on the take off of the triple flip landed World Champion Evan Lysacek in third place after the short program at the Cup of China on Friday in Beijing, China. He has 80.80 points.
Japan's Nobunari Oda, who won Trophee Eric Bompard in Paris, France, earlier in the Grand Prix season, is in first place after 83.35 point performance that included a triple axel, a triple Lutz-triple toe combination and a triple flip. Two of three spins received Level 4 while his two step sequences were Level 3.
A quadruple toe-triple toe helped land two-time Russian Champion Sergei Voronov in second with 81.40. He kicked off the season with a silver medal at Finlandia Trophy and a sixth place showing in Paris.
Dressed in an all-black costume designed by Vera Wang, Lysacek started his performance to "Firebird" with a solid triple axel, a jump that gave him problems on the Grand Prix series last season. He also nailed a triple lutz-triple toe combination. But on the triple flip, the last jumping pass of the program, he received a deduction for taking-off from the wrong edge.
"Tonight I was really focused on the elements and I think I was taking one element at a time like we do in our short program," Lysacek said. "I was just a little disappointed with that edge call because this is out of character for me."
All three spins were graded a Level 4 and both step sequences were a Level 3.
"I am really pleased," said Lysacek, who won the program component score with 37.50 points. "This is a pretty new program for me. I've had it for a couple of months now and I really like the music and I like the costume."
Stephen Carriere received 65.24 for his performance to "Carmina Burana" by Carl Orff. In the program, he landed a triple axel, triple Lutz-double toe and a triple flip, which like Lysacek, earned him an edge warning. Carriere performed a Level 4 change of foot combination spin, two Level 3 spins, a Level 3 circular step sequence and Level 2 straight line footwork.
Skating in his first Grand Prix event, 2008 Junior Grand Prix Final silver medalist Armin Mahbanoozadeh received a competition-low 59.54 points, giving him a 12th place standing heading into the free skate. He received negative grades of execution on all three jumping passes — triple axel, triple flip-triple toe and and triple lutz — but was praised for his three Level 4 spins.
Cup of China is the third event of the 2009 International Skating Union (ISU) Grand Prix of Figure Skating circuit. The series, now in its 15th season, consists of six international events in a cumulative, point-scoring format. The top six scoring athletes in each discipline move onto the Grand Prix Final, Dec. 3-6, in Tokyo, Japan, which will be combined with the ISU Junior Grand Prix of Figure Skating Final for the second consecutive season.
The six Grand Prix events are Trophee Eric Bompard, Oct. 15-18, in Paris, France; Rostelecom Cup, Oct. 22-25, in Moscow Russia; Cup of China, Oct. 29-Nov. 1, in Beijing, China; NHK Trophy, Nov. 5-8, in Nagano, Japan; Skate America, Nov. 12-15, in Lake Placid, N.Y.; and Skate Canada, Nov. 19-22, in Kitchener, Canada.
The points toward the Grand Prix Final that are awarded for each place are 15 points for first; 13 points for second; 11 points for third; nine points for fourth; seven points for fifth; five points for sixth place; four points for seventh place; and three points for eighth. In pair skating, only the top six receive points.
__________
Figure Skaters Online strives to be an accurate source of information related to the sport of figure skating. To report an error, please e-mail the news editor. Include the article date and title in your e-mail.