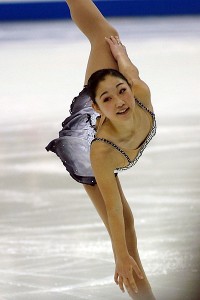 After a dismal showing last season because of an ankle injury that eventually forced her to withdraw from February's World Junior Championships, 2008 U.S. Champion Mirai Nagasu served notice Friday that she is back. She won the short program at Cup of China in Beijing, China, her first international of the season with 62.20 points.
"Coming out of a disappointing season it's a surprise for me to be in first place at the Grand Prix," said Nagasu, who started training with renowned coach Frank Carroll in May. "It is a little overwhelming. Hopefully I forget about it and just go into the long program strong."
She leads of Finland's Kiira Korpi (61.20), a former European Championship medalist, and Italian Carolina Kostner (61.12), the two-time World Championship medalist who trains with Nagasu in El Segundo, Calif. Two-time U.S. silver medalist Rachael Flatt is fifth with 58.80.
Performing to Sing! Sing! Sing!" from the musical Fosse, Flatt  started with a strong triple flip-double toe combination, typically a triple-triple, and then completed a triple lutz and a double axel. Her program also included Level 4 spiral sequence, a Level 4 spin, two Level 3 spins and Level 3 footwork.
For the technical elements, she ranked fourth in the competition with 33.40.
Nagasu, who skated last in the first warm up group, Pirates of the Caribbean, nailed a triple Lutz-double toe, although the first jump received an edge warning, a triple flip and a double axel out of an Ina Bauer, putting her first in the element score with 37.40. She also performed three Level 4 spins, a Level 4 spiral sequence and a Level 3 circular step sequence.
Reigning World silver medalist Joannie Rochette, who was favored to win Cup of China, is in seventh place with 52.12 points. Her performance included only three jumps, including a triple flip. She doubled her opening triple lutz and left off the second jump in the combination. She also singled the axel.
Ninth place belongs to American Beatrisa Liang (50.76), who had negative grades of execution on four elements including the triple lutz-double toe, which also yielded an edge call on the first jump, and the double axel. Liang had two Level 4 spins and a Level 4 spiral sequence.
In the ice dance competition, five-time U.S. Champions Tanith Belbin and Ben Agosto have a more than two point lead on Russians Jana Khokhlova and Sergei Novitski, 38.33 points to 36.30, following the Golden Waltz compulsory dance. Italians Federica Faiella and Massimo Scaliare third with 35.37.
Americans Madison Chock and Greg Zuerlein made a respectable debut performance in their first career Grand Prix. After the compulsory dance, the reigning World Junior Champions are in seventh place with 28.76.
The ice dance competition continues Friday with the original dance at 9 p.m. local time. All four finals — the ladies free skate, men's free skate, pairs free skate and free dance — are Saturday at the Beijing Capital Gymnasium.
Cup of China is the third event of the 2009 International Skating Union (ISU) Grand Prix of Figure Skating circuit. The series, now in its 15th season, consists of six international events in a cumulative, point-scoring format. The top six scoring athletes in each discipline move onto the Grand Prix Final, Dec. 3-6, in Tokyo, Japan, which will be combined with the ISU Junior Grand Prix of Figure Skating Final for the second consecutive season.
The six Grand Prix events are Trophee Eric Bompard, Oct. 15-18, in Paris, France; Rostelecom Cup, Oct. 22-25, in Moscow Russia; Cup of China, Oct. 29-Nov. 1, in Beijing, China; NHK Trophy, Nov. 5-8, in Nagano, Japan; Skate America, Nov. 12-15, in Lake Placid, N.Y.; and Skate Canada, Nov. 19-22, in Kitchener, Canada.
The points toward the Grand Prix Final that are awarded for each place are 15 points for first; 13 points for second; 11 points for third; nine points for fourth; seven points for fifth; five points for sixth place; four points for seventh place; and three points for eighth. In pair skating, only the top six receive points.
__________
Figure Skaters Online strives to be an accurate source of information related to the sport of figure skating. To report an error, please e-mail the news editor. Include the article date and title in your e-mail.