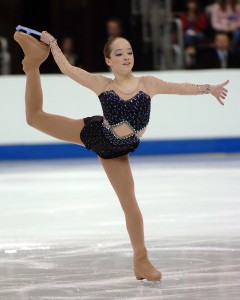 The four American ladies competing at the Junior Grand Prix Final in Tokyo, Japan, had troubles in the short program Saturday, all placing in the bottom half of the eight skater field.
Russian Polina Shelepen (59.54 points) took the lead with a personal best performance to "Adagio" that featured a triple Lutz-triple toe combination, putting her .02 ahead of Japan's Kanako Murakami. Ksenia Makarova of Russia, who trains with three time U.S. Champion Johnny Weir, is third with 55.38 after also landing a triple-triple.
Christina Gao (52.82) was the highest placing lady for Team USA, securing fourth place with a problem that included a nice triple Lutz-double toe combination, although the first jump received an edge warning. Ellie Kawamura (50.30), Kiri Baga (49.58) and Angela Maxwell (47.28) followed in sixth, seventh and eight place.
Kawamura, who received high levels for her spins, performed a less technically demanding program, landing a triple toe-double toe to start her performance to "Somewhere Over the Rainbow" from the Wizard of Oz movie soundtrack. Her solo jumps were the double flip and double Axel.
Baga under rotated her opening triple flip, which received a negative grade of execution, but landed a triple Salchow-double toe and a double Axel. With the exception of her straight line step sequence, which earned a Level 2, all of her non-jumping elements (three spins and the spiral sequence) were well received, earning Level 4.
Maxwell started with a double Axel but then popped her triple flip into a double. She recovered to landed a triple toe-double toe and perform a Level 3 layback spin. While her spiral sequence was only a Level 1, she ended the program with two Level 4 spins and Level 3 footwork.
In the ice dance event, Russians Ksenia Monko and Kirill Khaliavin earned a personal best 55.70 for their Ukrainian folk dance, edging world and U.S. junior silver medalists Maia Shibutani and Alex Shibutani by .49. Elena Ilinykh and Nikita Katsalapov of Russia are third with 54.35.
"It was our best performance in competition this season so far — it was the cleanest one," Khaliavin said. "It is surprising for us [to be in first place] as Shibutani and Shibutani had higher scores than we had in their Grand Prix events and they skated clean."
Americans Isabella Cannuscio and Ian Lorello (46.48) placed sixth in the original dance.
__________
Figure Skaters Online strives to be an accurate source of information related to the sport of figure skating. To report an error, please e-mail the news editor. Include the article date and title in your e-mail.