By Gina Capellazzi, website administrator
Photos by Gina Capellazzi and Robin Ritoss
The International Skating Union (ISU) held week two of its Junior Grand Prix series in Lake Placid, N.Y., Aug. 29-31, 2019. Sixteen Americans, 11 of whom were making their Junior Grand Prix debuts, competed in the historic Herb Brooks Arena, site of the 1980 Olympics and the famous 'Miracle on Ice' hockey game.
Figure Skaters Online's website administrator Gina Capellazzi was in Lake Placid for the event and caught up with the men, ladies and pairs of Team USA after their free skates. For coverage of the ice dance event, visit ice-dance.com.
For photos from the event, click here.  (More photos coming soon!)
Men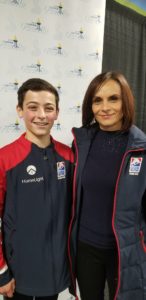 Joseph Klein, 7th place, 182.88 total score
Age: 14
Training location: Northbrook, Illinois

How do you feel about your performance in the free skate?


Joseph Klein: It was a mix of excitement and nerves. I was just hoping to get like top 10 range so I'm really happy with that. It was definitely a new experience—my first international, let alone Junior Grand Prix, so it was huge for me and I really enjoyed it.

What about your short program?
Joseph: It was definitely my personal best [66.52]. This was my first time skating a clean short this season so it was really satisfying to do it. Perfect timing. But you know there is always improvements—I got a level 3 on my spin and I'm still technically behind my other competitors so there is always room for improvement.
Were you surprised to see yourself in 4th place after the short program?
Joseph: I was super surprised. Getting in the last group was a major improvement from where I was last year. It was crazy to be with all these top level skaters with their quads and triple Axels. It was a great experience to be with the big boys (laughs).
What are your goals for this season?

Joseph: I'm hoping to medal at Nationals for juniors and then I want to get another international whether it is a Junior Grand Prix or an advanced novice since I'm technically still a novice skater. This was definitely unexpected and a great experience.
Favorite moment from your two performances?
Joseph: I really want to say it was my (triple) toe-(triple) toe because it was my first time doing it cleanly in competition. I actually felt a lot of joy today when I did that cantilever Salchow and I heard the crowd go 'Woohoo!'. It was fun that everyone was enjoying my transitions and jumps.
Is the cantilever Salchow something you worked on a lot?

Joseph: We worked on it a lot this year. I just used to have a plain cantilever. It wasn't into a jump, but then we were thinking, 'It is a good cantilever, so why can't we add a jump onto it.' We worked on it this year and as we saw, it turned out pretty good. So I'm happy with that.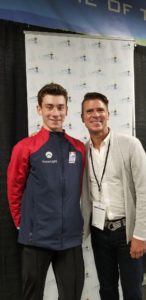 Ryan Dunk, 5th place, 188.39
Age: 18 
Training location: Revere, Massachusetts
How do you feel about your performance in the free skate? 

Ryan: I feel better about myself because my short was really bad. So I feel like I accomplished something (in my free skate). So I feel good about myself.

What was the mindset from having to go through that and then skating today?
Ryan: It was really hard to like beat myself up, but I decided to just turn it around. I had nothing to lose. I was not even in the last group so I was like 'just go for it'. And when I popped my first jump (triple Axel), I was like I had the whole rest of the program so I just tried to forget about it and I got a little angry and I did the rest of the program so I'm happy about that.
Did you feel any pressure coming into this event as the reigning U.S. Junior Champion, leading the rest of the U.S. men?
Ryan: Yeah, I definitely felt like there was more expectation (of me). I know that I can do a lot better so it is like disappointing and I feel like even since I won Nationals, I have gotten so much better so it is frustrating. I just have to get more confidence so when I come to these bigger international events I can be just as confident.
What would you like to do better at your next event?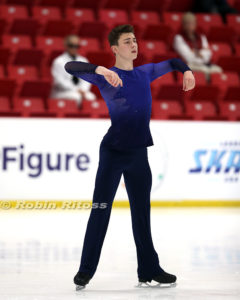 Ryan: I like to do two solid programs. They don't have to be perfect, but they need to be both good. I definitely want to get more positive GOEs on every jump.
You missed your triple Axel in your free skate.
Ryan: Yeah, it was especially annoying because it was just a single. So I want to at least rotate it and stand up.
How are you doing in practice on your triple Axel?
Ryan: It is not my strongest jump, but we have changed the set-up and take-off to improve it. It has gotten a lot better since Glacier Falls (club competition last month), so I thought it would be a little bit better here, but you learn. So the next event, I definitely want to get that in.
Do you have anything specifically that you are proud of from that last skate?
Ryan: I think I really didn't give up on myself, especially because when I missed the first jump, I just wanted to walk off. I didn't give up and I skated with my heart.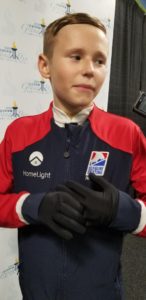 Ilia Malinin, 4th place, 201.72
Age: 14
Training location: Reston, Virginia

How do you feel about your performance in the free skate? 
Ilia: It was really good. I really didn't expect it to be that good. I could have done better, but it happens. I just need to not think about it and move on.
What are the moments that you are proud of?
Ilia: I'm proud of when I landed the second triple Axel. I knew when I did that I was like 'I'm done with the hard elements, now I just need to focus on the rest.'
Is the triple Axel one of your favorite jumps? 
Ilia: Yes, it is one of my favorite jumps!
When did you start working on it?
Ilia: I started like maybe a year ago landing it. When I first landed it, it was actually on a warm-up for a competition.
Were you surprised with your performances this weekend?
Ilia: I was kind of surprised because I didn't know that I was going to do how I did because I knew this was a big competition and I needed to focus to get everything solid. I think I'm very happy with what I did.
What are your goals for this year?
Ilia: My goals for this year are to learn another quad because I have a quad Salchow. It is not really that consistent, but I'm working on it and I'm hoping to have a quad toe and maybe by next year a quad Lutz.
When do you think you want to add a quad in competition?
Ilia: I think maybe this year if I can perfect my quad Salchow more than I can maybe start adding it into my long.
Pairs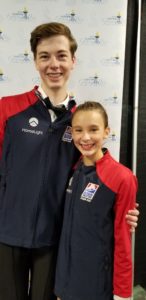 Isabelle Martins/Ryan Bedard, 10th place, 120.99
Ages: 13/18
Training location: Geneva, Illinois
How do you feel about your performance in the free skate? 
Isabelle: We felt good!

What stood out about your performance?
Ryan: Our skating from our short program to free skate. We skated a lot stronger.
Isabelle: Our throws were hit very well today (in the free skate).
What was the mindset heading into the free skate?
Ryan: To attack it because in the short, we were kind of nervous and held back a little bit. So today we went full out and tried to push, push, push and keep going.
Isabelle: Balls to the wall!
What has this experience of your first Junior Grand Prix been like?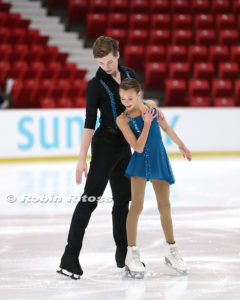 Isabelle: It has actually been really nice. We are enjoying it and it is really fun to meet new people and compete at a higher level.
What are some of your goals this season? 
Ryan: For our second Junior Grand Prix, definitely skate more clean and more powerful and just flow across the ice.
Isabelle: Improve our skating and make our technical elements very consistent and smooth. And to just have fun.
Kate Finster/Balazs Nagy, 6th place, 133.09 total score
Ages: 15/21
Training location: Colorado Springs, Colorado
Your free skate wasn't what you hoped for. What will you work on when you return to Colorado Springs?
Kate: I think just really to remember our technique and don't get too spastic; cut down on the mistakes and to learn to recover from that. I don't think we did that today in our performance.

What are your goals this season?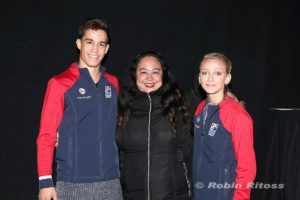 Balazs: We really want to improve the consistency of sections while we train them. We struggled a bit on the jumps today which we are definitely still working on and we need to work for. The throws, I felt, we had pretty well done right before the event, but we didn't do them well today.
This is your second Junior Grand Prix, but your first one in the U.S. What was it like to compete in an international here in the U.S.?
Balazs: It is our first Grand Prix of the season and obviously, we were in Ostrava last season. It felt like a normal Grand Prix. It was nice that we didn't have to travel far.
Ladies
Jessica Lin, 8th place, 8th place, 148.35 overall
Age: 15
Training location: Euless, Texas
How do you feel about your performance in the free skate? 
Jessica: The first part wasn't that great, but I felt that I  came back better in the second half. I guess I'm really pleased that I didn't let one element get the best of me.
What are your goals for the season?
Jessica: I want to put out two clean programs and I would like to get a level 4 step sequence and level 4 on all of my spins.
What was your inspiration behind the music that you chose for your programs?
Jessica: The year when I watched 2017 Worlds, I really liked his (Yuzuru Hanyu's) program and I really liked the music ("Asian Dream Song")  and so we decided to use the music. After all, it is "Asian Dream Song" and I'm Asian (laughs), so it kind of makes sense.
What was it like competing in Lake Placid? 
Jessica: It was great. I like the big arena. The ice was good, no bumps. The crowd was really supportive. They cheered me on even though I had some mistakes.
What has been your favorite moment of the Junior Grand Prix so far?
Jessica: I like every moment! I liked having someone to room with for the first time. I like the big arena and I liked how it wasn't cold and all that. I liked the audience and how they cheered me on.
Do you have a personal moment on the ice that stood out to you?
Coach Darlene Cain in the background: Axel Toe!
(Laughs)
Jessica: My (double) Axel- (triple) toe wasn't really consistent in practice so I'm happy that I was able to put it out there. Probably, the ending of my last triple loop. I was like 'Woohoo, Done!'. (laughs)
If there is one thing you want people to remember about you as a skater from this competition, or in the future, what are you hoping people will remember about you? 
Jessica: I hope they remember my dress–female Yuzuru Hanyu's on ice. It is a kind of like a tribute to him. So I hope people recognize it. I respect Yuzuru Hanyu and all the top athletes out there.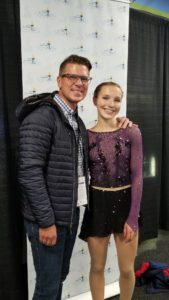 Emilia Murdock, 7th place, 148.95 overall
Age: 16
Training location: Revere, Massachusetts
How do you feel about your performance in the free skate? 
Emilia: It was definitely a lot better than my short program, but I still feel like I have a lot to work on because in practice, I'm very consistent in the long and the short all the time but when it comes to competing them, I just feel I need more practice with the nerves and how to deal with a crowd. I think over time that will get better. Already this season, I have progressed a lot with each competition. Just to get better than where I was last year. Just more competition practice.
What did you think of your first Junior Grand Prix event?
Emilia: It was really fun. It was really cool seeing everyone walk in with different team jackets and meeting people from all over the world. It was definitely really exciting. I have gone to two internationals before this but this one just felt more special just because there were so many countries here and everybody was working together as a team so that was really fun.
You competed in Lake Placid at a club competition in June and now in the Junior Grand Prix. How did it feel to represent the U.S. in the Herb Brooks Arena?
Emilia: It was really special because I played hockey here when I was younger too. I also skated in the summers here when I was 2 and 3 (years old) so for this being my first Junior Grand Prix, it was really cool because I grew up competing here and I have come a long way so that is really exciting.
What are some of your goals this season?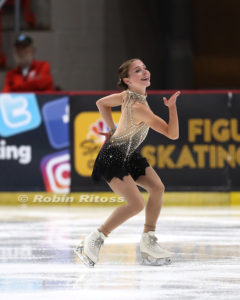 Emilia: My goal is definitely to add the triple-triple in, start landing triple Axels. I think Alysa (Liu) has definitely has made us all realize that skating is going places and it is rabidly changing so I think I need to move with the sport. And hopefully, another Junior Grand Prix where I can really go out there and skate my best, try the triple-triple, but most importantly, just do the jumps that I can do and not let the nerves get to me.
Which triple-triple are you hoping to add?
Emilia: I can land triple flip-triple toe pretty consistently in practice, it is just getting it into the program with the nerves and everything. You really need to be more 100% in practice to be able to do it when it counts.
When you look at Alysa (Liu), do you and others feel like you have to step up your game?
Emilia: Yes, definitely! It is very cool what she has done to this sport because I mean now we are all working on quads every day and triple Axels. She has kind of showed that the U.S. ladies can beat the Russians and can beat the Japanese and Koreans, we just all need to work on motivating each other and I think she has really done that and really helped our sport in the U.S. So I'm excited to see where it goes this season and next.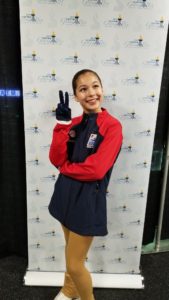 Alysa Liu, 1st place, 208.10 total overall score
Age: 14
Training location: Oakland, California
How do you feel about your performance in the free skate? 
Alysa: I feel okay. I could have done better. I always feel like I could have done better, but I'm not mad.
So you are the first U.S. lady to land a quad Lutz in competition.
Alysa: I don't know. (laughs)
How do you feel about that? Have you thought about that at all?
Alysa: No.
Why don't you think about these things that everyone else is talking about?
Alysa: I don't obsess (with those things).
With all these quads, why did you pick the most difficult, the quad Lutz?
Alysa: My triple Lutz, for me, it is easier than all my other triples. (For me), triple Salchow is harder than triple Lutz so I figured that my triple Lutz is my favorite jump and the easiest for me to do, mine as well just try quad Lutz.
When did you start practicing the quad Lutz and when did you start landing it? 
Alysa: I probably did it, like two months before August of last year. I probably worked on it for two months, maybe a little longer and then right before my 13th birthday, I got it.
Your first Junior Grand Prix. What do you take away from this?
Alysa: It is a good learning experience, since it is only the first Junior Grand Prix and one of the first big competitions this season so it is a good learning experience and I'm just really learning from this.
What are you most proud of?
Alysa: My spins because normally they are hard for me in practice to get really fast, but now they are getting faster.
What does the rest of the year look like for you, goal wise?
Alysa: Land all my jumps and improve my skating skills and my speed into my jumps.
What will you work on before you head to your next Junior Grand Prix event? (Baltic Cup, Sept. 18-21, in Gdansk, Poland)
Alysa: My programs.
Anything particular you'll focus on?
Alysa: Everything!
The second triple Axel is really tough, because you already did a triple Axel and a quad. Do you find that especially challenging because you already had so much energy leave you after the other two jumps?
Alysa: Not really. I practice my programs a lot in practice and normally I can do all of my elements in my programs with everything else. I think I was slow and too hesitant for my second Axel, but normally I can do it.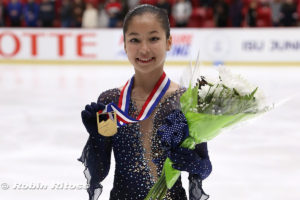 When you practice Axel or quads, are there any skaters' videos you watch as a role model?
Alysa: I don't really watch other skaters' quads because everyone's technique is a little bit different. I kind of go off what works for me. If my coach has a video of when I did it before, she will just show me that and I will try to do the same technique from that. I kind of do the same technique for my triple Lutz and quad Lutz, maybe a little bit different, but I try to go off of my experience.
What do you think of your free skate program?
Alysa: I love my program a lot. I like both of my programs. I think I just need to get used to it more, practice it more and hopefully I can do better.
Did you do anything special hanging around Lake Placid?
Alysa: I have done a lot of things here. I walked around Mirror Lake and went down Main Street.
Are you practicing any other type of quad jumps?
Alysa: No, I'm not really working on any more quads yet.
Do you ever pay attention to what other skaters are capable of doing?
Alysa: Yeah!
You will be facing Russian girls probably at the final?
Alysa: If I make it!
What are your favorite things to practice? What are your least favorite things to practice?
Alysa: My favorite things to practice are probably jumps and my least favorite are–I'm not sure what my least favorite is. I don't really have a least favorite, I kind of like all of it, but I like jumps especially.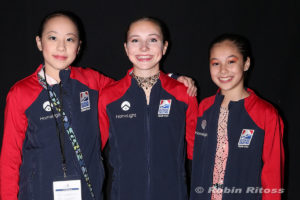 Your skating has approved so much since last year. Is there any special training that you did?
Alysa: I do more like ballet and stuff to help with my programs. I work on my programs more just with choreography, no jumps or spins, just the choreography and I do skating school exercises.
How much ballet do you do?
Alysa: It has been on and off recently because I have been traveling more, but normally two or three times a week.
It is your first time in Lake Placid. How did you like skating in this venue with all the history?
Alysa: It is really cool. It is also really inspiring to be here because of the Olympics!
You skated in both the 1932 and 1980 (Herb Brooks) rinks. Did you prefer one over the other?
Alysa: The arena (Herb Brooks Arena)!