Story and photos by Victoria Burdman
Header photo by Robin Ritoss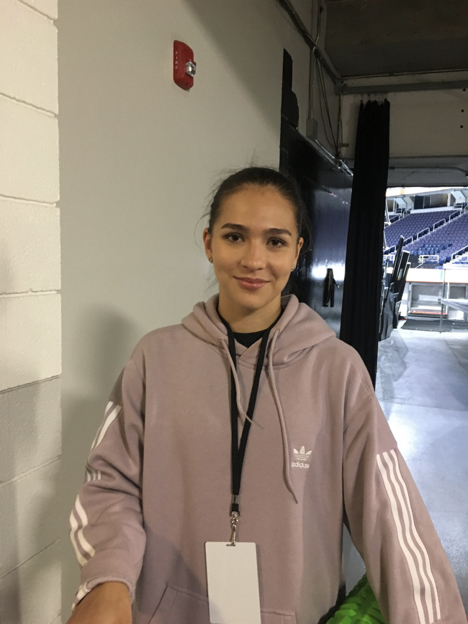 At the 2019 Russian Championships, Russian skater Stanislava Konstantinova was the highest-ranked senior skater in the competition, placing fourth behind a field of junior skaters and ahead of 2018 Olympic champion Alina Zagitova and silver medalist Evgenia Medvedeva. The then-18 year old from Saint Petersburg was assigned to the European Championships, and also competed at the Russian Cup Final, where she finished in 4th place overall at both events. Konstantinova was named as an alternate for the World Championships.
Last month, Konstantinova participated in the inaugural Aurora Games in Albany, N.Y.  The five-day festival celebrated the best in women's sports and featured sports  such as tennis, gymnastics, ice hockey and beach volleyball, in addition to figure skating. Celebrate the Weekend writer Victoria Burdman attended the figure skating event Aug. 24. While in Albany, Burdman briefly caught up with Russian skater Stanislava Konstantinova to discuss her preparation for the new season. Burdman spoke with Konstantinova in Russian and translated the interview for Figure Skaters Online. 
Victoria Burdman: Did you have any special preparation for this event considering its unusual format [the skaters performed their short and long program with almost no break in between]?
Stanislava Konstantinova: We had some "open skates" in Saint Petersburg right before this event, so it was the usual training for me.  I have been ready for the season for two weeks now. I skate several programs every day so the format was not difficult mentally, but yes, it was challenging physically as I only had 20 minutes between my short and long programs when I managed to change my dress and write to my mom!
Burdman: How did you manage without you coach here? [Konstantinova's long-time coach Valentina Chebotareva did not accompany her to the Aurora Games]
Konstantinova: It was unusual, but I managed.  I have been working on my mental focus to try not to get affected by things and I think I managed well here.
Burdman: So was the Aurora Games a grand rehearsal for the season ahead?
Konstantinova: More like a 'cold shower'!  First, there were two programs to perform in one session almost without a break and without a coach.  Also, there were no Russian speakers around me so I was forced to communicate only in English (which I am proud of!).
Burdman: Did you perform your new programs here?
Konstantinova: The short program – February – is my new short program this season.  The jump combination in the beginning of the program did not come out quite as I hoped, but I am counting on a solid start of the program with a triple-triple combination.  As to the long program, my music to Moulin Rouge [Stanislava's long program for this competition season] did not clear so we had to quickly stage the show version of the long program [vb: last season's Melaguena].  I had to actually train three programs instead of the typical two,  but I have been working on changing my attitude to work with what I've got instead of being hung up on the obstacles.
Burdman: Whose ideas were behind your programs?
Konstantinova: Both programs were done by our group's choreographer Olga Zotova.  We were trying to do something that would be different from my past programs.  February [short program] was Olga's idea but Moulin Rouge [long program] was mine.  I really wanted this music! I greatly admire Ashley Wagner and all her programs, but especially her Moulin Rouge  program [from 2015 and 2016 seasons] which really touched me.  The coaches did not agree to do the tango for me, so my Moulin Rouge is a musical mix.
Burdman: Did you have a chance to talk to Ashley here?
Konstantinova: Yes, I am very happy that we met and had a chance to talk.  I had actually met her before but was not comfortable talking in English then.
Burdman: What are your goals for this season?
Konstantinova: To focus on myself, to be in harmony, to do "my business".  I know there will be a lot of pressure and an intense competition so I have nothing left but do what I can do well.
Burdman: Where do you plan to start the season?
Konstantinova: Bratislava Challenger [Ondrej Nepela], then Grand Prix at Skate America and in Moscow [Rostelecom Cup].
Burdman: Have you added any new technical elements to your programs this season?
Konstantinova: We have worked on triple Axel a lot, but I am really not sure about including it in the program as it is a tricky element and I cannot say that I have succeeded at mastering it yet. It is more important for me to concentrate on the elements that I already have.  I think that worked.  I am not in my best form yet (I'd say I am at 80%), but I have the confidence.  I know that I have things to work on.
Burdman: Do you plan to spend time in New York City before you fly back home to Saint Petersburg?
Konstantinova: I came here on Thursday (August 22) and I am leaving on Sunday (the day after completion ended).  I really would have liked to spend a full day in New York City but we have [Russian Federation's] official open skates coming up [Sept. 7-8] so I decided to back home.  I might have a chance to shop for a couple of hours -with a suitcase – but I like challenges!
Editor's Note: Burdman spoke with Ashley Wagner, who was also competing at the Aurora Games. She told Burdman this about Stanislava:
Ashley Wagner: Hopefully she will have a good season! Russian skating selection is complicated, but watching what she is capable of and [knowing that she is] not getting on the Russian team blows my mind […] she is in a tough situation but she is a fantastic skater!  She has two Grand Prix assignments; they will watch her very closely and if she can skate like she has skated here at the Grand Prix events, she will be fine!