By Claire Cloutier, Team FSO contributing writer
Photos by Robin Ritoss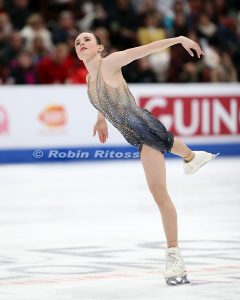 ANAHEIM, CALIF. — Two days after her sixth-place finish at Four Continents Championships, Mariah Bell took a few minutes to chat with Figure Skaters Online about her performance in Anaheim and her season so far. Although Bell is 22 and now in her sixth season as a senior, she is as fresh-faced, friendly, and ebullient as many a younger skater. It's been a season of steady progress for the American, and she was cheerful but realistic in evaluating her performance at Four Continents.
"I'm really happy with the short," she said of her third-place short program in Anaheim, which earned her an ISU small medal. "The long [program], I'm actually pretty disappointed. It wasn't a bad program, by any means, but I'm capable of so much more. The fall [on the triple loop] was a mistake, but I'm more disappointed in the fact that I popped [doubled] the first Lutz. That was a lot of points. It's like I just lost my focus for a second, or I was a little bit slower than I should have been. But I know the exact spots that I need to work on and I'm confident that it'll be much stronger for Worlds."
Bell's expressive, emotional short program to Celine Dion's "To Love You More" has been very successful this season, both at Four Continents and other events. Figure Skaters Online asked how it ranks among her own personal favorite programs. "It's up there–very, very high," Bell said.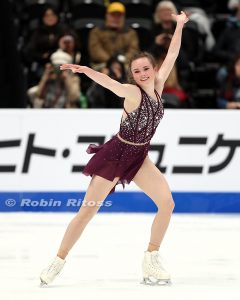 Her former training partner Adam Rippon choreographed the program. "To work with Adam was really special, because it was something I really wanted to do. And Rafael [Arutunian, her coach] was like, 'Yes, I think that's a great idea.' I always looked up to Adam, and he was like a mentor for the younger kids."
Bell said that Rippon originally suggested the idea of her skating to Celine Dion over two years ago, in fall 2017. Bell loved the concept. So when they decided to do a program together this fall, they already had a direction to go in. "The first song we were originally going to use is 'The Power of Love,'" Bell noted. "And then we listened to it, and listened to 'To Love You More.' And 'To Love You More' just had a little more variation, for a program, and it built a little bit nicer than 'The Power of Love.' So we ended up going with that one."
Bell enjoyed the process of working with Rippon on choreography. "When we were creating the program, Adam gave me some things that were a little more challenging for me. So I really had to work on expanding what I'm used to, [to] help my skating grow. And then also, he understands Rafael's technique really well, so it was easy to work with [him]. For example, to set up a jump pattern, he knows how much speed you would need. I mean, he could literally go do the jump himself and be like, 'That's okay, I think that would be good.' We could talk through it like that, which was nice."
To match Dion's powerful vocals, Bell and Rippon had to put special focus on certain parts of the program. "Because the footwork was at the end, making sure that the program continued to build, [and] not die down. I really wanted to make sure that my energy started strong but maintained through the end of the program," Bell noted.
Fortuitously, Bell was able to see Celine Dion perform over the New Year's holiday this winter. "She sang this [song] when we went and saw her," said Bell. "And I was already so inspired, but it kind of gave me another refreshment of inspiration for the second half of the season."
Although Bell has always been noted for her line and extension, she's arguably reached a new level of recognition for her artistry this season, both among fans and judges. Bell feels that her blossoming reputation as a performer is driven by her love for the sport.  
"Skating is just my passion. I absolutely love it," she said with a big smile. "It's so cool that we have a sport where we can combine athleticism and artistry. We get to tell a story while we're doing what we're doing. And I love that aspect of our sport. Another thing, too … My programs feel more mature [this season]. Like my long … I've never done a program [that's] maybe that serious. So it brought out another side of my skating. That's what I want to keep doing, leading into the Olympics–is just continuing to build my basis of skating. So that I have a lot of options of different types of programs that I can do."
Bell said that musical selection is very important in her skating. "If you love the music, you'll be able to relate to it well," she said, regardless of genre. "It's really big for me, how something makes me feel when I'm skating."
Asked which types of music she'd like to explore in the future, Bell offered: "I feel like I haven't done anything Spanish or tango [recently]. So that would be super cool to try."
While Bell has shown artistic growth this season, the technical side of her skating has also been generally more consistent than in years past. She attributes the improvement to working with her coach, Rafael Arutunian.
"When I moved to Rafael–which was two years ago, roughly–he said: 'We need two years. In two years, we'll have a good base of stuff. And then we'll be able to start adding. You'll start to see real results in two years.' Well, it's been two years, and he was right," she said with a chuckle.
"It was funny. When he [first] said that, I was like … I don't want to wait around for two years and not see anything happen. But now I'm really starting to see the work pay off, which is really exciting. It's just, getting used to his technique takes a while. It's very different. And now I feel like I'm really starting to understand it. And I'm able to apply it better in practice, which shows better results in competition. And it will only get better the more time I spend with him," she concluded.
Bell explained that Arutunian works closely with individual skaters to fine-tune their technique in a customized way. "Each skater has a different body. So the way I jump is very different from the way that Nathan [Chen] jumps," Bell said. "And he's really good at adapting to each skater. We work a lot of different exercises. Basic exercises, edge exercises, working inside/outside edges. That actually helps jumps as well. And he's really big on patterns into jumps. And they may change throughout the season. You get a little bit leaner as the season goes on, because you're doing more program [run-throughs]. So your jump technique changes a tiny bit, as your body changes. He can see that and adapt to each person. I've never had a coach that was able to do that."
Arutunian has a reputation for being a tough coach to work with. Nevertheless, we saw Bell laughing with Arutunian in the kiss and cry at U.S. Nationals after her long program, despite a key jump error in her program. Is it possible that Bell is less than intimidated by the usually gruff coach? She smiled when asked to describe their relationship.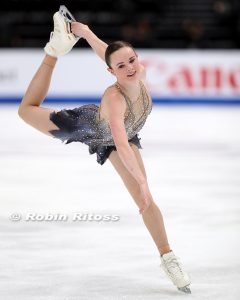 "Well, the thing with Rafael is that you have to have a thick skin to work with him. That's just how he is. He is tough," Bell said. "But he also would do anything for his skaters. If I came to him and I was like, 'My phone broke, and I don't have any way to get a new phone,' he'd go buy me a new phone. He'd give me the shirt off his back. He truly loves his skaters. But he loves us and wants us to do well. So if that means he's got to be a little tougher on the ice, then that's what he'll do. He's this big, kind of scary, guy … but on the inside, he's honestly like a big teddy bear. I had to show it a little bit at Nationals [after her jump mistake]. I was like, 'Oh, come on, you're not that mad,'" she said with a laugh.
Evidently, Arutunian and Bell have a rapport, despite the coach's tough-guy reputation. "I mean, he's definitely not easy to work with. I'd say he's not for everybody," Bell admits. "But he gets results. I'm really honored to get to work with him."
Also training in Arutunian's group this year are young skaters Eunsoo Lim of South Korea and Marin Honda of Japan. At 15 and 17 respectively, both athletes have been much-hyped phenoms in their home countries, seen as potential future stars. And they're just two among many incredibly talented young ladies skaters right now on the junior and senior level. Figure Skaters Online asked Bell if it's ever difficult dealing with all the attention on the young stars in the sport.
"I do get to train with them, so it's really motivating for me. I think it's really interesting," Bell said. "I was training and competing with Ashley [Wagner], and all [journalists] would do is talk to her about age. And now I guess I'm the oldest. It's kind of funny to me that now, I'm being asked these questions."
Bell noted the oddity of being considered relatively "old" at the age of 22. "You look at track and field, you look at skiing, lots of different sports, and women aren't in their prime until they're 24, 25, 26. So skating shouldn't really be any different," she said. "Injuries are a big thing, obviously, that hold people back from competing to a certain age. But if you can keep yourself healthy and keep yourself motivated and you still love what you're doing …. I mean, look at Carolina Kostner. Last year, she did so well. I think it's all about how well you take care of yourself and how well you train. You can skate for as long as you want. Well, maybe not as long as you want, but for a long time."
Maintaining her motivation and passion for the sport is not an issue for Mariah Bell. "I still feel really young," she said. "Rafael says, 'You have a young body and a young soul.' So age doesn't really play into any factor. I plan to skate for, at a minimum, four more years. And then if I feel good, more than that."
And why not, if you have as much joy in the sport as she does?