By Maura Sullivan Hill, Team FSO staff writer
Header photo by Robin Ritoss
At the 2018 World Junior Championships, Alex Krasnozhon was in the lead after the short program, poised to take the title. Then disaster struck on the first jump of his free skate: He injured his ankle and withdrew from the competition.
After months of rehabilitation on his ankle and a solid season on the senior level — including a fifth place finish at the 2019 U.S. Championships — Krasnozhon returns to Junior Worlds with a fresh perspective, and goals of putting a quad jump back into his long program. He says they will assess whether to include the quad after the short program. This will be his last competition at the junior level, and he says that he is looking forward to competing at Junior Worlds one more time.
Before leaving for the competition in Zagreb, Croatia, Krasnozhon chatted with Figure Skaters Online in a brief question and answer session.
Figure Skaters Online (FSO): What are your goals heading into Junior Worlds?
Alex Krasnozhon: The goals are to show the best of me this season — show a clean quad and skate like a true senior skater. I would like to be on the podium, but I want to focus on my performances and let the judges decide where I place. The only outcome I can control is my performance.
FSO: Are you changing anything about your training as you prepare for Junior Worlds?
Krasnozhon: We are, just a bit. I am finally at the point where my body is able to handle long training sessions [after last year's injury]. As of now, we focus a lot on the quality of the elements, and we are doing a lot of spins, I would say about 30-40 a day. A lot of footwork, as well. I am also finally focusing on improving my skating skills and posture.
FSO: How are you feeling about returning to the competition in which you got injured last year?
Krasnozhon: I feel good about going back. Everything happens for a reason, and lighting doesn't strike the same spot twice. This year will be different, and it's up to me to make that statement come true.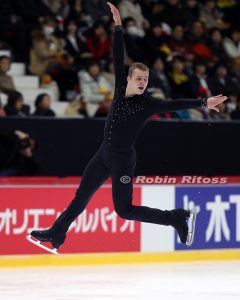 FSO:  You finished in 5th place at the U.S. Championships in Detroit. How did you feel about the competition?
Krasnozhon: I felt really good! I finally managed to get where I wanted to be for now, and I skated the best I skated all season. I made a step in the right direction.
FSO: After the U.S. Championships in Detroit, you went to U.S. Figure Skating's U.S. World Junior Team Camp in Strongsville, Ohio, where they announced the World Junior team at the conclusion of the event. What was the camp like?
Krasnozhon: It was amazing — great team, great feedback! I am thankful that U.S. Figure Skating provides the skaters with such a great opportunity, and I think this camp was extremely helpful.

FSO: There are a number of former U.S. Junior Champions, including yourself, making a run in the senior ranks this season: Tomoki Hiwatashi, Camden Pulkinen, Andrew Torgashev. Is there camaraderie among that group?

Krasnozhon: On the ice we are competitors, but off the ice we are all great friends and support each other.
FSO: Any plans for a rest/vacation after this competition?
Krasnozhon: Yes! If everything goes well at Junior Worlds,  my girlfriend and I will go to Hawaii for vacation. We will wait until after Junior Worlds to start preparations for next season.
The 2019 ISU World Junior Championships will take place March 4-10, 2019 in Zagreb, Croatia. U.S. Figure Skating's press release states the competition will be "live-streamed by the ISU" (check: https://www.isu.org/figure-skating ) in the U.S., starting on Wednesday, March 6 (junior men's short program event is scheduled to begin at 6:15 am Eastern time).