By Gina Capellazzi, Team FSO website administrator
Header photo by Robin Ritoss; medal photo by Jay Adeff, U.S. Figure Skating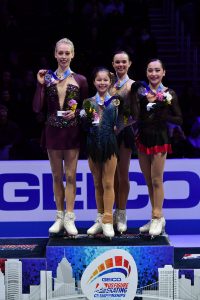 In January, thirteen-year-old Alysa Liu made history at the U.S. Championships in Detroit, Mich., becoming the youngest to win the U.S. senior ladies' title, breaking 1998 Olympic Champion Tara Lipinski's previous record.
But Liu wasn't the only one who caught the attention of fans at home and inside the Little Caesar's Arena at the U.S. Championships.
Meet Hanna Harrell!
An unfamiliar name to many figure skating fans, Harrell skated two astounding programs to finish in a surprising fourth place and take home the U.S. pewter medal in her senior national debut. She hopes to replicate her Nationals success in a few weeks when she represents the United States in her first World Junior Championships, March 4-10, 2019, in Zagreb, Croatia.
But just who is Hanna Harrell?
The 15-year-old was born in Russellville, Arkansas, located an hour outside the state's capital of Little Rock. Harrell first laced up a pair of skates at the age of 3 and participated in U.S. Figure Skating's Learn to Skate program, under the guidance of Diamond Edge Figure Skating Club's skating director's Amanda Griffin. While living in Arkansas, Harrell said she visited Dallas, Texas often where her family had a condominium located in the downtown area. It was while skating at the rink at the Galleria Dallas that Harrell got serious about the sport. At age seven, she moved to Dallas permanently with her mother for her training.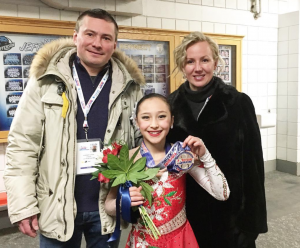 Upon relocating to Dallas, Harrell began training with 1992 Olympic Pairs Champion Natalia Mishkutionok, but after a year of working with her, Harrell said she shifted to her current coaches Olga Ganicheva and Aleksey Letov because they were working with a number of high-caliber skaters.
"Because that [being an elite skater] was my goal, I decided to move to them [Ganicheva and Letov]," Harrell said, who trains with the husband and wife team in Plano, Texas, 30 minutes north of Dallas.
"Because Olga and Aleksey are Russian, they are tough on me," she added. "But I understand because they want me to become one of the best athletes and it [working with them] is just the best for me. I just like the way they coach."
In 2016, Harrell won the silver medal at the juvenile level at her first national championships, skipped the intermediate level and qualified again for Nationals the following season, finishing in sixth place at the novice level. That February, she made her international debut, earning her first international medal — a silver in the advanced novice category — at the Challenge Cup in The Hague. At the beginning of the 2017-18 season, she made her junior international debut at the Asian Open Trophy in Hong Kong,  finishing 5th, and the following month she placed 4th at the U.S. Novice and Junior Challenge Skate in Salt Lake City, Utah. U.S. Figure Skating then gave Harrell the opportunity to compete in her first Junior Grand Prix event, which took place October 11-14, 2017, in Egna, Italy.
"My main goal (of the event) was to just get more experience for the international (circuit) because it was my first Junior Grand Prix season," she said, of her seventh place finish at the event.
A few months later, at the 2018 U.S. Championships in San Jose, Calif., Hanna claimed the junior pewter medal. She returned in April 2018 to Italy for the Egna Spring Trophy where she earned her first junior international medal — silver — and debuted her 2018-19 season short program to "Bla Bla Bla Cha Cha Cha" by Petty Booka.
After a successful end to her 2017-18 season, the start of the 2018-2019 fall season did not go as planned for Harrell. Originally selected to compete at the Junior Grand Prix event in Richmond, Canada in September, Harrell was forced to withdraw from the event due to an injury on her right foot. Yet, U.S. Figure Skating selected to send Harrell to the Junior Grand Prix event in Armenia, the final event of the 2018-19 Junior Grand Prix series, in mid-October.
"I just wanted to show that I was strong and I could come back after an injury," she said of her seventh place result in Armenia.
Harrell qualified for her first senior nationals by finishing second at the 2019 Midwestern Sectional Championships in November 2018. In the short program at the U.S. Championships in Detroit, Harrell delivered a technically strong performance, complete with a triple-triple combination (triple Lutz-triple toe). Adding a level of difficulty by jumping with her arms over her head for both her triple-triple combination and triple flip earned her higher GOE (grades of execution) scores for those jumping passes. Her "Bla Bla Bla Cha Cha Cha" short program earned a score of 68.16, which put her into fifth place heading into the free skate, just two points out of third place.
Skating first to a Tango medley in the last group of the ladies free skate, Harrell surprised herself and fans yet again by delivering another noteworthy performance. She earned a free skate score of 134.95 to finish fifth in the free skate and fourth overall. Standing on the podium having the pewter medal draped around her neck came as a bit of shock, even for Harrell.
"I really wasn't planning and I wasn't thinking I was going to place and do as well as I did," Harrell acknowledged. "My goal going into the competition was just to do my personal best, good jumps, good spins and do overall a good competition at my first U.S. Championships as a senior."
"It [Nationals] was just an amazing experience and opportunity for me because it was my first time in the seniors and it was also my first time being able to do the gala at the end," she added.  "When I competed, it was really cool because last year in the juniors, although it was in the big arena, it felt completely different. The environment [in Detroit] felt way different because it was a bigger crowd and there was television [cameras]. But for some reason, for me, I didn't feel nervous. For some reason, I felt more support [from the crowd] and it helped me do well."
Being in the final group also meant the distinction of skating live on national television during NBC Sports' prime-time coverage of the free skate event. Harrell said she received countless text messages from family and friends watching back home.
"All of my family, their friends and other family friends were all watching and cheering for me," she mentioned. "After I competed, they sent me videos of everyone cheering and it was really cool."
Immediately following the U.S. Championships, Harrell was selected to attend U.S. Figure Skating's U.S. World Junior Team Camp in Strongsville, Ohio, a suburb of Cleveland. This was the first-time that U.S. Figure Skating did not name the men's and ladies' members of World Junior Team at the U.S. Championships. Harrell was joined at the camp by fellow competitors Starr Andrews (2017 U.S. junior silver medalist who placed 12th at the 2017 World Junior Championships), Ting Cui (2018 U.S. junior bronze medalist), Gabriella Izzo (2019 U.S. junior champion) and Audrey Shin (2019 U.S. junior silver medalist), all vying for the two ladies spots. The camp was a "competition simulation", Harrell said, noting that she had to perform both her programs in front of judges. The selections for the World Junior team were announced at the conclusion of the camp. Harrell, along with Cui, who finished in fifth place in her senior national debut, were named to Team USA's World Junior Team.
Harrell attended the camp in 2018 as alternate for the World Junior team. Though this year's turnaround from Nationals to the World Junior Team Camp was short and her training between the two events was limited, Harrell said she felt confident that she would be selected to receive one of the two ladies spots for the World Junior Championships.
"When I went to Junior World Camp, I automatically knew that this was important and I needed to show them that I can do what I did at Nationals again and show them that I'm consistent in order for them to send me to Junior Worlds," Harrell responded.  "I was a little nervous at first, but I felt really good with myself because of my training."
Since the camp, Harrell said her training for the World Junior Championships has remained consistent and that she's training the same way she did before the U.S. Championships. With the Russian ladies currently dominating the junior scene, Harrell said in order for the U.S. ladies to compete with them they need to be consistent and also be willing to challenge themselves technically, noting that some of the top Russian junior ladies are attempting quadruple jumps. Harrell confirmed that she is working on her triple Axel and quadruple jumps, specifically the quad toe loop. She told Figure Skaters Online on Feb. 21 that she doesn't plan to add either jump to her free program for the World Junior Championships, but is hoping to add one or both jumps by next season.
"I just want to be consistent," Harrell stated about competing with the Russian junior ladies. "Also, even if I don't have the quads (at the moment), I want to be able to do my jumps with the higher GOE (scores) and show that my jumps are very nice."
"I just want to do how I did at the U.S. Championships and be able to do my very best," she added of her goals for Junior Worlds.
Making the 2022 Olympic team is Harrell's distant goal. As she works toward her dream, she said she is inspired by 2006 Olympic silver medalist Sasha Cohen.
"She was always my favorite skater because of her skating skills and how she grabbed the audience into her performances," she exclaimed, who purposely skated to Cohen's Olympic short program, "Dark Eyes" last season. "I one day would like to be able to skate like how she did."
But until then, Harrell has her eyes set on the World Junior Championships and is eager to show the world what kind of skater she is.
"I'm very excited. It is such a great experience. It will be my debut to the World and to show everyone who I am."
—
Some other fun facts about Hanna:
-Following the World Junior Championships, Hanna will visit her mom's family in Japan.
-Hanna is in ninth grade and is enrolled at Connections Academy online school.
-Hanna will turn 16 years old on Sept. 26. She says she will pursue getting her license once she turns 16 so that she drive herself back and forth to the rink.
-When she's not skating, Hanna says she likes to do some painting, take hip-hop classes and hang with her friends. Her favorite TV show is Grey's Anatomy.