By Johanna Bear
Photos by Leah Adams
A little over a year ago, Marissa Castelli was winning an Olympic bronze medal with her then partner Simon Shnapir and the rest of the U.S. participants in the team event in Sochi, Russia. This past season, however, she and her new partner Mervin Tran had to qualify for the U.S. Figure Skating Championships by route of Eastern Sectionals, an experience that was simultaneously welcome and foreign.
"It was a really weird experience," Castelli recalled with a laugh. "I knew going in that no matter what I did I would be starting all over, and I fully accepted that. I didn't think I'd have to go back and take a senior pairs test, so that was interesting. There was nothing really motivating us beside Nationals at the end, but I was very aware of the process to become a new pair team. Of course, I wish you could magically transform in one day to being, like, eight years in and perfect, but I knew it was a process. Some days it is frustrating because we are trying so hard to do what we used to do, but we're much better now!"
After the Olympics and the 2014 World Figure Skating Championships, where Castelli and Shnapir finished 9th and 11th respectively, she began actively looking for a new partner. Tran had just parted ways with Canadian pairs skater Natasha Purich and both were training at the CPA Saint­ Leonard club in Montreal. When coach Bruno Marcotte proposed the idea of testing out a partnership, Castelli was originally skeptical.
"I needed a new start, a breath of fresh air, and so I was talking to Bruno one day and he was like, "You should try out with Mervin," and I was like, "Well he's Canadian," Castelli joked. "But, honestly, our tryouts were really good and we decided we had to pursue it."
"Unfortunately it worked out," Tran interjected with a chuckle.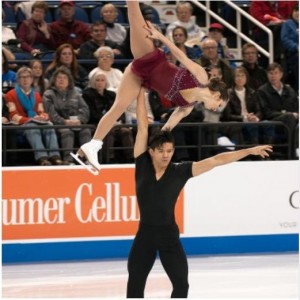 Preliminary skepticism eventually gave way to excitement as the two began to form their partnership, both on and off the ice.
"Just when we had the trial and we did everything, everything just worked out very well together. It was effortless, almost," Tran commented. "We just got along, and it was fun, which is important, to have fun enjoying what you do."
Though there were the expected initial growing pains along with the added adjustments of travel between Boston and Montreal, the two were able to navigate the potentially torrid waters, partly with the help of the pairs community in Montreal, which includes 2015 World Champions Meagan Duhamel and Eric Radford, among others.
"It was definitely an adjustment for me at first," Castelli admitted, "I'd never skated with just pair teams and when Simon and I started to get together we were the only ones training with each other, so it was a really different experience for me. I've never trained with the World Champions before, so I had to sit back for the first couple of weeks and take it in, because not only did we have our own pair session, we had these pair stroking sessions and all this crazy stuff I'd never done before. It took me a while to get used to it, but I do love it now, and I do love training with Meagan and Eric and Michael [Marinaro] and Kirsten [Moore-Towers] and Caitlin [Yankowskas] and Hamish [Gaman]."
For Tran's part, he had to get accustomed to representing the United States and the ISU rule and federation policy that prevented them from competing internationally in their maiden season as a team. After having previously represented Japan and then Canada in his career, he spoke about what skating for the United States has been like thus far.
"So far they [U.S. Figure Skating] have been showing us tremendous support and it's been amazing that they have so much faith in us," Tran noted. "We didn't do too many competitions last year, so I don't know too much about what the international scene is like with the U.S., but from what I've seen from the outside perspective, they're really on top of their game and they're really well staffed. I'm just excited to be a part of the team."
As a byproduct of not being able to compete internationally, Castelli and Tran were able to focus their attention on their basic skating and on combining their skill sets to form the basis for a successful partnership.
"Death spirals were super easy," Tran said of when they started working on the more difficult elements, "And lifts were surprisingly easy, we were doing level 4 lifts during the tryouts. With Marissa I found that I didn't have to do many adjustments at all; her technique lined up with mine very smoothly."
"Right now we've just been working on triple twists, and the throws. We have throw triple Sal and throw triple flip and we've been working on a quad Sal," Castelli added, "We're definitely hoping to get the quad Sal in by Nationals. We're not sure what the best strategy is to do it, maybe one of the Grand Prixs we might put it in and see how it goes. I don't know yet, we'll see."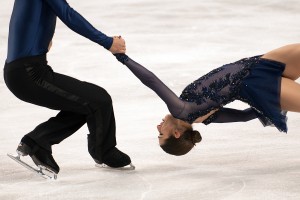 Castelli and Tran made their eagerly ­anticipated competitive debut at Nationals after qualifying through Eastern Sectionals and skated an impressive short program to George Gershwin's "Summertime" that resulted in a third place standing after the short program. Though they struggled in the free skate and finished the competition in sixth place, they were able to find a great deal of positives to draw from the experience.
"Going into Nationals we felt really comfortable and confident with our short program," Tran remarked.
"We knew that one was going to be a good program.""I think we were both just really excited to get there, to Nationals," Castelli added. "Skating at Nationals was just a great experience because it felt like we were at a Senior Grand Prix, so just getting out there and skating to our potential of what we could do was so exciting, and to have that debut, which was great."
In light of their short program success, Castelli and Tran have opted to keep that program for the upcoming season. They have moved towards a more contemporary free skate by ultimately deciding on a medley of Journey songs after listening to a number of popular rock songs in the same vein as Duhamel and Radford's Muse program of this past season. Throughout the music selection process, though, there was never a fear of repeating styles that they had used with their previous partners.
"Simon and I had done rock before, we skated to "Money" and Led Zeppelin. Castelli recalled, "Mervin and I have a completely different dynamic than Simon and I had, so I feel like anything we would skate to wouldn't be the same. Simon and I were very dynamic and we had big tricks, such as throw quad [Salchow] and big twists and lifts. Mervin and I have all that too, and we also have this skating connection on the ice. We connect more together and, I think no matter what pieces we do, it feels completely different from skating with Simon."
These programs will be showcased at two Grand Prix assignments during this upcoming season, Skate Canada and Trophée Bompard, which will mark Castelli and Tran's international debut as a team.
"We're really excited," Castelli said, chuckling after Tran cheered upon mention of the assignments they received. "We were not sure what was going to happen, and just getting [the assignments] was awesome. It's just great to get two. We want to leave a good impression. Ultimately we would love to medal at both of them and go to [the Grand Prix Final in] Barcelona, but we'll still be happy with anything. We just want to skate the best we can and really come in strong."
In light of her Olympic success with Shnapir, Castelli acknowledged that she and Tran share a goal of making it to the 2018 Olympics in PyeongChang, Korea together, but also that that isn't the ultimate goal of their partnership.
"Going to the Olympics is an amazing experience and it really has given me a new perspective on life and being an athlete, but it doesn't make or break an athlete," Castelli admitted. "I think the best athletes are the ones who are around all the time and who are hard workers. In moments things don't always happen the way we expect them to go. Overall, Mervin and I both want a long career, successful on the world stage, and that's what we're really looking forward to right now."
As a result of their shared goals, aligned work ethics and a solid debut in their first U.S. Championships, it is not at all difficult to imagine the future success that awaits Castelli and Tran as they push themselves and pair skating forward into a new era. While U.S. teams have made considerable strides in recent years to bring attention back to the pairs discipline, it still has been more than 13 years since a pair from the U.S. has stood on the World podium. Castelli passionately spoke of their desire to be the team that changes that.
"We have such a strong men's, women's and ice dancing contingent on the U.S. team that everyone is pushing us up to those standards, which I appreciate. I really want to be up there, but it's just more physically demanding sometimes," she stated. "Mervin and I are hoping to really push the envelope with competitions and levels and everything to bring the U.S. back up top. It's going to be an interesting season."
It certainly will be fun to watch.