By Gina Capellazzi
Figure Skaters Online
December 22, 2015 was supposed to be just another day for Jordan Moeller. Just three days before Christmas, the 2014 U.S. Junior silver medalist was planning to fly home to Chicago to spend the holidays with his family following his day of training for the upcoming U.S. Championships. However, during a program run-through, Moeller came down wrong on a quadruple toe loop attempt.
At the time, Moeller said he didn't think it was as bad as it was.
"I was being a little optimistic. I was hoping it was just a small ankle sprain," he said.
But the end result proved to be far worse than Moeller expected. He ended up breaking his fibula and tearing a ligament in his right ankle. The injury would bring Moeller's season to an abrupt halt.  It also ended his plans to return home for Christmas.
"I wasn't flying with a broken leg," Moeller said about his Christmas plans. "Fortunately, however, my mom and sister were able to find cheap flights to Colorado and were able to spend the holidays with me."
Just days after Christmas, on December 30, Moeller had surgery to repair his fibula and ankle at the Colorado Center of Orthopaedic Excellence in Colorado Springs. He admits he was nervous going into his first serious surgery.
"I wasn't sure what to expect," Moeller said about his surgery. "My family and friends were very supportive through the whole thing though and that was comforting.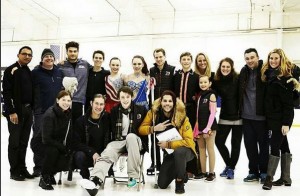 Moeller said his coach, Kori Ade, and choreographer, Rohene Ward, were also very supportive through the entire ordeal.
"Kori and Rohene have been nothing but supportive. They checked on me frequently, not only to make sure that I am healing well, but that I was mentally okay as well," he said.
Following his surgery, Moeller attended physical therapy sessions twice a week. He says "recovery has been progressing slowly."
In addition to physical therapy, Moeller has taken advantage of his time away on the ice to pursue other interests. Moeller recently started a job with the United States Olympic Committee, working as an Olympic Day Assistant. He has also decided to take a full course load at University of Colorado this spring.
"School is going well," Moeller shared. "This time off has given me time to think about what path I actually want to take academically and actually led me to change my major to Psychology. I have always been interested in the brain and knowing how everything works. I am excited about this new field of study.
Moeller's injury and surgery did mean that he would need to sit out his second senior U.S. Championships. After finishing 13th last season in his senior debut, Moeller was hoping to improve on his placement and show the judges and his fans just how far he has come in his training. Withdrawing from Nationals, Moeller says, was the "one of the most heartbreaking moments of his career."
"I worked so hard the entire season and for it to be done in an instant was pretty tough," he said about his withdrawal.
Moeller did watch some of the event from Colorado Springs, where he has been training since 2013. The Oak Lawn, Illinois native wasn't the only one left in Colorado Springs while his coach and training mates were in St. Paul for Nationals. Moeller's training mate and friend, Jason Brown, was also left behind. The 2015 U.S. Champion and 2014 Olympic team bronze medalist was forced to withdraw from Nationals due to a back sprain he suffered earlier in the season. Moeller says he and Brown "certainly bonded through the mayhem the past year."
"It was nice to be able to build a relationship with someone outside the training facility," Moeller said about his friendship with Brown. "We would check in on each other, making sure recovery was going well and trading stories about what we were doing with our time off."
Brown recently returned to competition, participating in the first-ever Team Challenge Cup in Spokane, Washington, April 22-24. Around that same time, Moeller took his first step onto the ice, after being away for four months.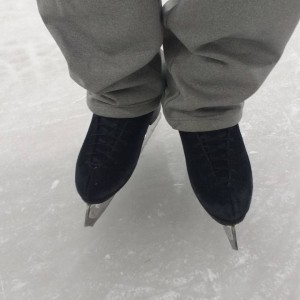 "It was certainly strange, but one of the most amazing feelings out there," Moeller said about returning to the ice. "I missed the feeling of skating. Being able to move on the ice is one of the best feelings in the world and I can't wait to get back to my art."
While only returning to skating minimally for the time being, Moeller says he is planning the fifth annual "One Skate at a Time," a benefit show Moeller has organized each year since he was in high school to raise money for "One Step at at Time," a program through Children's Oncology Service Inc. in Chicago. The program allows children with cancer to experience summer camp just like other kids.
"The show started as a way for me for me to give back to a sport and a community that has given me so much throughout my career," Moeller said about how the show came about. "My high school algebra teacher, Deb Swanson, has a niece who attends Camp One Step. After learning about  the amazing things this organization does, I knew I could help."
The show is Saturday May 14, 2016, starting at 7:00 p.m. at Southwest Ice Arena in Crestwood, Illinois. This year's cast includes two-time national champion, Alissa Czisny; 2015 NHK Trophy silver medalist Courtney Hicks; 2013 U.S. junior silver medalist Mariah Bell; 2014 U.S. junior champion Amber Glenn; 2012 U.S. junior silver medalist Ashley Cain: and 2014 U.S. junior bronze medalist Jimmy Ma. Moeller remains optimistic that he will be able to skate in the show.
Last year's show raised more than $10,000 and Moeller hopes to surpass that total this year. People who are unable to make the show can still donate to the cause directly through the Children's Oncology Services Inc. website.
"I had never expected the show to become as large as it is now," said Moeller.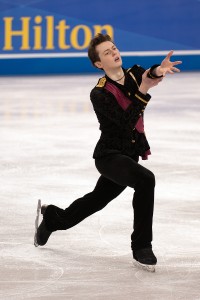 While Moeller is focused on his upcoming show, as well as resuming training, he has already given thought to next season. After competing his Peer Gynt free program in the 2014-15 season as well as at Ice Challenge (ISU Challenger event in Graz, Austria) and Midwestern Sectionals in the fall of 2015, Moeller plans to have a new free skate for the 2016-2017 season.
"A fresh start was very important to me and I am not sure I could do Peer Gynt another season, you know, with the hangings and all," Moeller said. "We (Ade and Ward) have been brainstorming and I am very excited for what is to come."
Despite suffering such a serious injury, Moeller says this hasn't changed his outlook on the sport's increasing technical demands, particularly the quadruple jumps that the top male skaters in the world are attempting in competition.
"I can't wait to try another quad and show it who's boss this time," he said.
Whether he's able to land a quad or not this season, Moeller says his overall goal this season is to skate for himself.
"My main goal for this season is to focus on the art by skating for myself and really enjoying my art form," Moeller said. "I am confident that, if I can achieve this, then the results will come too."
—
Editor Note: To learn more about "One Skate at a Time", click here.