By Johanna Bear
Photos by Leah Adams and Felicia Farris

At the 2014 U.S. Figure Skating Championships in Boston, Massachusetts, two nineteen-year-old skaters dazzled the nation with their artistic and dynamic programs. One was Jason Brown who placed second and went on to represent the United States at the Sochi Winter Olympics. The other was Joshua Farris whose fourth place finish and narrowly missed Olympic berth meant as much to him as if he had been able to go to Sochi himself.
"Going into nationals, I wasn't planning on making the Olympics, I mean if I did that would have been great, but it wasn't an expectation of mine, so I wasn't too disappointed when I didn't get to go," Josh said, "I learned last year that I can't put too much pressure on myself."
That "whatever happens happens" mentality ended up serving him remarkably well. With only a few minor bobbles, he was able to put together one of his best performances of the season at nationals after having sprained his ankle earlier on in the year and not being able to compete in one of his two Grand Prix assignments. By learning to treat skating as "more of an art than a sport", Josh was able to tap into the emotional quality of his "Schindler's List" long program and show the kind of form that won him gold at the World Junior Championship in 2013.
Being able to watch his friends and fellow competitors,  Jason Brown and Jeremy Abbott skate in the Olympics was as much of an inspiration as it was a motivator.
"Every time the Olympics are on, I always want to skate," Josh said, laughing, "It was my time off at that time and I actually showed up at the rink and my coach was like, 'What are you doing here?' It's so inspiring. I look up to Jeremy a lot, and the fact that he could make that big of a mistake [in the short program] and have that bad of a fall and that he could come back, that really inspired me."
Josh also cites Jason as another inspiration, saying that if he could spend one day with another skater to pick their brains about how they approach the sport, it would be him.
"He's so consistent and he's always so happy!" Josh said, chuckling, "I don't understand how you can be so happy all the time, and he's so expressive. He's an amazing skater and I would love to see how he does that."
While he is able to pull from the inspiration of his contemporaries, Josh remains a completely unique skater who established his own style as an up-and-coming force at the junior level and is beginning to carry that success to the senior ranks. This year he has been assigned to two Grand Prix events, Cup of China and NHK Trophy in Japan. Josh has never been to Japan before and expressed excitement about getting the opportunity to visit for the first time.
"I've been wanting to since I first started skating internationally," he told Figure Skaters Online.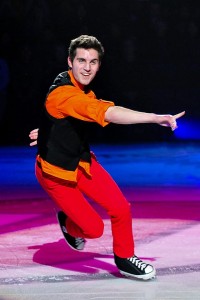 One of the biggest new experiences in the 2013-14 season for Josh was being a cast member of the Stars on Ice tour around the country.
"Stars was… The biggest learning experience I've ever had. Everyone always says, 'I had the time of my life,' you know, but I really did," Josh enthused, "That was the most fun I've ever had. I learned so much. Charlie White was mentoring me during the tour, which was really cool, and Jeremy kept talking to me too. Just the support everybody gave each other was amazing. We really were a family during the tour and it was so much fun."
This off-season, Josh has been working on developing a new short program to Ed Sheeran's "Give Me Love," which he debuted at "An Evening with Champions" at Harvard University in September. The choreography for this program was done by 2006 Olympic Bronze Medalist Jeffrey Buttle, of Canada, who choreographed the group numbers in the Stars on Ice show that Josh was a part of, including the crowd pleasing program to Fitz and The Tantrum's "The Walker."
"I thought, 'I wonder what he'd be like to work with one-on-one." Josh said, "It happened very quickly, but I have no regrets, it was so much fun working with him."
Josh also announced that he would be keeping the "Schindler's List" long program that he used last season, saying, "We did redo it a lot. It's not the same program. The patterns are different; the choreography is a little different. I feel like last year, because I injured myself during the season, I didn't really get to perform the program the way I wanted to. I feel like I could have done so much better. Last year, the story of the program was very depressing and very dark. This year, the beginning of the program is going to be very dark because there's that really intense music, but after that break there's a freedom, a breaking free. Not happy, but more of a release."
Josh has been working with his coaches, Damon Allen and Christy Krall, during the off season on generally maintaining a more positive attitude and on enjoying the moments and the big stages as well as specifically looking at his components, interpretation and expression.
"I'm really trying to break down my programs," Josh said, "Christy wants me to work with an acting coach to help me with some facial expressions and I thought that was a really good idea. I haven't worked with anybody yet, but hopefully in the near future."
The addition of Damon and Christy to Josh's coaching team has been one of the catalysts of his recent success.
"They have calmed me down. I got frustrated very easily when I was young and when I switched to them, they helped calm me down and they've supported me through God knows how much bad stuff that I've gone through," Josh said with a laugh, "Our personalities mesh really well, and they understand me and I understand them. We get along really well."
Outside of the rink, Josh's main interest has become music. He plays guitar and has begun writing his own songs in his spare time.
"I recently started being a bit more serious about music and learning piano, guitar and I'm singing, so that usually kind of takes up the free time that I have."
When asked about what he thinks he would like to do once he is done with his skating career, Josh said that music would be his primary choice as it is his main passion outside of skating. He also added that if he could skate to one piece of music it would be something by Jason Mraz.
"I Won't Give Up" would be great," he mused, "but it's kind of level, it doesn't have a lot of dynamic contrasts. But something by Jason Mraz would be really fun."
With regards to the season ahead, Josh will debut his programs at Cup of China November 7-9. Due to an unfortunately timed high ankle sprain in July he was unable to compete in the U.S. International Figure Skating Classic in Salt Lake in September as he originally planned, but he remains optimistic.
"I'm still kind of rehabbing it, but I'm back skating, training and everything. Christy and Damon have been really supportive and they're going to help me be ready for China. I'm not worried about it at all," he stated emphatically. "I feel really good and I've been training really well. I have a good feeling about this year; it's going to be a really good year."
With new and revamped programs, newly found confidence and the musicality that has garnered him fans around the world, Farris is looking forward to making his mark at the senior level and improving from the fourth place nationals finish of last year. He will certainly be one to watch this season as he has proved again and again in his young career that he is able to overcome any adversity that stands in his way.
———
October 24, 2014 Postscript: Farris has withdrawn from the Cup of China Grand Prix. He is still scheduled to compete at NHK Trophy, November 28-30, in Osaka, Japan.