By Gina Capellazzi
Photos by Leah Adams and Jason Brown
This is Part II of our year-in-review with 2015 U.S. Champion and 2014 Olympic team bronze medalist Jason Brown. To read Part I, click here.
The saying goes, "Two steps forward, one step back." For the reigning U.S. Champion, who had just claimed the title he had longed for since he first started skating at three and a half, that saying became ever so true. Just as he taken a huge step in his career, Jason Brown would end up taking a step back in order to keep up with the ever-changing demands of this sport.
After a whirlwind week in Greensboro, where Brown captured his first national championship, Brown returned home to Colorado to begin preparing for the Four Continents Championships in Seoul, South Korea. With only a few weeks between Nationals and Four Continents, Brown got back into his training regimen and prepared for his first appearance at this international event. After Nationals, Brown's longtime coach, Kori Ade, decided that it was time for Brown to attempt his first quadruple jump in competition. Brown had won the U.S. Championships without attempting a quad jump, something that both second and third place winners, Adam Rippon and Josh Farris, included in their programs. So Ade and Brown added a quadruple toe loop to the short program for Four Continents. Because of his longevity with Ade and his complete trust in her direction for him in this sport, Brown was confident in her decision and felt ready to take this leap in his career.
"I really trust Kori, "said Brown. "After Nationals, she said, 'you are going to go out there and do the quad in the short at Four Continents.' And I was like, 'I trust you, I believe you.' We really looked at it as it was the proper opportunity to try it. We were at the consistency where we wanted it to be at."
Ade really wanted Brown to put the quad out there before Worlds, to see if it was worth possibly adding it for the most important event of the season.
At Four Continents, Brown two-footed the landing of the jump, which ended up being downgraded to a triple. Brown also had trouble with his triple Axel in the program. He would end up earning a 75.86 and be in ninth place heading into the free skate.
"It was an awesome experience. I learned so much about myself, "said Brown. "Was it a good attempt? No. It was what it was, I left it there in the moment and I continued on."
With no quad and a clean free skate, Brown would finish the event in sixth place. While it wasn't the placement he was hoping for, Brown says he will remember the event as one of the biggest learning experiences of his career and commends Ade for making that decision.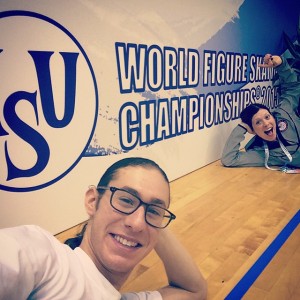 Once returning home to Colorado, Brown started preparing for his first World Championships. The big question among many sports writers and figure skating fans was, "Would Brown attempt the quad at Worlds?" The answer would come during a U.S. Figure Skating teleconference a week before Worlds. Brown announced during the teleconference that he would not attempt the quad in either program at Worlds, stating that it was still not at the consistency he needed to attempt the jump at the biggest event of the season.
"It's something I work on every day, but it was not at the consistency level that we want to put it in the program for Worlds," said Brown said during that teleconference back in March. "I know I'm going to get the quad one day and it's going to be incredible."
In Shanghai, Brown skated a solid short program, finishing in sixth place. Fellow Americans Adam Rippon and Josh Farris, however, were in 11th and 13th place, respectively, and Team USA appeared in danger of losing the third men's spot for the 2016 World Championships next March. All along, Brown was determined to help retain that third spot.
"My biggest goal was that I wanted to keep the three spots, "explained Brown. "Worlds are in Boston next year, in the U.S., and I wanted to do whatever I could to keep the three spots and help our team send three men to the World Championships in our home country. That was my biggest goal."
Entering the free skate, Brown experienced a déjà vu of sorts. Like his experience in Sochi, Brown was sitting in sixth place and would be the last one to skate. In Sochi, Brown would finish in ninth place. But in Shanghai, Brown was hoping for a different outcome, something that he says his experience in Sochi prepared him for.
"I wanted to take what I learned from the Olympic Games, "said Brown." From my experience at the Olympics, I knew how to pace myself, I knew how to stay calm and stay focus and be that final skater after everyone has gone."
As the final skater of the event, Brown knew the pressure and responsibility of retaining the team's three spots for next year's World Championships would come down to him. The top two U.S. men's placements needed to add up to 13 or less in order to keep three spots. With Rippon having moved up several places to seventh, Brown needed to finish at least in fifth. Brown did one better. He finished in fourth place, behind the medalists Javier Fernandez of Spain, Yuzuru Hanyu of Japan, and Denis Ten of Kazakhstan.
"When I got out there, it was time to prove that I learned something from my Olympic experience. That I'm growing as a skater, that I'm learning, that I'm going to continue to grow," exclaimed Brown. "That was what I really went out there to do. I couldn't go out there and skate for a placement. I just had to skate my skate and when the scores came up, I couldn't have been more thrilled."
Brown also had the best finish of a U.S. man since 2010 Olympic Champion Evan Lysacek won gold in 2009.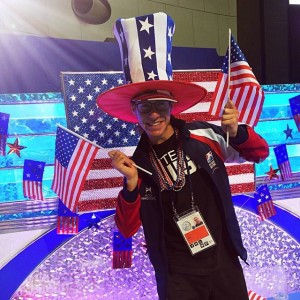 While many consider the World Championships to be the end of the competitive season, there was one last event for Brown and it meant another trip to Asia.  Brown was selected to compete at the World Team Trophy, which was being held in Tokyo, Japan.  Similar to the Olympic team event, which debuted at the 2014 Olympic Games in Sochi, the World Team Trophy is held during non-Olympic seasons. The event is fun in nature, with skaters donning their team colors and cheering on their teammates.
While Brown competed and won a bronze medal during the team event in Sochi, this was Brown's first appearance at the World Team Trophy.  Staying true to Brown's personality, Brown went all out, showing his pride for the red, white, blue.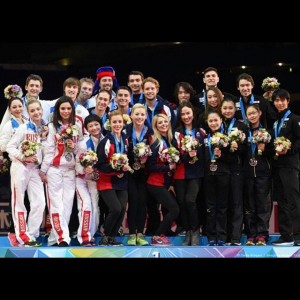 "I was going all out. I was screaming my head off, "said Brown enthusiastically. " It was so exciting. I loved every minute that I was there. It was truly incredible."
Team USA also came home with their third gold medal since the event started in 2009. Brown himself finished in third place in the short place and second place, behind Hanyu, in the free skate.
And with the end of World Team Trophy, the competitive season had come to a close. After some sightseeing in Tokyo with his family after the competition, Brown returned to his hometown of Highland Park, Illinois and began a vacation of sorts from training. During the time off, he did lace up the skates to participate in "One Skate at a Time", a charity fundraiser show produced by his training mate and fellow Illinoisan Jordan Moeller. After a family vacation to Cancun, Mexico, it was back to the rink to begin preparation for next season.
When Figure Skaters Online spoke with Brown, he had not starting thinking about next season. However, he knew Ade and his choreographer, Rohene Ward, already had a plan.
"I know Kori and Rohene have been brainstorming, but I won't let them tell me anything until May." Brown told us back in April.
Since our conversation, we've learned through video posts from Ward, that Brown's short program will be to a cover version of U2's "Love is Blindness" (Jazz Age Mix), performed by The Grey Orchestra from an album titled, "Themes Inspired by The Great Gatsby".  Ward nor Brown have yet to release any information regarding Brown's free skate for next season.
Brown is looking forward to the new season. He has already learned that he will be representing the U.S. at Skate America, an event he has competed at the last two seasons, as well as NHK Trophy, in the Grand Prix Series. While the possibilities of representing the U.S. at next year's World Championships in Boston is months away, Brown has his sights set on returning to the place where his dream came true, just two years ago.  After it all, it is where everything became, as Brown says, "surreal".