By Gina Capellazzi, website administrator
Header photo by Robin Ritoss.
The skating world knows Alysa Liu as the then 13-year-old girl who became the youngest U.S.'s ladies senior champion, breaking the previous record held by 1998 Olympic gold medalist Tara Lipinski. She also drew attention by completing three triple Axels–one in the short program and two in her free skate.  Then in August, just a few weeks after her 14th birthday, Liu's name was entered into the record books again becoming the first U.S. lady to complete a quadruple jump in a competition. She did that at the 2019 Junior Grand Prix in Lake Placid, N.Y, where she won gold in her international debut.
In mid-September, Liu won her second gold medal of the season at the Junior Grand Prix in Poland. This week, she will compete at the Junior Grand Prix Final in Turin, Italy, as  the first U.S. lady to qualify for the event since 2013-2014 season when Polina Edmunds and Angela Wang both competed.
But there's more to this 14-year-old from California than the triple Axels, quad Lutzs and winning titles. Figure Skaters Online's website administrator Gina Capellazzi chatted briefly with Liu after she won gold at the Junior Grand Prix in Lake Placid in mid-August. While they did talk about skating, they also talked about who this rising teenage skating star is outside of the rink!
And this week, Figure Skaters Online has also launched Liu's official website — alysaliu.figureskatersonline.com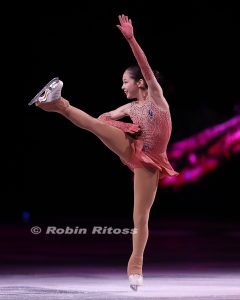 Figure Skaters Online: Okay, just a few questions about skating–this past spring, you got to be a guest star for a few shows of the Stars on Ice tour. What was it like to be a part of this show that has so much history?
Alysa Liu: It's so much fun. When I say it is a lot of fun, it is a lot of fun! (laughs). I didn't know it was going to be that fun. I thought it was going to be more stressful, like a competition, but it is so fun. I love to be a part of it again, obviously!
FSO: Then this summer, right before your Junior Grand Prix debut in Lake Placid, you participated in the inaugural Aurora Games in Albany, N.Y.  What was that experience like?
Alysa: It wasn't like a competition, but it was still a competition. It was really fun because you had teams–Team America and Team World. I was on Team America, obviously. But it was so much fun doing that competition.
FSO: Who are some of the skaters — both past and present — that you look up to?
Alysa: Past skaters I look up to Michelle Kwan, for sure, and Yuna Kim. I look up to a lot of current skaters–Alexandra Trusova, Alena Kostornaia and Anna Shcherbakova. They are all good!
FSO: What is your favorite jump to do and what is your favorite spin?
Alysa: My favorite jump is Lutz. I love Lutzes. My favorite spin is Biellmann.

FSO: Talk about your relationship with your coach, Laura Lipetsky.
Alysa: Laura is really a good coach and she is like a mom to me because I have had her since the beginning. We have more of connection because we have known each other for so long.
FSO: Okay, now getting off skating– in previous interviews you have done, you talked about how you like playing video games. Do you have a favorite video game and how did you get into playing video games?
Alysa Liu: I'm less into video games now because I haven't had time, but I used to play a lot of Fortnite. Now I just play a lot of phone games because they don't take that much time and you can do it whenever. But again, I used to play a lot of Fortnite, now not so much because of training and stuff.
FSO: And you have mentioned before you also like to make slime! 
Alysa: Oh yes! I think my friend, Kya, introduced me to slime. She is one of my best friends. She introduced me and then I saw videos on like Instagram and YouTube of slime. I got fascinated with it and ever since I watched the videos, I wanted to play with slime, so I made my own.
FSO: What does 14-year-old Alysa Liu like to do when she's not on the ice?
Alysa:  [I like] talking to my friends and hanging out with them! I have a lot of best friends! I'll just name them all–Erin, Allison, Kate, Juliana and Kya (laughs). All five of them, when we get to the rink, I bring two decks of cards and we play like BS or Slap Jack, games like that and it is so fun. We could play that for like hours and then we would get back on the ice.
FSO: What is something that fans don't know about you that you want them to know?
Alysa: That's really hard. I feel like everyone already knows me! I joke around on the ice, a lot.
Check out Alysa's official website to learn more about Alysa!