By Scott Mammoser, Team FSO Contributing Writer
Photos by Scott Mammoser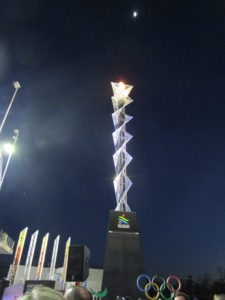 Twenty years to the date that Mike Eruzione and the 1980 U.S. hockey team lit the cauldron to open the 2002 Salt Lake Olympics, the flame was reignited outside of Rice-Eccles Stadium.
Two local children, who are Olympic hopefuls, bonded together a pair of the familiar icicle-shaped torches, as hundreds of fans, wearing beanies and volunteer jackets they dug out of their closets, cheered in the night air.
Representatives on the dais of speakers and officials included: 2002 Salt Lake Organizing Committee COO Fraser Bullock, Utah governor Spencer Cox, Salt Lake City mayor Erin Mendenhall, gold medalist bobsledder Vonetta Flowers, gold medalist speedskater Derek Parra, and financer Spence Eccles. Also present was four-time Olympic speedskater Catherine Raney-Norman, who is the chair of a group trying to bring either the 2030 or 2034 Winter Games back to Utah.
Celebrations around Utah to commemorate the 20th anniversary of the Games continued through the weekend, such as a three-hour festival in Park City on Saturday and public ice skating at Gallivan Plaza.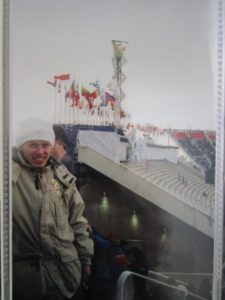 The Salt Lake Games will always have special meaning for me because they were the first Olympics I attended. From the time I was 12 years old, I worked on my family's dairy farm and saved up all of my money for seven years with the goal of traveling to the 2002 Olympics. Then, I went, and it was the best time of my life! I was even selected as one of the torch bearers in my hometown of Buffalo, N.Y. I realized my boyhood dream, when I walked into the stadium for the opening ceremony to an unparalleled feeling of accomplishment. The ensuing show was unforgettable, particularly 1992 Olympic Champion Kristi Yamaguchi skating to the Linda Eder song "Gold" with Bebe Liang. It really reminded me of my own journey.
The next night I attended the notorious pairs short program that would produce a conjoined gold medal for the Russians (Elena Berezhnaya and Anton Sikharulidze) and Canadians (Jamie Salé and David Pelletier). In addition, the fourth-place Russians (Tatiana Totmianina and Maxim Marinin) would win the gold in 2006, and the bronze medalist Chinese (Xue Shen and Hongbo Zhao) won in 2010. In 15th place was a little-known 18-year-old Ukrainian named Aljona Savchenko, who would win the gold medal for Germany in 2018 with her partner, Bruno Massot.
On Feb. 18, I was fortunate to see Marina Anissina and Gwendal Peizerat of France win the gold medal in ice dancing. Three days later, I was in the upper deck when Sarah Hughes of the United States shocked the world, jumping from fourth after the short program to grab the gold in ladies singles. That is still my all-time favorite sports moment, even though I wanted Michelle Kwan to win so badly. The intensity in the Salt Lake Ice Center that evening was unlike anything I had ever witnessed.
In addition, I saw events ranging from Janica Kostelic winning the giant slalom and becoming the first woman to win three alpine golds in a single Games – to Germany slipping past Finland by one tenth of a point in the team ski jumping final. Lastly, I attended the closing ceremony, where Yamaguchi again skated, this time to Kiss with two-time Olympic champion Katarina Witt. Flowers carried the Olympic flag with teammate Jill Bakken in an emotional scene.
Over the next two decades, I would be privileged to attend five more Olympics: Beijing 2008, Vancouver 2010, London 2012, Rio 2016, and PyeongChang 2018. When Usain Bolt obliterated the 100-meter world record at the Bird's Nest, Yuna Kim painted a portrait of near perfection in British Columbia, and Jessie Diggins edged Stina Nilsson at the finish line in Korea, I was there!
Now, for the second time in six months, I was all prepared to travel to an Olympics in one of my favorite world cities, but restrictions turned my Olympic plans into an ongoing saga of refunds. These Beijing Games were going to be the first ones I would cover from the press box after half a lifetime of journalism.  It really meant a lot to me to relive my glory days this week and to meet Vonetta Flowers, and I look forward to Paris 2024, Milano-Cortina 2026, and perhaps, Salt Lake once more!