By Gina Capellazzi, Team FSO website administrator
Stars on Ice photos by Melanie Heaney
A life experience. That's how Vincent Zhou describes his 2021-2022 competitive season.
"It was a journey with so many ups and downs, lots of expected and also lots of unexpected (things), lots of goals met, some goals not met," he explained. "You know life has its ups and downs and sometimes things go the way you want, sometimes they don't. You train to prepare for something, and sometimes it goes how you want it to and sometimes it doesn't."
The 21-year-old from Palo Alto, Calif.'s sixth senior international season had an excellent start with Zhou winning the Cranberry Cup International and then Nebelhorn Trophy to secure a third Olympic spot for the U.S. men for the 2022 Olympics. From there, Zhou won Skate America, beating fellow American Nathan Chen, who, at the time, had been undefeated since the 2018 Olympic Games. Along with the silver medal at NHK Trophy, Zhou qualified for his first senior Grand Prix Final, which was subsequently cancelled due to the rise of COVID-19 variant omicron. At the 2022 U.S. Championships in January, Zhou was named to his second Olympic team, along with Chen and Jason Brown.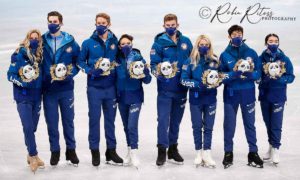 At the biggest event of his career, the 2022 Olympic Games in Beijing, China, Zhou would win a medal with Team USA in the team event. Yet, Zhou and the rest of the U.S. Figure Skating silver-medal winning team would leave Beijing without their medals due to the Russian doping scandal involving Kamila Valieva, who tested positive for the banned substance trimetadzine. Zhou told Figure Skaters Online before the Hershey Stars on Ice show April 29 that he and his fellow teammates haven't been told anything regarding when they will be able to receive their medals.
"We are prepared to wait a week, two weeks, six months, four years. Who knows?" he said.
When they do receive their medals, Zhou said it should be through a dignified ceremony and that Team USA should receive gold medals, instead of silver.
"But that's not up to us," he continued. "We have to live with whatever the outcome is, even if the outcome isn't the desired outcome."
"It is upsetting to be directly affected by this (doping investigation) and not be able to do anything about it," he added. "So in the meantime, I'm happy to speak up about it and I'm happy to stand up with all my fellow Team USA athletes, and athletes from other countries around the world, who deserve better competition. But we really don't have much influence on the outcome."
Just before news of this doping scandal came to light, Zhou experienced another unforeseen turn of events at the Olympics. He was forced to withdraw from the men's competition due to receiving two positive COVID-19 tests.
"It seems pretty unreal that of all people it would happen to myself," Zhou said in emotional Instagram video at the time. "Not just because I am still processing this turn of events, but because I have been doing everything in my power to stay free of COVID since the start of the pandemic…I am more than just another positive COVID test. I am more than just another face in the crowd."
Zhou was invited to skate in the Olympic gala, but was not allowed to participate in the closing ceremony, which took place after the gala, due to COVID protocols.
Coming off the Olympics was a challenging time for Zhou, who spoke publicly with various media outlets and on social media about the mental and emotional struggles he dealt with in the weeks leading up to the World Championships. Because of those struggles, Zhou said he wasn't really able to train properly for the World Championships.
"After the team event (at the Olympics), I had my isolation period and then I was back on the ice to get ready for the gala, but that wasn't training," he explained. "I got back home, had a couple days off and then my mental state was in shambles so I really didn't train for Worlds."
Yet despite that, Zhou chose to still compete at the event in Montpellier, France. After a sixth place short program, Zhou finished fourth in the free skate to move up to third place overall to claim his second World bronze medal.
"The results of Worlds prove to me that I'm capable of so much more than I know, and sometimes expect of myself and that I should try more often to free my mind. It's easier said than done," he said.
"I just put that (the lack of training and mental struggles) aside and achieved that result. So that to me shows that I should have a little more faith in my natural ability, my instinct," he added.
Following Worlds, Zhou took part in Japan's Stars on Ice tour before returning to the U.S. to start preparations for the 2022 U.S. Stars on Ice tour. This year's tour is Zhou's first full-tour. In 2019, Zhou suffered a fall backstage at the second show of the tour and torn his posterior cruciate ligament (PCL). Zhou said he's excited to be a part of this year's tour.
"The Olympic year tour is always very special and this year is no exception," Zhou said. "The cast is absolutely incredible. We're all fresh off the Olympic year. All of us are super excited to be on this tour."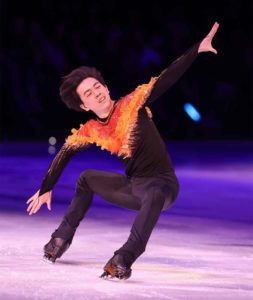 In the show, Zhou is performing his "Vincent" by Josh Groban short program, along with debuting a new program to "Lonely" by Illenium & Chandler Leighton. Illenium is Zhou's favorite artist. After he posted his Instagram video about testing positive for COVID at the Olympics, Illenium reached out to him, extending his positive thoughts. Zhou took advantage of that line of communication and asked him for a special music cut, which Illenium obliged. Zhou choreographed the program with Drew Meekins.
Between performances, the cast has had the opportunity to spend time together. Following their Orlando performance, the cast visited Walt Disney World, and then went to the Elton John concert ahead of their Greensboro show. They also attended a New Jersey Devils hockey game, a Cleveland Guardians baseball game, Chocolate World in Hershey, Pennsylvania and the Figure Skating in Harlem gala in New York City, along with the Team USA summit and visit to the White House in Washington, D.C.
"Having the opportunity to have pressure free days and to be able to enjoy time with our friends is much needed after a long and stressful Olympic season," Zhou said.  "We don't usually get the chance to do stuff like this even on tours."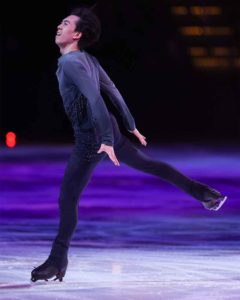 Stars on Ice isn't the only show Zhou is participating in. In July, he will head back to Japan to take part in The ICE, a nine-show tour in Aichi, Niigata and Osaka.
In the fall, Zhou will return to Brown University, where he attended in the fall of 2019. At the time, Zhou attempted to balance full-time training and international competitions with his studies, but ultimately decided to put his education on hold after that fall semester.
"It was very difficult," he explained, noting that he did two hour commutes each way three days a week to train in Boston. "It was a rough four months."
Now as he prepares to return to the Ivy League university in Providence, Rhode Island, Zhou said he's looking forward to being there without worrying about skating.
"Now that I'm not going to have a foot in each world and not run full speed ahead in both, but just two feet in the academic world, I'm excited," he exclaimed.
Zhou said he hasn't decided yet what he plans to study, but says he will most likely be majoring in economics. Zhou said he would eventually like to start his own business.
"I'm interested in like entrepreneurship," he shared. "I want to use my sports background, because all the knowledge and experience I've gained over the years is too valuable to just put aside and take up something completely different, in my opinion."
Though Zhou plans to focus solely on his academics in the fall, he states he hasn't retired from competitive skating and hasn't ruled out another competitive season. The new Skating Club of Boston facility, which opened in 2020 in the Norwood, Massachusetts, is only about a hour away from the Brown University campus.
"We'll see," he said of his future plans in the skating.