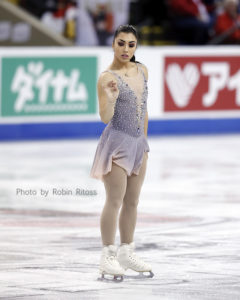 By Gina Capellazzi, Team FSO website administrator
Photos by Robin Ritoss
2018 Olympic team gold medalist Gabrielle Daleman, of Canada, has been very open and honest about her mental health struggles. She took time away from skating in the fall of 2018 to deal with depression and anxiety, before returning to compete at the 2019 Canadian Championships and the World Championships.
While trying to rebuild her skating career this season, the Toronto native, who turned 22 Monday, has had to endure some more challenges along the way. After her first Grand Prix event, Skate Canada International in October, Daleman tore two ligaments in her ankle and strained her Achilles tendon. The injury caused her to withdraw from her second Grand Prix event, Cup of China.
"I ended up in a [walking] boot for three weeks, and was off the ice for about a total of five [weeks], and then had to go back to just doing stroking for two weeks, and then I've been doing programs ever since," she described during a pre-Canadian media call Jan. 8.
But then just as she was returning to regular training sessions, Daleman started getting sick. At first, doctors thought it was a sinus infection, but after a repeat visit to the doctors, Daleman was diagnosed with pneumonia.
"I'm getting that treated, and just doing some extra cardio while training right now," she said of her illness.
Yet despite the litany of physical and mental health issues, Daleman is not succumbing to the challenges she's had to face.
"I'm not letting anything stop me," she exclaimed. "These health problem, injury problems have made me stronger, work harder mentally and do different exercises in the gym to work on the muscles that made me stronger. I'm 80% there and I'm a lot stronger for it."
This week, Daleman will compete in her eighth Canadian Championship in Mississauga, Ontario. Considered the veteran in a field depleted by the retirements of Olympic bronze medalist and World Champion Kaetlyn Osmond, and Larkyn Austman, 2018 Canadian bronze medalist and Olympian; along with the uncertain competitive future of reigning Canadian Champion Alaine Chartrand, Daleman is considered the favorite to obtain the title, despite the setbacks she's faced this season.  Yet, Daleman isn't focusing on the title.
"My goal is just to show everyone how hard I've been working," she admitted. "My main goal is just to get out, skate, and just be happy, and fall back in love with the sport that I did, and just show everyone that I'm back and that I'm still in the game. And that even though I've been through the highest highs and the lowest lows, nothing can hold me back or break to me."
Daleman is still coached by Lee Barkell and her programs were choreographed by Lori Nichol. In the spring, Barkell and his students switched training rinks, moving from the Toronto Cricket Club to the nearby Granite Club in Toronto. While she misses her old rink mates and the Cricket Club, Daleman said the move has been great and that she loves the Granite Club. Daleman also obtained two new training mates in the move. Two-time World medalist Satoko Miyahara, of Japan, moved her primary training location to the Granite Club in the fall of 2018 and 2019 World bronze medalist Vincent Zhou, of the United States, recently announced that he would be training with Barkell at the Granite Club.
"They are wonderful training partners and it's such a great atmosphere here and it's really a good vibe here. It was different at the beginning, but now it just feels like home," Daleman said.
Daleman also added a new member to her on-ice team this season. Three-time World medalist ice dancer Kaitlyn Weaver, who with her partner Andrew Poje are taking the season off, helped with the choreography for Daleman's short program.
"It's been amazing," Daleman said of working with Weaver. "She's definitely pushed me to my limits. She has a positive attitude. She's like an older sister to me and I'm just so grateful that I get to work with one of my idols."
Gabrielle Daleman will compete at the Canadian Nationals, Friday and Saturday, January 17-18 at  Paramount Fine Foods Center in Mississauga, Ontario, Canada. For schedule and results, click here.