By Maura Sullivan Hill, Team FSO staff writer
Header photo by Robin Ritoss
CHICAGO –Ashley Wagner doesn't know what she's doing.
She's busy—coaching at seminars and the Skating Club of Boston, performing in Stars on Ice and other shows, commentating skating events for the Olympic Channel, documenting life on her new website and her Instagram account—but she doesn't have a plan like she did when she was training for the Olympics.
It's an unfamiliar spot for the three-time U.S. Champion, 2014 Olympic Team Bronze Medalist, and 2016 World Silver Medalist, but she says it is still an "exciting" time.
"I love writing, and documenting the transition from being a professional athlete into being whatever I'm going to be—people don't talk about that enough and it's a really scary, uncomfortable transition," Wagner said during a pre-show interview before the Chicago performance of Stars on Ice in May. "I feel like in the past, for athletes, it's kind of a shameful thing to talk about, but everyone goes through it. The more I talked to retired athletes about what it was like, the better I felt."
So she's launching a podcast exploring that concept, inspired by a quote from actress and comedian Gilda Radner, who said these types of transitions are full of "delicious ambiguity." Wagner plans to launch the podcast this summer, after wrapping up the 2019 Stars on Ice tour.
"I'm going to be interviewing different athletes, women in business—any walk of life, really—and talking to them about this moment of not knowing and how they pushed through it," Wagner said. "That's my whole concept behind 'delicious ambiguity.' You don't know what's going on, but you have to enjoy it and kind of find your way anyways."
She's looking forward to interviewing others, after spending so many years on the opposite side of the process.
"I always tried to be my most authentic and genuine self in interviews, and so it kind of is a game for me, talking to people and making them feel comfortable enough to let their guard down and just have a conversation," she said. "Getting to that point with someone you're interviewing is difficult, but I've really enjoyed that process."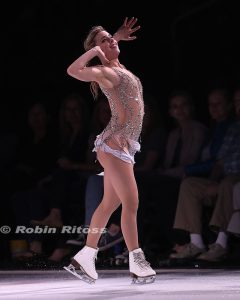 Wagner's own "delicious ambiguity" involved a move to Boston in the fall of 2018 on a bit of a whim, after deciding to sit out the post-Olympic season.
"I literally picked a place on the map and moved. I knew I wanted to be in a big city, because I knew I'd probably be coaching a bit," said Wagner, who had lived and trained in the Los Angeles area since 2011. "Boston has always been really good to me—I made it onto the Olympic team there, my World medal was there, so, for me, it just had good vibes all around. One of my best friends, Marissa Castelli [two-time U.S. Pairs Champion and fellow 2014 Olympic Team Bronze Medalist], lives in Providence, close enough so that I knew at least one person there."
It's been so far, so good for her new life in Boston.
"It is nice to be able to go out and get wine on a Wednesday night with my girlfriends," she said. "I'm loving being able to participate in real life now."
Wagner coaches at the Skating Club of Boston and has also been on the road, leading skating seminars. She recently returned from a seminar in Scotland and has plans for more seminars this summer, both in the U.S. and Finland.
"Coaching makes me appreciate my coaches so much. I don't main coach any of my students, and I think that's nice because I can kind of go in, sprinkle my magic and chaos and then leave and it's perfect," she said. "I like the seminars because I get to teach them what I'm really passionate about, and I usually end up working on performing with them. I'll teach them choreography and how to have personality. And then I feel like I'm doing a little bit to save the second mark in figure skating and make personalities. I think commentating has also made me realize that I want to be entertained as well as see quads."
Part of Wagner's seminars involves teaching the skaters choreography to some of her most well-known programs from her competitive days, and she says her "Moulin Rouge" long program and "Sweet Dreams (Are Made of This)" short program are favorites among the skaters she has worked with so far.
For the moment, Wagner says she does not miss competing, and she announced to NBC Sports that she will skip the 2019-2020 Grand Prix season. She says her commentary work with the Olympic Channel has turned her into a skating fan and made her appreciate her former competitors in new ways.
"I never watched skating as I was competing, so [as a commentator] I've become a skating fan. I love watching skating and seeing how different all of the athletes are," she said. "Obviously, as a competitor, I knew that, but seeing it and watching programs develop as the season goes on, that's been really cool for me to watch and appreciate, because I know the work that goes on behind the scenes. I've turned into a skating fan, and I never thought that would happen to me."
Commentary also comes with its challenges, especially balancing knowledgeable skating fans with more casual viewers.
"It is so much harder than I thought it would be, because you want to just talk over everything, and then you also have to educate an audience and also not dumb yourself down for an audience," Wagner said. "I feel like you have to wear so many different hats at the same time, and make an opinion immediately. It's fast, it's intense, and I like it a lot. I felt the same way right before I was about to start commentating an event [as] right before they were about to open up the door to get on the ice [for a competition]. It's the same kind of nerves, so I like that."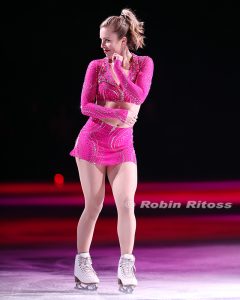 Nerves don't come in to play as much with show skating, where she says, "I get to have my moment and I love that." She skated to "Groove Is In the Heart" by Deee-Lite and "Dog Days Are Over" by Florence and the Machine on this year's Stars on Ice tour.
"'Groove Is In the Heart' had been on one of my playlists forever, and I'd wanted to skate to it for the longest time. It's super funky. For me, I feel like I'm a skater that shows bring in to whip my ponytail and make the audience clap, and so I knew that I was going to be able to do that with that piece of music," she said. "And 'Dog Days Are Over,' usually you have a fast and a slow program, but I felt like I could do something that was still upbeat, but a little bit more contemporary."
The '90s group number has been a fan favorite and often-documented on social media during this year's tour, and Wagner loves it just as much as a performer.
"The '90s number is probably my favorite number of all time, of all the Stars numbers I've ever done," she said. "Honestly, the fact that we get to go out and do that every night, it's a blast."
Now that the tour has wrapped up, she's focused on launching the podcast and heads to Finland in July for another seminar. Keep up with her on Instagram and Twitter @AshWagner2010.