Interview and Photos by Francesca S., Team FSO contributing writer and photographer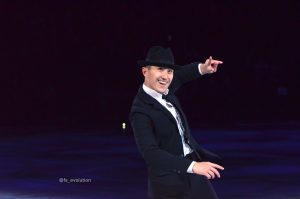 Patrick Chan is the most decorated male figure skater in Canadian history. The 28-year-old from Toronto, Ontario, won three consecutive world titles (2011-2013) and competed in three Olympics–winning team gold in 2018, and two silver medals–individual and team–in 2014. He also won ten Canadian titles, breaking the all-time record held by Montgomery Wilson since 1939.
At the end of the 2018 Olympics, Chan hung up his competitive skates to pursue other ventures in the sport.
In the fall, Chan hit the road with some of his teammates from the 2018 Olympic games for the 30-city "Thank You Canada" tour, and in the spring, participated in his seventh-consecutive Stars on Ice tour. Starting in October, he will take part in "Rock the Rink", a 30-city tour from the producers of the "Thank You Canada" tour.
Figure Skaters Online caught up with Chan during the Laval, Quebec Stars on Ice show in May to talk with him about his future plans.
Figure Skaters Online (FSO): It has been already more than a year since your last competition at the Olympics. What have you been up to until now?
Patrick Chan: I've been off the radar, which is kind of nice. I've settled down in Canada after training in the U.S. for seven years. I was very excited to come home and live in Vancouver. I've been continuing to skate and to do shows, but I had a ski accident in December and I have two torn ligaments in my knee, so I've been working on healing to be able to still skate. So my return to competitive skating is definitely not possible now [laughing]. I'm trying to explore the next stage of my life, see what opportunities I can have in Vancouver. I've been looking to school as well, to get into commercial real estate. But I'm actually finding myself very busy with seminars.
FSO: On this topic, can you tell us more about your seminars in China?
Patrick: It's a very new collaboration, through my girlfriend Liz [Putnam] and Ravi [Walia], who is related to someone we are working with, it's a small world. There's a big push for skating in China because of the Olympics coming up, but there are no plans for development and research, or many years of experience like in North America or Europe. China also doesn't have many experienced coaches, coaches there have troubles teaching because they have learnt to skate very recently, so it's a different world. The skaters are very determined and disciplined. That's a new surprise that came into my life this year. It's still very early to say, but maybe it will develop into something bigger and more mainstream in China.
FSO: What are your future plans in skating, besides this collaboration?
Patrick: Worlds are coming up in Montréal in 2020, so I probably will be involved through Skate Canada, maybe as an athlete ambassador. I will maybe go to the Youth Olympics as an ambassador. Teaching, going to seminars, trying to explain to skaters and parents how to be realistic about their goals and tell them the truth about an elite's athlete competitive life and the road to get there. Now that I am teaching, I see a lot of parents who make their kids expect too much and put a lot of pressure on them to be the best, but they don't realize there are many little steps to do before you can dream that big. My goal is to help the next generation, especially now with social media everything is so instant and criticized so much more, everybody can watch and has an opinion. For me it's about the athlete being healthy, happy, wanting to skate and pushing themselves. You can't push someone to do something unless they have it in them.
FSO: What has been like to be part of the gold medal winning team at the 2018 Pyeongchang Olympics, with all of Team Canada's veterans and your close friends?
Patrick: It was a very exciting time, a once in a lifetime opportunity.  There were so many factors that had to work together perfectly for that moment to happen, and I'm so happy I got to be part of it. It's been a year and things are slowing down. It was such a big historic moment, but now like everything in life, things move on. The memory of that moment is still very special and every time I see my friends who were part of that team, I get that feeling of excitement again, that's why I also love going on tour with them.
FSO: What are some of the challenges of the transition from competitive athlete to a life outside competition?
Patrick: One thing that I learned right away is that in real life, things move slower. In skating when you're training, you're in control of how fast you improve and you get work done, it all happens very quickly. In real life, it's a lot of collaborations. I can do my job and then other people have to do their part. Everyone is on different schedules, things move a lot slower. I had to learn to stay patient, slow down. In a competitive world, you always look at your life one week at a time and see how fast you improve. There are always challenges. I felt in control of my decision to retire and even then I have moments of a bit of panic of 'what am I going to do now?' My name and reputation are so determined by skating and my competitive life, and you ask yourself if that's going to carry over in your real life? Are people going to forget about you? You worry about these things and you watch other people competing, I watched Nathan [Chen] and he's doing way more than what I accomplished in my career.  You feel a little overshadowed and disappointed, but everybody has their moment in life, their chapter when they can be a very successful competitive skater. Mine already happened and I have to move on, and I'm exploring and looking for the next challenge. I am searching for success again in a different way, which is kind of fun.
FSO: What do you think is your legacy in skating?
Patrick: I just want to be a skater who is able to take people's breath away, make them feel like they can skate, that they can feel what I feel when I am skating, project that to the audience. I am lucky when people say that I move them and I make them lose themselves in my skating, that's the biggest compliment I could receive. That's what I want to be remembered for, and my skating skills, and even the technical side, to be able to balance both, do quads and skate well. That's the legacy I want to leave.
FSO: Are you following the up and coming Canadian men skaters, and what's your opinion on the field?
Patrick: I watched nationals, it was very exciting. I watched Nam [Nguyen] win, then Stephen Gogolev, Keegan [Messing]. Nam is technically a very good skater and I'm glad he's on this [Stars on Ice] tour, skating on a show as Stars on Ice opens your mind and you realize that it's more than just jumps. Stephen is someone everybody should be watching for. I think he's ready to go to Worlds now. He's so talented, but not just his skating, I really admire his composure and attitude. I talked about this earlier, having it within you, having the discipline, not being distracted by the glamour of being at national and international competitions. He's very focused on improving himself. It is a very good sign for him to be like that at that age.