Review and Photos by Heather Carrelli, webmaster for Tarah Kayne and Danny O'Shea
Heather Carrelli attended the third annual Skate It Forward ice show, which was a fundraising event for the Ronald McDonald House in Columbus, Ohio.  This is her review of the June 22nd show. She also had the opportunity to converse with the headliners of the show (those interviews will be published at a later date).
——
I had the pleasure of attending the recent Skate It Forward ice show. This was my third time going to the show and I had a wonderful time. This year's headliners were quite the variety of talents. The show overall was very well put together, highly entertaining, and everyone seemed to have a great response to it.
The show opened with the headliners — Ross Miner, Bradie Tennell, Alysa Liu, Jimmy Ma, Camden Pulkinen, and Olivia Smart and Adrian Diaz — all skating a group number to "Don't Stop Me Now" by Queen. It was an entertaining and an upbeat program and I think the group as a whole enjoyed skating together.
The first soloist was 11-year-old Ella Wintringer, a skater from the Skating Club of Western New York in Buffalo whose family has benefited from the Ronald McDonald House in Columbus. She skated a cute program to "Sweet Caroline" and did some nice single jumps along with some solid spins. She seemed a little nervous but looked like she was enjoying herself.
The next program was by Team Chiller, a young synchronized skating group from the Columbus area, who skated a fun program to a medley of dance songs. They had cute, hot pink costumes. showed some nice synchro moves , and got a great reaction from the crowd.
The first headliner to perform was five-time U.S. National competitor Jimmy Ma, who is always a crowd favorite for his energetic and fun programs. He skated to "Party Rock Anthem" and had an absolute blast on the ice. He did a triple toe and triple salchow, some great spins, and charmed everyone with his infectious energy. He even opened his shirt at one point and did a few dance moves in the second half of the program. I loved it and I think the crowd did too from their loud cheers at the end.
Another group program was next and this one was all adult skaters and their music choice was the song "Fire." They all did a nice job showing off their strongest skills and performing to the top row of the ice rink. There was either a pair or dance team in this group number who did a few cool moves during the program. I wish I could move as well as these ladies did in this routine!
2018 U.S. Champion and Olympic team bronze medalist Bradie Tennell was the next headliner to perform and she skated her Rihanna "Stay/Diamonds" exhibition from the 2019 Stars on Ice tour. She landed a triple salchow and triple lutz along with doing some awesome spins. She skated with a ton of energy and looked like she was having a blast. The crowd loved her performance and gave her a huge ovation at the end.
The next group number consisted of younger skaters who skated to "Don't Go Breaking My Heart" by the Backstreet Boys. They had cute sparkly hats that they wore with black and white sparkly tops and skated a really fun and dance-y program. I really liked that all of these group numbers gave each individual skater a chance to shine and show off one of their best skills while still doing a cohesive program as a group.
The last number of the first half was a hockey challenge which pitted two teams against each other to showcase various skills. One of the Columbus Blue Jackets players along with their mascot Stinger were there to help out and I think the kids all had a fun time showing off their hockey skills.
After intermission for a Zamboni break, there was another group number of younger kids who skated to "Crazy Little Thing Called Love." They showed everyone some nice, basic skills and had a great time performing for the audience.
Our next headliner was 2018 U.S. Junior Champion Camden Pulkinen,  who was returning to Skate It Forward for the second year in a row. He skated a really fun program to "Mack the Knife" with a double axel and triple toe loop, and awesome musicality. It was fun to see him smiling and having a great time performing for the crowd.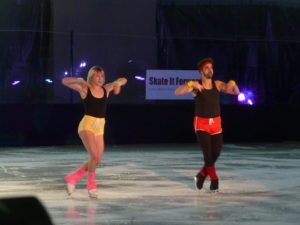 Spain's ice dance team of Olivia Smart and Adrian Diaz were next to perform and they skated a really fun number to "Maniac" from the movie Flashdance. The theme for the program was Olivia being the energetic 'maniac' who wanted to dance a bunch and tired Adrian trying desperately to keep up with her. They were even dressed in 1980's workout gear for their costumes. It was SO much fun and I really enjoyed it.
A young group of skaters were next to perform and skated to "Sit Next to Me" in pink tops and ripped jeans. It was a very cute number and the girls showed some nice basic moves in this program.
The next group appeared to be the highest level of young skaters and they skated a program to the song "No Excuses." They did some really nice spins and were the only group that did double jumps. They had colorful costumes and even though they had a few mistakes here and there, I could tell that they were a talented group of ladies. I enjoyed their program and they seemed to have fun.
Ross Miner was making his second consecutive appearance at Skate It Forward and he did a fun program to "Sing" by Ed Sheeran. He did two triple salchow jumps, his amazing spread eagle, and some other fun moves in an entertaining program. I thought he did a great job.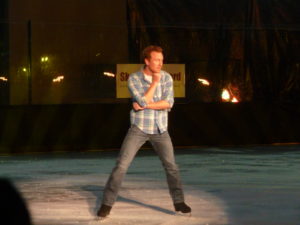 The last group number was another synchro group who skated a fun program called "ElectroSwing." I think it might have been a competitive program for them because I saw some moves that look like they were required elements. Their outfits were my favorites (polka dotted dresses) and I love that they stayed in character for the entire routine. I loved it and thought they did a wonderful job.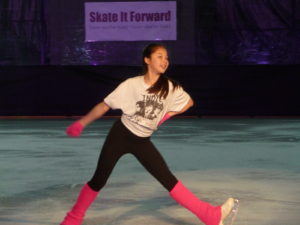 The final headliner was Alysa Liu, the 2019 U.S. Champion, who skated a fun program to dance music that I never managed to identify. She didn't do her normal technical arsenal in this program (mainly double jumps) but I thought her ice coverage looked improved and that she skated much faster overall. It looked like she had a really fun time and the crowd loved her.
The show ended with the headliners all doing a few moves together as a group and then each of them doing some solo moves (Queen music again). Then the rest of the cast came out and skated a victory lap around the ice and took their final bows. They gave a couple of awards out to some of the local skaters (I think it may have been to the skaters who raised the most money but my one complaint about the show was that you couldn't understand the announcers very well on the sound system) and then everyone skated one last goodbye to the crowd.
Overall, the show was very entertaining and fun and I'm very glad that I made the trip. I love when I see people get to use their talents to help others and that's what makes this show so special.