Story and Photos by Leah Adams
In May, Kristen Izzie, along with parents, skaters and coaches from the Skating Club of Central Ohio hosted the first Skate It Forward show to benefit the Ronald McDonald House Charities of Central Ohio. The show featured local skaters from the Skating Club of Central Ohio as well as 2015 U.S. Champions Alexa Scimeca Knierim and Chris Knierim, reigning U.S. bronze medalist Mariah Bell, 2015 U.S. bronze medalist Josh Farris, 2014 U.S. and World Junior Champions Kaitlin Hawayek and Jean-Luc Baker and French Bronze medalist Roman Ponsart and U.S. Nationals competitor Livvy Shilling (a Central Ohio native).
Figure Skaters Online caught up with Izzie following the show to learn more about Skate It Forward came together and what goes into planning a benefit show.
Figure Skaters Online (FSO): What prompted you and the other women to found Skate It Forward?
Kristen Izzie (KI): There seemed to be a need for a non-competitive skating event in our area (Columbus, OH).  We wanted something that would be fun, and promote a "team" atmosphere.  We loved the idea of a service event, and thought Skate It Forward was something that would benefit our community, our skaters and perhaps even our headliners.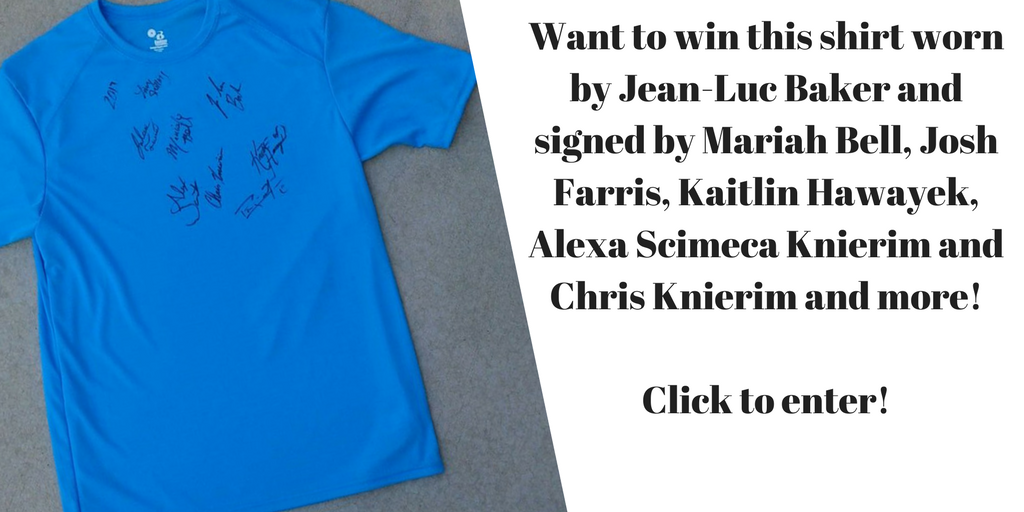 FSO: "Skate It Forward" benefited the Ronald McDonald House. Why did you choose the Ronald McDonald House?
KI: As solitary as figure skating seems at times, family is always at the forefront of what we do. When there is a figure skater in the family, it impacts the whole family. Because of that family aspect, Ronald McDonald House seemed like a logical fit for us.  During a tour of the House, we came across a large room filled with brand new clothing, shoes handbags, etc. It almost looked like a retail store. Naively, we asked what the items were for. We were told that sometimes an accident would occur, perhaps at the pool, and a child and mom would be life flighted in from out of town having only what they had on at the time. "Accidents or illness do not wait until you are prepared." Such a chilling thought and it's what helped us to understand the needs of an entire family going through the trauma of a sick child.
FSO: How many skaters, volunteers and people were involved in putting together the event?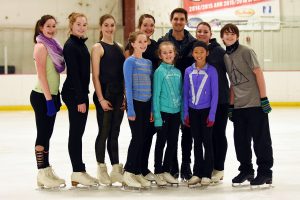 KI: This year's Skate it Forward event enjoyed the help of approximately 150 people, not including sponsors and donors. We were very lucky that the skating community, and the community at large were very supportive of our endeavors.
FSO: What was the biggest surprise you found with putting together this show. What was the hardest part? How did you find sponsors?
KI: The biggest surprise was our headlining cast. They came to us ready to do a job, but quickly immersed themselves in our cause. They skated their hearts out, and interacted so warmly with our cast. They were such a huge part of the fun at the cast party. We are so happy to welcome them to the Skate It Forward family. A lot of people came together to make Skate It Forward possible, but our headlining cast made us shine. We are so grateful.
The hardest part was communication. It is difficult getting the word out about who we are and what we do. Social media is a wonderful tool, and we need to be better at understanding how to fully utilize this tool.
We know of no magic when it comes to finding sponsors, we just knocked on a lot of doors.  But we owe major thank yous to The OhioHealthChiller Ice Rinks and Live Technologies. Without their contributions, the event would not have been possible.
FSO: From choreography, to renting the Chiller, to getting food to feed all the skaters, how did you delegate the tasks?
KI: The Skate It Forward board has 5 core members, and 2 specialists. Each one has key individual strengths. During our early meetings, we established a list of things that needed to be done. It was a random list, and quite extensive. Everything and anything we could think of, we added to the list. Then we color coded it by priority and delegated tasks accordingly. If there was something we didn't know how to do, we found someone who did. That is the beauty of the skating community; the interests and talents are many and varied! And someone is always willing to help.
FSO: Do you plan on putting on this show next year? What would you change? Do you have any goals for the future?
KI: We were working on next year even before this year's show was complete! We received a lot of input from people involved with the show, and are developing some exciting new ideas for next year. I don't know if we can say big changes are coming, more like fine-tuning. The cast party at the end of the show was a really big hit; we would like to enhance that aspect as a reward for those who worked so hard. Our cast members are true heros!
FSO: How much money did you raise for the Ronald McDonald House of Central Ohio?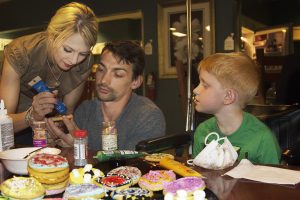 KI: Skate It Forward became the largest ever, first year fundraiser for the Ronald McDonald House of Central Ohio, and their largest annual community service event. Our magnificent cast was able to raise nearly $35,000 for the House this year. We would like to help them even more next year. 
FSO: What did you teach the young skaters that participated in the show?
KI: One of the goals of SIF is to teach our young skaters the life skills of working together and caring for others. We want to empower them with the knowledge that their efforts make a positive impact on their community. Many of our skaters have known a child who is critically ill or injured, and feel powerless to help. Skate It Forward helps to show them how their efforts can make a huge difference in someone's life. Throughout the year, SIF visited RMH, baked cookies, did crafts with the kids, made activity bags for kids and their families, and some of our skaters dressed up as princesses and read books to the children staying at the House.
FSO: From lining up skaters to rehearsals, how many hours did you invest into this show and what kind of impact did it have on you? 
KI: "The Experience" that's the perfect phrase for it! It was a rollercoaster ride filled with fear and thrills, and daring feats! And it was wonderful! It started with an idea, grew into a list, then a whirlwind of activity. We had 14 months to plan Skate It Forward and there was no time to spare. An event like this has so many components and each is necessary for success.
Skate it Forward began with a few people from the skating community who knew each other, and had a similar vision. There was absolutely no structure in place to bring this idea to fruition; it all had to be created. But along the way we met so many people willing to lend us their expertise and guidance. There is no way to count the hours put into this effort. But it comes down to this… If you want the world to be a better place, reach out into your community. There are wonderful people there who share common goals, but can be vastly different from you. If you can embrace those differences and learn to work with them, you can accomplish anything.  Every single one of the over 150 people involved with Skate It Forward contributed greatly to its success. They each have our enormous gratitude and respect. We are very much looking forward to Skate It Forward 2018.