By Maura Sullivan Hill, Team FSO writer
Header and skating photo by Robin Ritoss, all other photos courtesy of Alex Krasnozhon
For his short program this season, Alex Krasnozhon is skating to a song called "Dancing on My Own" by Calum Scott.
"It's very emotional for me," he says. "The whole idea is that a girl leaves a guy and he has this pain in the beginning of the program and doesn't know how to handle it, and then he comes to the conclusion that here he is, dancing on his own, strong. He's showing that he is hurt, but he is still staying strong and showing he is independent. I'm very excited about this program because I think if it's done correctly, it can show a different side of my skating. It is going to be a season-long project to make it better each competition."
The program is also a fitting metaphor for his first full senior season, which starts this week at the Nebelhorn Trophy in Oberstdorf, Germany.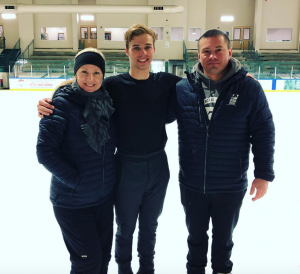 Last season ended with pain, when he sprained his ankle on the first jump of his free skate at the Junior World Championships, a quadruple Salchow, and had to withdraw from the event. After four months off the ice and an intensive physical therapy (PT) recovery program, Krasnozhon is back on the ice with new coaches, Aleksey Letov and Olga Ganicheva in Plano, Texas, and retooling his jump technique. Plus, he moved into his own apartment and says he is taking more ownership of his skating career, calling himself his own "manager." 
Krasnozhon says he is "quite excited" to get back on competitive ice and has a positive outlook on last year's season-ending ankle injury.
"Before, I never took PT seriously, but now that's something that I have to do in order to stay healthy. So that injury taught me a lot, and I think that the experience was a positive thing for me, in a sense," Krasnozhon says. "It was physical pain and it was difficult emotionally. I was at PT every morning, every evening. And you know, you sit there and you do those exercises with the band and you just want to get on the ice and you want to work. So it was like, what do I do? How do I handle my emotions?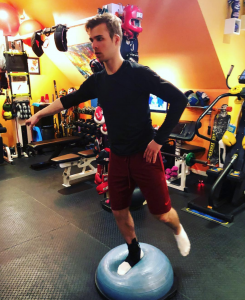 "After this experience, I feel like I am able to handle anything in my life. To me, I don't know any athletes that don't have injuries, so I'm just very, very happy that now I'm 100% and I'm ready to train and go forward. Yeah, it's kind of upsetting, but things happen, you learn from them. It's in my past, so all I can do is go forward now."
And the path ahead includes Nebelhorn and his two Grand Prix assignments — his debut will be in Helsinki, Finland from November 2-4, and then he will compete at Rostelecom Cup in Moscow, Russia from November 16-18, 2018.
Rostelecom Cup will be a return home for the Russian-born Krasnozhon, who has been representing the United States since 2015 and is in the process of getting his U.S. citizenship. His parents and two sisters still live there, and his dad hopes to attend the competition.
Krasnozhon says he is aiming to finish in the top 5 or 6 at both his Grand Prix events and the U.S. Championships, with his sights set on a return to Junior Worlds or perhaps an assignment to Four Continents.
With his family still in Russia, Krasnozhon calls his friends from the rink in Texas his "skating family" and is particularly close with fellow U.S. men's competitors Jimmy Ma and Tim Dolensky. And even though his family is across the globe, he says they talk on the phone every day and watch his performances online.
Off the ice, Krasnozhon loves driving his convertible and going to concerts with friends. He goes to a local track to drive race cars every few weeks, calling himself an "adrenaline junkie."
That sense of daring also comes in handy when he is trying quadruple jumps on the ice, and he has goals of putting three clean quads in his program for U.S. Nationals. Until then, he and his coaches are focusing on the quad Salchow, which is his cleanest quad, and he doesn't have any lingering fears from the injury at Junior Worlds. Krasnozhon credits his former coaches Darlene and Peter Cain with making him the skater and person he is today, and he is very thankful for all they have done for him. With new coaches Letov and Ganicheva, he is excited to go in a different direction and focus more on his jumps.
His long program this year will be an extended version of last year's short program, set to "Korobushka" by Bond. He started the season with a famous classical piece (Piano Concerto in A Minor by Edward Grieg) choreographed by Marina Zoueva, but with all the time off the ice rehabbing his ankle, there wasn't enough time to perfect a brand new program, so they decided to rework last year's short into a new long, choreographed by Scott Brown who originally choreographed last season's short program.
"It [the Zoueva program] is a classical piece and a very, very hard piece to skate to that requires hours of work each day, but I don't have those hours," he says. "When we first started [the season], the biggest thing was recovery and getting back the overall stamina, jumps, and the consistency. We want to incorporate quads, and that takes a lot of energy."
Even though he won't be using the program they worked on together this season, Krasnozhon loved working with Zoueva.
"Marina's mentality is just go, go! We're going to get it done and then we're going to relax," Krasnozhon says. "I really, really liked that. She is a great choreographer and I learned a lot. I still have yet to grow into the skater who can do what she does. I think that I have a lot of improvements to make."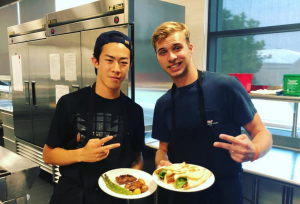 He attended U.S. Figure Skating's Champs Camp for the first time this August, and took that as an opportunity to see how the country's top skaters train.
"You get to be alongside the top six, seven men in the country in the senior division and that feeling, it feels really good to skate with those guys. You look at them, and you learn something from them, which is kinda cool," he says. "You see how they are prepared, and some of them, like Nathan [Chen] and Jason [Brown], you look at what they do and are like, 'Wow, this is really cool, maybe I want to incorporate that into my training.' So its not just about showing your programs—you get to see how the best of the best train."
And he'll get to put what he learned into practice this week at Nebelhorn, which he says will be an opportunity to "test the waters" before the Grand Prix series kicks off.
"I think that I am capable of medaling at Nebelhorn, but it is going to be my first competition since Junior Worlds, so it's been awhile," he says. "I'm hoping for a positive outcome, and I'll definitely do my best. I want to skate my programs and have my mind and my body remember how it feels to compete."
You can follow along with Krasnozhon's season on his social media accounts, @akrasnozhon on Twitter as well as Instagram, and learn more about his skating career on his official FSO site.
And keep up with results from this week's Nebelhorn Trophy on our Twitter account, @FSOnline.