By Gina Capellazzi, website administrator
What is Meryl Davis's favorite peanut butter and jelly combination? It's not usually a question asked to the 2014 Olympic gold medalist who won Team USA's first-ever Olympic gold medal in ice dance with her partner, Charlie White.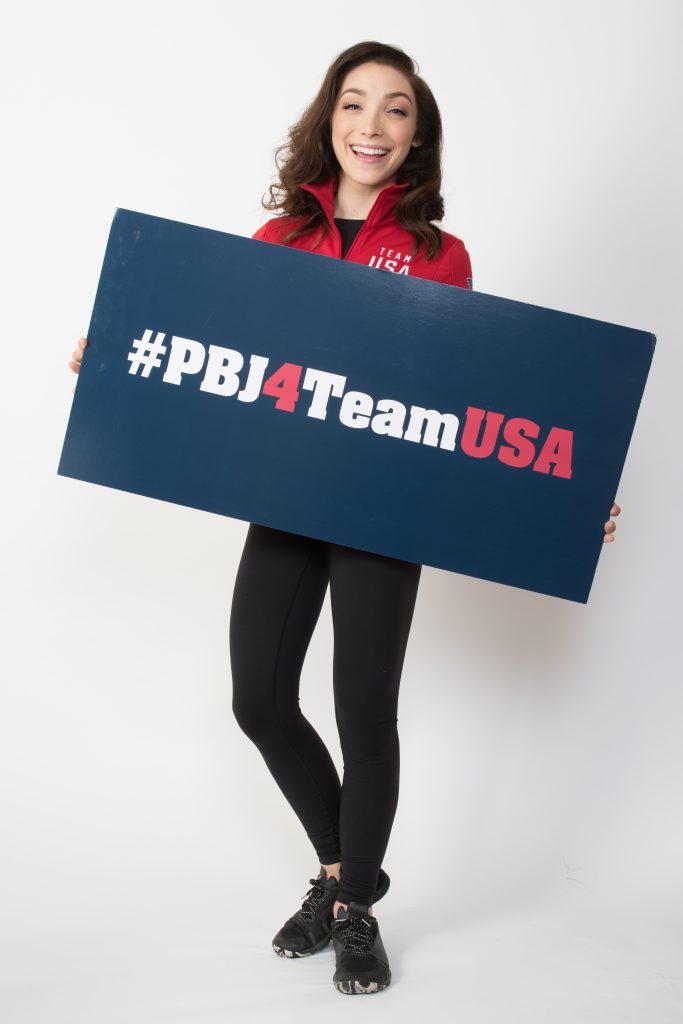 If you want to know the answer…it's crunchy Jif peanut butter and strawberry Smuckers.
But with the 2018 Winter Olympic Games in PyeongChang approaching, the 31-year-old is talking peanut butter and jelly, teaming up with Jif, Smucker's and Smucker's Uncrustables brands to show her support for Team USA through their #PBJ4TeamUSA campaign. Through the campaign, fans will be able to send their love and support to the Team USA athletes competing in PyeongChang. A sponsor of Team USA since 2013, the trio of brands have donated $100,000 to the U.S. Olympic Committee to support Team USA athletes.
"To be working with them in support of Team USA is exciting," Davis said.
During an interview with Figure Skaters Online at the 2018 U.S. Championships in San Jose, Davis said she has been a fan of Smuckers and Jif brands for many years and noted that she had peanut butter and jelly sandwiches with her in the village both during the 2010 Olympics in Vancouver and the 2014 Olympics in Sochi.
"It(Peanut Butter and Jelly) has been something that has been important to me while I travel for skating and competing. PBJ is the easiest thing to take with you and the most delicious piece of home that you can sort of take with you while you are competing, especially when you are at the Olympic games for weeks at a time. To have that comfort, something you can rely on in the [athlete] village has been something I have been grateful for," Davis said.
While Davis and White won't be defending their title in PyeongChang, the two are showing their support for Team USA through many avenues. In addition to #PBJ4TeamUSA campaign, Davis, along with White are taking part in Team USA's Winter Fest presented by Hershey.  The 13-stop tour across the country will feature meet and greets and interactive experiences with Olympians to get fans excited about the Olympics and Paralympic Winter Games. The tour had an event in San Jose to coincide with the 2018 U.S. Championships, and will visit Squaw Valley, California; Bentonville, Arkansas; St. Paul, Minnesota; Park City, Utah; Hershey, Pennsylvania and will conclude in Lake Placid, coinciding with the closing ceremonies. Davis and White will appear in five cities.  In addition to the WinterFest, Davis will also be the local Olympic correspondent for the NBC affiliate in Detroit, WDIV.
"I'll be doing recaps and explaining all the figure skating specifically to fans there," Davis explained of her new role. "I'm excited. It will be an interesting challenge because I have never done that sort of thing before."
Though she may be new to the correspondent role, Davis conducted backstage interviews as part of the in-arena announcing team at the 2018 U.S. Championships. When asked her thoughts on the ice dance competition in San Jose, Davis said the U.S. has three strong teams [Maia Shibutani/Alex Shibutani; Madison Chock/Evan Bates and Madison Hubbell and Zachary Donohue]  that are very capable of being on the Olympic podium in PyeongChang.
"It's exciting," Davis said of the competition in San Jose. "It is a shame that we don't have 10 Olympic spots for each discipline because there is so much talent."
Following the Olympics, Davis and White will join members of the 2018 Olympic team  for the 22-city Stars on Ice tour.  The tour kicks off April 6 in Fort Myers, Florida and ends May 20 in Portland, Oregon.
When she isn't traveling for skating shows and her other various projects, Davis is also hitting the books. While she was training in Canton, Michigan, Davis was taking courses at the University of Michigan.  Davis tells Figure Skaters Online she is just seven courses away from earning her degree in cultural anthropology, a degree she says sparked her interest while traveling to various countries during her skating career.
"I grew up reading National Geographic religiously and I always gravitated toward anthropology related articles, whether it was cultural or biological anthropology," Davis shared. "In addition to that, I think traveling for skating my whole life and getting a chance to spend time with other people and understand different cultures a little bit better (is also why I'm interested in anthropology). I really have a passion of trying to communicate that experience and those stories and scenarios with people who don't have a chance to travel. I think it (anthropology) is a good major for me."
What are Davis' long-term plans after she finishes her degree and now with her competitive skating world behind her? Davis says she is not really sure, but is opened to the new opportunities that come her way.
"It's an interesting to move away from something you have known your whole life," Davis said. "For me, I just remind myself to be comfortable with the uncomfortable and to step outside the box is really important to me. I'm really trying to do that and to explore opportunities that I may not have been able to explore before."