By Gina Capellazzi
It was a cool, windy October Saturday in Hershey, Pennsylvania, but that didn't stop thousands of little girls dressed up in their "Elsa" and "Anna" dresses, along with their families from standing outside the Giant Center. They were waiting anxiously to see their favorite  characters take the ice in Disney on Ice presents "Frozen".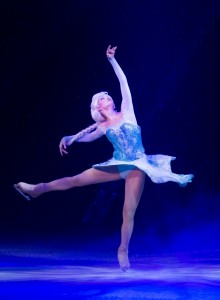 Inside the arena, the cast of the show is taking the few moments they have to relax before putting on their costumes and preparing to entertain those fans for their second show of the day.
Disney on Ice presents "Frozen" has become one of the hottest tickets across the nation. According to Forbes Magazine, "Frozen" is the most successful Disney On Ice in history. The tour sold over 700,000 tickets in its first week and 250,000 in its first day. Shows have been selling out, more cities and shows have been added to handle the demand. Seeing those crowds day after day, city after city is something Becky Bereswill has not gotten tired of yet.
Bereswill said, "It has been really exciting. It is going by really quickly. We have had so many great audiences and all our shows have been sold out. Each day is really like a new day. I have been loving it."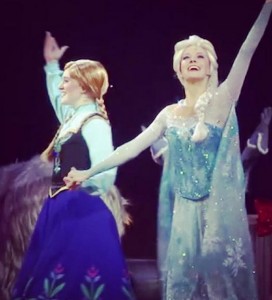 This summer, Bereswill was cast as "Elsa" in the show. For people not familiar with the Disney movie, "Elsa" is the Queen of Arendelle, who has special powers to produce ice, frost and snow.  So it did not come as a surprise when Feld Entertainment, the producers of Disney on Ice, created a traveling ice show dedicated to the popular movie. The show follows the same story that millions of children and adults have grown to love. It also uses the movie's soundtrack, with the songs like, "Let It Go" and "Do You Want to Build a Snowman?", songs that have become so catchy that kids and adults can't help but sing along.  The audience is even encouraged to sing along as the cast performs.
Telling the story of "Frozen" is Bereswill's favorite part of being a part of this show.
Bereswill said, "I love the music and the story of "Frozen" is incredible. Getting to share that with the audience is almost renewed every day by the joy that the audience brings and there is just so much anticipation for this show."
The show is also very relatable for Bereswill as it tells the story of the bond between two sisters, "Elsa" and "Anna". "Anna" is played by Taylor Firth, who skated competitively for 15 years before joining Disney on Ice.  Bereswill knows what it is like to be a sister. She has an identical twin sister, Allison, who was also a figure skater.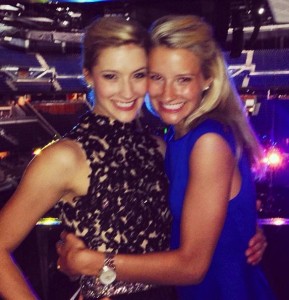 Bereswill said, " My sister and I are very close. It has definitely helped me understand the story of "Frozen" and really understand "Elsa" as a character. The bond with "Anna" is so powerful. Taylor also has sisters so it really helped us get into the roles. We have a really great chemistry on the ice so it was a very natural transition for us to play those characters."
Just like millions of children, Bereswill has seen the movie a lot. Before she started rehearsing for the show, she said she saw the movie, start to finish, eight times. Now, since rehearsing and performing in the show, she has re-watched certain scenes over and over again that she has seen the movie more than 50 times. The cast is consistently referring back to the scenes and the story.
By the end of the tour, Bereswill will have performed this show more than 400 times. Performing show after show, day after day, you think Bereswill would be tired of hearing those songs, but that is not the case.
Bereswill said, " A lot of people ask that, but I haven't. The songs are so inspiring. I still get excited and energized. It is new just hearing the audience and people singing along. It is one of my favorite parts about being in the show."
Before becoming "Elsa", Bereswill saw success on competitive ice. The Houston native started skating when she was seven years old. She competed both nationally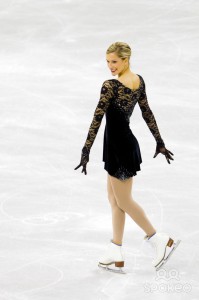 and internationally for the United States. At the junior level, she was the 2008 Junior Grand Prix Champion. Bereswill also tried her hand in pair skating, competing with Trevor Young. In 2011, Bereswill and Young finished in 10th place at the U.S. Championships. They ended their partnership shortly after.  Bereswill would then compete in the 2012 U.S. Figure Skating Collegiate Championships, where she finished in third and the 2013 U.S Championships where she finished in 16th place. While no longer competing, the 24-year-old is now enjoying the performance aspect of her skating.
Bereswill said, "In many ways, performing and competing are very much the same. There is still very much a high level of skating and there is a lot of world class skaters performing in this show. But with this, you get to portray a character, from start to finish, and you get to carry that character and really share that with the audience, where in competition, you are more focused on the technical aspect. "
When she is not on the ice, Bereswill is working on getting her college degree. She is a senior at the University of Michigan and this summer, she completed an internship at Goldman Sachs as a summer analyst in New York City. Right now, she is putting off her last semester to take part in the tour.
Bereswill said, "The University of Michigan has been so supportive and that is one thing that I'll be finishing up after I'm done with the tour."
So what is next for Bereswill after she puts her special powers away and hangs up "Elsa's tiara"? She isn't sure. She is just joining every moment of being apart of this tour.
Bereswill said, "I'm really loving this experience so far and taking it one week at a time. I'm really happy and I'm just trying to stay in the moment."       

Tour Information
Don't miss out on Disney on Ice's presents "Frozen" on tour.  Here is a list of tour dates. For more information on the show, click here.  To learn more about Becky Bereswill, check out her official website hosted by Figure Skaters Online.
Tour Dates
Newark, New Jersey–November 19-23
East Rutherford, New Jersey–November 25- 30
Greensboro, North Carolina–December 3- 7
Raleigh, North Carolina–December 10- 15
Fayetteville, North Carolina–December 17- 21
Philadelphia, Pennsylvania–December 25-January 4
Cleveland, Ohio–January 9- 19, 2015
Rosemont, Illinois–January 21- 26, 2015
Chicago, Illinois–January 28-February 8, 2015
Boston, Massachusetts–February 13-22, 2015
St. Louis, Missouri–February 26-March 1, 2015
Quebec, Montreal, Canada–March 4-8, 2015
Auburn Hills, Michigan–March 12-15, 2015
Toronto, Ontario, Canada–March 18- 22, 2015
Dallas, Texas–March 25-29, 2015
San Antonio, Texas–April 2-5, 2015
Minneapolis, Minnesota–April 8- 12, 2015
Houston, Texas–April 15-20, 2015
Hidalgo, Texas–April 22-27, 2015
New Orleans, Louisiana–April 30, 2015-May 4, 2015
Baton Rouge, Louisiana–May 7- 10, 2015
Tampa, Florida–May 14-17, 2015
Birmingham, Alabama–May 20-24, 2015
Huntsville, Alabama– June 3 – June 7, 2015
Greensville, South Carolina–June 10-June 14, 2015
Mexico City, Mexico–Summer 2015 (Specific Dates-TBD)
Memphis, Tennessee–September 25-27, 2015
Tulsa, Oklahoma–October 1-4, 2015
El Paso, Texas–October 7-11, 2015
Tuscon, Arizona–October 15-18, 2015
Portland, Oregon–October 22-25, 2015
Kennewick, Washington–October 28-November 1, 2015
Spokane, Washington–November 5-8, 2015
Kent, Washington–November 11-16, 2015
Los Angeles, California–December 9-13, 2015
Ontario, California–December 23-27, 2015
San Diego, California–January 20-23, 2016
Sacramento, California–February 10-15, 2016
Salt Lake City, Utah–March 2-6, 2016
Contest Information
How would you like to win a signed Olaf from the cast of Disney on Ice presents "Frozen"? It is even signed by Becky Bereswill! "Like Figure Skaters Online on Facebook" for more information. Our contest will be held in December 2014.