By Claire Cloutier,  Team FSO contributing writer
Photos by Robin Ritoss, Claire Cloutier and Getty Images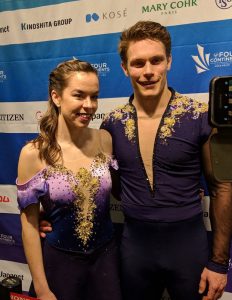 ANAHEIM, CALIF.–Despite being just 17 and 22, Canadian skaters Evelyn Walsh and Trennt Michaud are already in the third year of their pairs partnership. What fans may not know is that their friendship and connection as teammates goes back even further than that!
It was five years ago when Trennt Michaud, an aspiring pairs skater, came to a skating rink in Brantford, Ontario, looking for new coaches and a potential new partner. Coaches Alison Purkiss and Scott Rachuk were running a training group in Brantford. In their group was 12-year-old Evelyn Walsh, a singles skater. Michaud found himself doing pairs tryouts with both Walsh and Hope McLean on the same day.
Although McLean became his partner, Walsh continued training alongside them in the Purkiss/Rachuk group as a singles skater. "We were always good friends, even when he first came to the club," Walsh said. "It was kind of like a big brother/sister relationship. It was a lot of fun."
So after Michaud's partnership with McLean ended and a subsequent partnership didn't work out, it seemed natural to have the two skaters try out again together. Walsh was by then 15. In the past, she had done some pairs exercises for fun, both with Michaud and another male skater at their club.
The tryout happened "after a summer competition," Walsh recounted. "We'd just done the morning stroking class that we do every day. And Ali [Alison Purkiss] just told me to do it side-by-side with him. And I was used to [trying] pairs things with him, so I just kind of joined along. That night we had a meeting, and I said, 'Sure, it's worth a shot.' And that's where it all started."
For Walsh, the decision meant learning all-new elements as a pairs skater. But having done some pairs moves in the past for shows, Walsh was unfazed. "I wasn't really scared of doing any of the elements," she says. "I was used to being in the air in shows and events. And I'd done [pairs] stuff with Trennt previously. So I trusted him and knew I'd be safe. It was just a lot of fun to learn a new side of skating–throws, and lifts, and twist. And every day, you could see the progression, as it grew. I enjoyed it a lot; it was fun. And I'm still learning new things."
Walsh continued to train singles up until the beginning of this season, when she decided to take a break. "I find singles helps pairs out a lot, and especially in the jump aspect. It keeps me pushing for different triples, not just the ones we're doing for our side-by-sides right now," she explained.
For his part, Michaud decided long ago that his focus in skating would be pairs. "I've actually been in pairs for, like, 9 years," he said. "Since I was 11, 12, I've been doing pairs. I started in baby pairs, at home in my small-town club. I was in Novice [pairs] before I moved to Scott and Allison. And then I soon started skating in Junior [pairs]. So I've been doing pairs for pretty much my whole skating career."
Michaud was inspired at a young age by seeing videos of fellow Canadians Jamie Sale and David Pelletier skate at the 2002 Salt Lake City Olympics to Love Story. "That's when I really fell in love with pairs skating, watching that," he said. "And then, just doing it every day. I've always known I would go that way. I kept doing both [pairs and singles] because they helped each other in different ways. [But] I always knew I was going to be a pairs skater."
Although Michaud had a clear goal in mind–success in pairs skating–the path to get there wasn't always easy. Starting when he was just 7 or 8, Michaud unfortunately became the target of bullying from classmates due to his figure skating.
"I'm from a small town–from the Trenton/Belleville area [in Ontario, Canada]. It's a very big hockey town," he said. "So, being a figure skater at a younger age …." The bullying continued, to some degree, for years. "In high school, it started to calm down a little bit, because everybody was growing up, and getting more mature. And they saw that I was going to Nationals, and doing things like that."
At the time, Michaud drew much-needed emotional support from older Canadian pairs skaters Eric Radford and Dylan Moscovitch. "Eric and Dylan–they helped me a lot through that. Just supporting me through the days where you get bullied about what you're doing. Eric went through, obviously, similar things, being from a small town, and being a figure skater. So it was a very good connection."
Michaud hopes that, in the future, he can help other kids, just as Radford and Moscovitch helped him. "I hope I get to do that for other athletes–other boys that go through it, or even anybody in general who's going through bullying, not even just for our sport. It's not a fun thing to go through, by any means."
Michaud still held onto his love for the sport, despite the social pressure from peers. "Skating is amazing," he said.
"It's worth it," his partner agreed.
Since joining forces in 2016, Walsh and Michaud have continued to train in Brantford with Alison Purkiss as their main coach. (Scott Rachuk worked for Skate Ontario until last summer and currently is the Sports Director for the Swedish Figure Skating Association.) Purkiss doubles as their choreographer, creating both of their programs this year.
Walsh/Michaud also started working this year with Paul MacIntosh ("Paul Mac"), who coached two-tme Olympic gold medalists Tessa Virtue and Scott Moir early in their career. "We've been working with Paul Mac once a week," said Michaud. "That's been a huge help for us, just having a different eye. He's a genius. We started off with just stroking, and now it's moved into transitions. He really pushes us in different ways. We'll run footwork like 10 times in a session, with music. Obviously, that repetition only helps us."
Following two successful junior seasons, Walsh/Michaud took the plunge into senior competition this year. They selected "Come Together" by the Beatles for their short program and Romeo & Juliet for their long program. The team said the choice of "Come Together" was deliberately meant to take them out of their own comfort zone. The decision was spurred by their observations of last year's Olympic season.
"We saw a lot from watching the Olympic season," Michaud said. "Everybody tried new things [programs] out at the beginning of the season, but then they were scrapping it and going to their programs that were their niche–their really good programs." Walsh/Michaud want to make sure that they try a range of different music and styles early in this Olympic cycle, so that by 2022, they'll know what works for them.
"We've always done more classical, or contemporary lyrical, programs," Michaud noted. "But we wanted to try something different, [to develop] as artists on the ice. Just to know that we have other options, besides the exact same thing every time."
Walsh/Michaud started their season with somewhat rocky outings at Nebelhorn Trophy and Skate America, but improved to a 5th-place showing at Skate Canada. Then at Canadian Nationals, the team had their best performances of the season so far to win the silver medal and berths for Four Continents and Worlds. When I spoke with them at Four Continents, Walsh/Michaud reflected on their success at Nationals.
"We had a roller-coaster season going up to that, and definitely some ups and downs," Walsh commented. "But I think that's what made Nationals so special to us, and [let us] really appreciate that moment so much. It kind of proved to ourselves that we are capable of that. We love Nationals. So we were glad to perform a solid performance there."
"Definitely," Michaud concurred. "Also, I think it meant a lot to us … for our coach Alison. She puts in so much work, and has over the years. Like I said to her, in a way, we got a medal for her as well. It's Alison's first senior national medal [for one of her students]. So I was really happy to do that for her. Because she spent so much time, on and off the ice, with us. Put in tons and tons of work. And she does that with every one of her kids."
The team was excited to skate at Four Continents, their first senior ISU championship together. However, Michaud was a bit thrown off when he came down with an ill-timed cold in Anaheim. Although they tried not to let it affect their performances, Walsh and Michaud struggled a bit in their long program, ultimately placing 7th.
"Although not not everything went as planned here, it's a stepping-stone in the right direction. And our ultimate goal is to perform well at Worlds and future competitions going forward," Walsh stated.
"We've dealt with sickness before, but this is the first time that I think I've actually been sick at a competition," said Michaud. "Like our coach said, as much as you probably didn't think it weighted [on you] mentally, it does still leak into you. Now we can be a little more prepared. If that does happen [again], just stick to the plan and be a little bit mentally stronger for next time."
"That's sport," Walsh added. "Because everyone has different obstacles. Just learning how to manage those, mentally and physically, I think, is all part of this."
The team feels the experience they've gained in their first year as seniors has been invaluable. Their exposure to some of the top teams in the world at Four Continents and the Grand Prix series has sharpened their perception of where their own skating needs to develop.
"I think we've definitely learned a lot about our partnership. Being able to lean on each other, through the good and bad. Our partnership has grown a lot this year," Michaud commented. "Just watching other teams–even when they're not skating [well], some elements are messed up, it doesn't snowball. You look at the top teams, and they're always skating everything well. Their components are always [strong]. It's just that extra step up from juniors. Everybody can do the tricks in juniors, and everybody in seniors can … it's just how much nicer everybody can do them. Even if they're having off days on some elements, they still do a lot of things really well."
"The component mark really sets the [top] teams apart," Walsh agreed. "And if you can really tell a story and connect in those four minutes."
Looking ahead to the World Championships in Saitama, Japan, Walsh and Michaud don't plan any major changes but will focus on improving their programs and consistency.
"I think we're looking forward to a little bit of a break right now, since Four Continents and Nationals are so back-to-back," said Walsh. "That's always tricky to balance, with run-throughs and still going down and up [for the competition]. So I think we'll take a little rest. And then, just work on the programs and the connection. I don't think we'll be changing anything. But a few small adjustments, we'll want to make on things, just to make the program feel more smooth, [and] bump up the component marks. I think just getting the consistency in on those elements would be key for us to feel confident going into Worlds."
"Yes, and just keep working along with Paul Mac to keep improving our second [components] side of things," added Michaud. "I think that helps us a lot. One of the things going into Nationals was [that] we were focusing a lot on just how we were skating to the music. And that seemed to really help. And just making sure that–especially for me–if we're sick or anything happens like that when we're at Worlds, that we still have the same mental game. So things don't get too out of control."
Figure Skaters Online asked Walsh and Michaud what makes them click as a team.
"Well, we're kind of opposites, in a sense. And I think that's why it works," Walsh said. "Before going on the ice, he likes to talk, and talk about non-skating-related things, which I can't do at all. But it works for him, which is great. I'm normally very quiet and listening to music. So we're very different in that sense. But I think a big thing is always communicating. Like we'll both say to each other that we're nervous, before getting on the ice. Just to know that we're on the same page is comforting–that you're not the only one feeling those emotions before starting the program."
"At home, we've always had a very joking relationship, since I moved to Scott and Alison. So that's continued," Michaud said. "Even though we both work really hard, it kind of lightens up the mood, the way we joke around on the ice when we're between elements. It keeps everything fun. It's not like, 'Oh, we have to go to the rink and train.' You're excited to go to the rink and train. So, I think it's a great thing that we're always joking around and having fun with each other. Makes the rough days better, and makes the good days just fun in general. But we both work hard, so it's really nice, knowing that we're pushing each other along the way."
Due to their five-year age difference, Walsh and Michaud are in different phases of life off the ice. Walsh is in grade 12 of high school. "I go to the school right next to the rink actually, in Brantford," Walsh said. "I go to school in the morning. I do my math class in the morning, and I'm doing an online course as well. And then we train in the afternoon. I like having that balance, because I can check out of skating. That's important for me mentally, to have those two sides to it. Many of my friends at school don't know I skate, and I kind of like it that way, keeping it separate."
Due to the team's travel schedule, Walsh is taking a reduced course load this year and will return to high school next year. "Just to get some other courses that I'd like if I do consider going to university," she said. "Because I want to keep my options open. You never know what can happen in sport. Injury can end your season just like that. So I want to keep my options open and know I always have a backup plan."
When not training, 22-year-old Michaud is focused on work right now. He is employed at Sport Chek, a large sports retail chain in Canada. "I'm lucky they work around my schedule," he said. "And I'm actually coaching quite a bit now, with our coach, Alison–just the younger skaters. And I'm really, really enjoying that. That's pretty much my life–skating, work, and more skating. I really enjoy coaching the little ones, though. It's awesome," he said, with a smile.
In his limited leisure time, Michaud enjoys hockey. "Yeah. Typical Canadian boy, I know,"  he laughs. "There's a lot of things I enjoy, really–but just sports in general. I keep up with everything, but I'm a diehard [Toronto Maple] Leafs fan."
"I don't really follow any sports teams in particular," Walsh said. "But I kind of like to do everything and stay well-rounded. I think cross-training is very important–using those different muscle groups that we don't use every day. So I love running, Pilates, yoga …. If I can do it with friends and family, it's fun. Takes my mind off things."
Figure Skaters Online had one silly question for Walsh and Michaud before parting in Anaheim. "Trennt, did your parents ever tell you why they went with two 'n's in your name?"
The partners laughed.
"My mom just wanted me to be different. If I was going to be a girl, I was going to be [named] Connor. My mom's weird. She's a lovely lady. But …." Michaud smiled.
"Everyone thinks it's a spelling mistake. We're like, 'No, it's that way,'" Walsh giggled.
"A lot of my friends, in their phone, it's Trennnnnnnnnnnnnnt. Yup. It's good–something to laugh about. I like it. Makes me different," said Michaud with a resigned laugh.
Apparently, Michaud's mother achieved her objective. Her son–and his skating partner–do indeed stand out from the crowd. (And not just due to a name!)