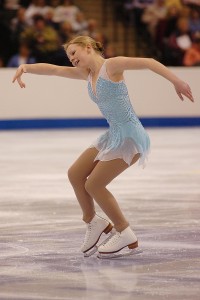 Rachael Flatt performed her best short program of the season at the 2009 World Championships in Los Angeles. In her World debut, she scored 59.30 points, for a seventh place standing.
Two-time World bronze medalist Yu-Na Kim (76.12) of Korea leads the competition after skating the highest scoring short program since the judging system was implemented. She was near flawless with her only mistake being a warning for the wrong takeoff edge on the triple flip.
Canada's Joannie Rochette, the only skater to not receive a negative grade of execution on any element, is second 67.90. Japan's Mao Asada, reigning World Champion, is third with 66.06 after doubling her planned triple lutz.
U.S. Champion Alissa Czisny (53.28) fell twice, on the planned triple flip and double axel, finishing the short in 14th place. She started her artistically pleasing performance with a solid triple lutz but unraveled from there.
"Today was disappointing because that's not the way I've been practicing," said Czisny, who finished 15th in her World debut in 2007. "I have higher expectations of myself, and it just didn't happen."
Flatt had trouble on the opening element of her program, a planned triple flip-triple toe combination. She uncharacteristically stumbled on the landing of the first jump then opted to leave off the second.
The mistake could have been a near disaster. Yet Flatt, last year's World Junior Champion, instead improvised her "Moon River" short program by turning her triple lutz into a triple lutz-double toe to make up lost points.
"I'm disappointed with how the combination came out. Aside from that, it was a good program," said Flatt, who also landed a double axel. "I let it go pretty much as soon as it happened. I knew I needed a combination in, so I just tacked it on to the triple Lutz."
Czisny and Flatt have a tough challenge in the free skate.
If their final placements equal more than 13 points, the United States will have only two representatives at the 2010 Olympic Winter Games in Vancouver, British Columbia, Canada. The last time the country failed to send a full contingent of three skaters was 1994.
"Everybody keeps reminding me and I can't think about that because I can't control the outcome," said Czisny, who was ninth at last month's Four Continents Championships. Flatt was seventh in the competition, where Kim, Rochette and Asada finished on the podium.
Tanith Belbin and Ben Agosto (205.08) were poised to become the first American ice dancers to win a World Championship. But the five-time U.S. Champions finished behind training mates Oksana Domnina and Maxim Shabalin (206.30) of Russia, which came as a surprise to many.
"We don't know any better than you do, I suppose," said Belbin, who also won the Olympic silver medal with Agosto. "We train with them every day so we appreciate their hard work, and we can definitely see their qualities."
Domnina and Shabalin won the compulsory dance to start the event. Belbin and Agosto, who returned to competition at Worlds after missing three months because of his back injury, won Thursday's original dance but the Russians had the edge in the free dance, 100.85 to 100.27.
"We just wish we were not marked down on [a twizzle], from 4s to 3s. We don't know why," Belbin said. The couple won the silver medal at 2005 Worlds before finishing third, third and fourth in recent years.
Reigning U.S. Champions Meryl Davis and Charlie White finished just .04 behind Canada's Tessa Virtue and Scott Moir, who took the bronze medal with 200.40 points. The Canadians were fourth in the free while Davis and White were third.
The top two U.S. teams easily qualified three couples for the Olympics.
The third American couple, last year's World Junior Champions Emily Samuelson and Evan Bates, finished 11th with 174.76 points. The national silver medalists were 13th in the compulsory, 11th in the original and ninth in the free.
The competition concludes with the ladies free skate Saturday.
__________
Figure Skaters Online strives to be an accurate source of information related to the sport of figure skating. To report an error, please e-mail the news editor. Include the article date and title in your e-mail.