By Gina Capellazzi
Reader's Note: Figure Skaters Online had the opportunity to talk with 2014 U.S. Pairs Bronze Medalists Caydee Denney and John Coughlin on March 13, 2014, about their upcoming trip to the World Championships in Japan. We had a great conversation and shared lots of laughs. However, just one week later, we learned the sad news that Caydee had suffered an ankle injury in practice on March 19, causing her and John to withdraw from the competition. We at Figure Skaters Online have decided to continue with our story about Caydee and John. We wish Caydee the very best in her recovery and are looking forward to seeing the team back on the ice soon.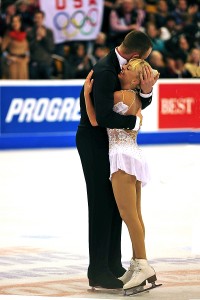 Every four years, figure skating takes center stage during the Olympic Winter Games. The Olympics allow each country to send their best skaters to compete against the best from around the world. But what the casual figure skating fan might not realize is that skaters don't have to wait every four years to compete against the world's best.  Each year in March, the World Figure Skating Championships is held and this year is no different.
Fifteen skaters from the United States will be heading to the World Figure Skating Championships in Saitama, Japan. Among the fifteen skaters will be 2014 U.S. bronze medalists Caydee Denney and John Coughlin. They will join 2014 U.S. Olympic figure skating team event bronze medalists and two-time national champions Marissa Castelli and Simon Shnapir to represent the U.S. in the pairs event of the World Championships.
"We are going to this competition to skate for each other and ourselves. There was such an intense spotlight at nationals in an Olympic year and external pressure that you might not feel in other places. The world championships are in Japan, there are a lot of things to do. Caydee and I just really want to enjoy it for what it is," said Coughlin.
The road to Sochi wasn't an easy one for Denney and Coughlin. After teaming up in 2011 and then winning the national championship in 2012, the pair missed the opportunity to defend their title at the 2013 U.S Championships after Coughlin underwent surgery in late 2012 to repair a torn labrum in his left hip. They were still named to the World team, but chose not to compete in order to give Coughlin additional time to recover fully. The pair would have to wait until the 2013-2014 season to take the competitive ice again.
"Every competition and every day that we are on the ice feels like a blessing coming from where we were last year," said Denney.
Denney and Coughlin started the Olympic season by winning the silver medal at the U.S. International Figure Skating Classic in Salt Lake City. The two then began their Grand Prix season at Skate America in Detroit. They finished just shy of the podium in fourth place. Their second Grand Prix event was Trophee Eric Bompard in Paris, where they set a new ISU personal best score in the short program and came home with a bronze medal.
However, the most important event of the season would come at the 2014 U.S. Championships in Boston, Massachusetts. The pair was aiming to regain their national title and make the Olympic team.
"We had a lot of momentum heading into Boston, medaled on the Grand Prix and felt as confident as about everyone else. At the end of the day, we were very humbled and blessed even to be back at the U.S. Championships," said Coughlin.
After the short program, the two found themselves in fourth place. With only two U.S. spots for the pairs competition in Sochi, Denney and Coughlin knew they needed to have a flawless free skate in order to be considered for one of those spots. Despite one mistake (singling a double Axel combination), the two ended up winning the free skate and finished just out of second place by a narrow 0.29 margin.
The question on many people's minds following the competition would be whether or not the selection committee would take into account Denney and Coughlin's past competitive achievements. Denney also had the experience of competing at the 2010 Olympics in Vancouver with her former partner, Jeremy Barrett. In the end, the committee chose to send 2014 U.S. silver medalists Felicia Zhang and Nathan Bartholomay, along with gold medalists Marissa Castelli and Simon Shnapir, leaving Denney and Coughlin to occupy the first-alternate role.
"We understood the protocol the way it was written. There are probably different schools of thoughts on the selection process, but at the end of the day, Caydee and I are very honest athletes and we know those two weren't our best performances that we could give. The teams that went are dear friends of ours and very deserving champions," said Coughlin.
"It was very motivating to see how close we were to being on an Olympic team," said Denney.
"After what we have been through and we realized we did leave some points out there on the table. It wasn't like we went out there and we were perfect and came out short. There were places where we could grow and improve," said Coughlin.
"It was a very entertaining event," said Denney.  
Despite not being in Sochi, Denney and Coughlin watched the Olympics to cheer on their teammates and friends from other countries who were competing. They both were overwhelmingly impressed with the competition in Sochi, especially the pairs event.
"There were a lot of Olympic moments for a lot of teams," said Coughlin.
Though thoroughly disappointed at missing their chance at competing together at the Olympic Games, the two spent time regrouping to prepare for what was next, the World Championships in Japan. After a long wait, Denney and Coughlin were ready to show the world just how hard they have been working. However, just a few days before they were to depart for Japan, everything changed. Denney suffered an injury to her right ankle in practice. The injury forced the two to withdraw from the competition. 2014 Olympians Felicia Zhang and Nathan Bartholomay accepted the offer as first alternates to compete in their place. It was not the outcome Denney and Coughlin had wanted on which to end their season.
"We're so devastated that we won't be able to represent the U.S. and skate for the wonderful Japanese fan base at
Worlds. Our preparation for this event has been fantastic, and we were looking forward to showcasing our hard work. We are thankful that Caydee will make a full recovery and that this won't affect our long-term goals. We are, as always, 100 percent behind Team USA and will be supporting our teammates every step of the way," Denney and Coughlin said in a joint statement that was published on IceNetwork.com.
What is next for them? Right now, the two are focused on Caydee's recovery. The press release published by U.S. Figure Skating on March 20th stated that she "is expected to resume training in 8-12 weeks." But after that, the future is unclear for Denney and Coughlin.
"Once the season is over, we will sit down and talk," said Coughlin.
In the near future, Coughlin says he'll head home to Kansas City and spend some time with his dad and his sister, while Denney will go back to Florida to see her family and friends, hit the beach, and do some yoga with her sister, Haven.
Though this wasn't the season they had envisioned, both Denney and Coughlin are grateful for the opportunity to not only skate for themselves, but also for their fans, to whom they passed along this simple but heartfelt message:
"We want to thank our fans for their support and get well wishes."
Having some fun with Caydee and John 
| | | |
| --- | --- | --- |
|   | Caydee | John |
| Favorite Breakfast Food | Pancakes | Favorite meal. Sometimes eat breakfast for dinner. Pro anything that you could put syrup on (like Buddy the Elf), bacon and eggs |
| Favorite Drink | Coffee with flavored creamer and lots of Splenda, water with lots of lemon and Crystal Light | Chocolate milk and famous Irish beverages |
| Things you can't travel without | Girl stuff (makeup, perfume) | Music |
| Favorite Embarassing Moment | Have embarrassing moment every day | Ripped pants of Junior Grand Prix event costume during beginning pose |
| One thing you can't stand about each other. (bad habits) | John: Caydee doesn't like to be the decider | Caydee: How often John washes his hands |