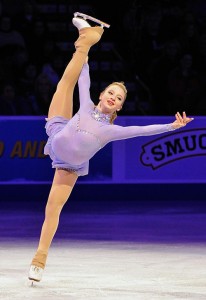 Figure Skaters Online is pleased to welcome Amber Glenn with the launch of her official website.
The 14-year-old Glenn is the 2014 U.S. national junior ladies champion.  In addition, she won a silver medal at the 2012 U.S. nationals at the novice level.
"I'm very excited to have my official web page hosted by Figure Skaters Online," Glenn said.   "I can't wait to see my name up there next to all the ladies that I have looked up to for so long. Thank you, Ms. Backman, for doing such a great job on the site design. As I start my first senior season, please check back often to see updates on the season's progress."
Glenn is coached by Ann Brumbaugh and Ben Shroats and represents the Stars Figure Skating Club of Texas.   Brumbaugh also choreographs her programs.
Glenn debuted on the Junior Grand Prix (JGP) circuit this season winning a bronze at the JGP in the Czech Republic, her lone event.   She has been named to the World Junior Championships team and will compete at the event in Sofia, Bulgaria from March 10-16.