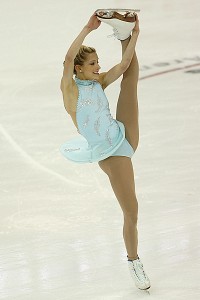 Reigning Junior Grand Prix Final Champion Becky Bereswill is proud to open her official Web site at www.figureskatersonline.com/beckybereswill/.
Bereswill, who made her senior international debut by winning the bronze medal at 2008 AEGON Challenge Cup, plans to make her Grand Prix debut at November's NHK Trophy in Nagano, Japan. She will also compete at the Finlandia Trophy, Oct. 8-11, in Helsinki, Finland.
Last season, Bereswill won silver medals at the JGP events in France and Spain before winning the gold medal at the Final in Goyang City, Korea. She finished 18th at the 2009 U.S. Championships, her second time skating on the senior level at nationals.
Bereswill represents the Houston Figure Skating Club. She trains with coaches Megan Faulkner, who has worked with her for over 10 years, and Mark Janoschak. Igor Shpilband, Phillip Mills and Marina Zoueva choreograph her programs.
Fans of Bereswill can visit his Web site at www.figureskatersonline.com/beckybereswill/.
__________
Figure Skaters Online strives to be an accurate source of information related to the sport of figure skating. To report an error, please e-mail the news editor. Include the article date and title in your e-mail.