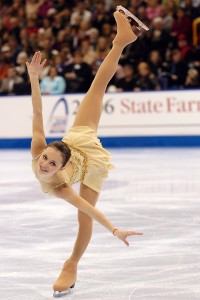 Olympic silver medalist Sasha Cohen is proud to relaunch her official site SashaCohen.com with Figure Skaters Online. The site, which is complete with news and journal pages, reaffirms Cohen's commitment to her growing fan base.
Later this week, Cohen will compete for the first time since the 2006 World Championships, where she won bronze, when she takes center ice at the Spokane Arena for the 2010 U.S. Championships in Spokane, Wash. The ladies short program is Thursday and the free skate is Saturday.
"I'm really confident heading into nationals," Cohen wrote in her journal. "I've had struggles getting to this point but that's part of the process that I love so much. This comeback has been about the journey, not the destination. While it would be amazing to win and make my third Olympic team, my main goal is to just do the best that I am able to do. I know if I do the best that I can do, I will leave Spokane with no regrets — that's what I really want more than anything."
Cohen was expected to compete earlier this season but was injured during training. She withdrew from her two Grand Prix competitions, Trophee Eric Bompard and Skate America, leaving her to make her season debut at nationals.
She is one of the most decorated skaters in American ladies skating. In 2000, she made her presence known by beating Michelle Kwan in the short program at the U.S. Championships, which helped her to a silver medal overall. She withdrew from the 2001 nationals because of injury but came back to win silver in 2002, bronze in 2003, silver in 2004 and silver in 2005. She is the 2006 U.S. Champion.
Cohen finished fourth at the 2002 Olympics before taking silver in Torino. Among her other international accolades are two medals from the World Championships, a silver in 2005 and bronze the following year. She won 2003 Trophee Lalique, 2003 Skate Canada, 2003 Skate America, 2002 Trophee Lalique and 2002 Skate Canada. Cohen is also the 2002 Grand Prix Final Champion.
She currently trains with John Nicks in Southern California.
Fans of Cohen can visit her Web site at www.sashacohen.com.