By Gina Capellazzi, website administrator
Header photo by Darlene Cain
During the off-season, many junior-level skaters consider moving up to senior level, especially after having a successful season. That is especially true for 2017 U.S. junior champion Alex Krasnozhon.
Figure Skaters Online recently caught up with the international squad members of Team Cain. In the fourth part of our week-long series, we spoke with 2017 U.S. junior champion Alex Krasnozhon, who will make his senior debut this year.
---
When thinking of a word to sum up his 2016-17 season, like his fellow training mate Timothy LeDuc, Alex Krasnozhon also chose the word "grateful."
"The reason why (I chose grateful) is because I had so many opportunities this year to show off the new level of skating that I was trying to show everyone," said Krasnozhon.
The 17-year-old originally from St. Petersburg, Russia, says he was also grateful to be able to compete at two Junior Grand Prix events, and overcome nerves to skate well enough to qualify for the Junior Grand Prix Final, where he finished 5th.
"I did not have any specific goals for the Final. My goal was just to skate my best and I think I accomplished that," Krasnozhon added.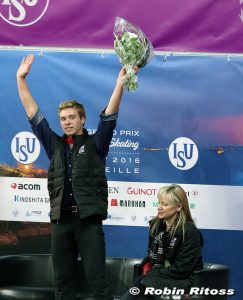 Following the Junior Grand Prix Final, Krasnozhon became the 2017 U.S. Junior Champion at the U.S. Championships in Kansas City and earned a trip to compete at the World Junior Championships where he had a respectable 8th place finish.
"The World Junior Championships was probably the most and the best experience of my career," he shared. "I saw the best juniors in the world, some those guys skated on the senior circuit as well."
Looking ahead to the 2017-18 season, Krasnozhon will skate to the Russian folk song, "Korobushka" by the string-quartet Bond for his short program, which he will debut at the Broadmoor Open, June 21-24, in Colorado Springs, Colorado.
"It is going to be very fun and very entertaining," he said in describing his short program. "The reason I picked it because I wanted my heritage to play a little bit there and I think it is so much different than last year when I totally had a classical piece (Chopin's Etude Op. 10, No. 3 in E)."

For his free skate last season, Krasnozhon portrayed a cowboy when he skated to selections from Aaron Copland's Rodeo. This year, he will skate to "Nelle Tue Mani (Now We Are Free)" from Gladiator, performed by Andrea Bocelli, which he will debut at the Cannon Texas Open, July 6-9.
"It is the first time that I'm skating to something big like that and going into senior (level), we all wanted some big music," he said explaining his choice. "I think this year is the right time to make a step up and finally skate to big boy music," he added with a laugh.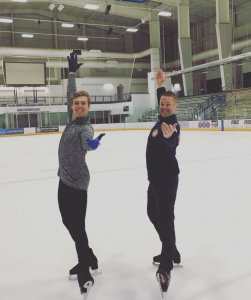 Krasnozhon said one challenge he will have skating to this music is that he is going to have try to keep up with it, meaning that he wants to skate stronger than the music and not let the music overtake him.
Both of his programs are choreographed by Scott Brown, who choreographed both of his programs last season as well.
"Working with Scott is always amazing. He comes up with great ideas and he knows how to hide my weak spots and show off my strong spots," Krasnozhon said of Brown.
Krasnozhon will move up to the senior level nationally, but will remain competing as a junior internationally. He says he wants to do three quads (one quad salchow and two quad loops) in his free skate so his goal over the summer is to get them consistent in time for the Junior Grand Prix Series. He says he will also be working this summer on the quad toe. In term of program component goals, he wants to improve his performance level overall and be more engaged in the program from start to finish.
"(I want to skate) like a senior man, instead of a junior man," Krasnozhon explained.
---
Editor's Note: Stay tuned to the final part of our series on Friday.
To read part one, which featured Ashley Cain and Timothy LeDuc, click here.
To read part two, which featured Timothy Dolensky, click here.
To read part three, which featured Brooklee Han and Aimee Buchanan, click here.