By Leah Adams
Photos by Leah Adams and EDEA Skates
Reigning U.S. Champions Alexa Scimeca and Chris Knierim will compete at the final Grand Prix event of the season, NHK Trophy. The event will take place in Nagano, Japan, which was the home of the 1998 Winter Olympic Games. Scimeca and Knierim brought home the silver medal at Skate America in October. They are hoping to qualify for their first ISU Grand Prix Final. If they are able to accomplish that feat, Scimeca and Knierim would be the first U.S. pair to qualify for the Final since the 2007-2008 season when Keauna McLaughlin and Rockne Brubaker qualified but withdrew after the short program due to an injury to Brubaker.
Figure Skaters Online caught up Scimeca and Knierim as they prepared for their second Grand Prix event.
Figure Skaters Online (FSO): You are already off to a terrific season. You started the season at Nebelhorn Trophy, where you earned a silver medal. What was it like to be on the podium next to the Olympic gold medalists, Tatiana Volosozhar and Maxim Trankov?
Chris Knierim (CK): Yes, we knew that going in there they (Volosozhar and Trankov) were probably going to be the top team, but we wanted to see where we stood that early in the season compared to them. It was their first competition of the season and it was a good start to our season, especially compared to last year and how we started. It was nice to see our improvement and how we're ahead of last year.
FSO: You followed up that event with a silver at Skate America, your first Grand medal. You also recorded your highest score in competition. Can you address that?
Alexa Scimeca (AS): Skate America was kind of an eye opener. We believe in ourselves and what we're capable of, but to win the short and get second overall was a little unreal because we know our potential. Just to see it happen so early in the season and at Skate America was a gratifying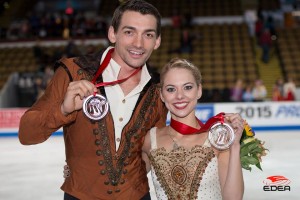 experience and reassuring to know that the work we are putting in and the focus we have been having in training daily is paying off, heading us in the right direction.  It was a confirmation for us to stick to our plan with Dalilah (Sappenfield) and keep looking forward.
FSO: The following week, you won gold at Ice Challenge in Graz, Austria. How was it to compete in back-to-back competitions?
CK: It was exhausting. After a competition like the Grand Prix, you want to come down a bit before training again for your next event. We didn't get much of that so we didn't skate too much while we were there because there wasn't a lot of practice ice. It was tough and we got it done because we didn't want to have such a huge gap before NHK in Japan.
FSO: In training for NHK, what is your focus?
CK: It is like any other competition, be it Nebelhorn, Skate America or Austria. We need to go in and do our job and improve on our jumps. That's our biggest thing and we know that. We aren't going doing anything different from any other competition.
FSO: What is the average day for you? Do you get up and have a special breakfast and routine? Is there a special ritual before you head to the rink?
AS: Chris and I have a very consistent eating plan. We both have our own meals that we eat daily. I have yogurt every morning and Chris has eggs. Then our lunches are the same every day too. He has a pasta dish and I have an oatmeal dish, rather carb heavy during the day. We have a consistent regimen to keep our weight in check.
We wake up around 6:30 and we get to the rink at 8:00. We do off ice for an hour and then we skate three sessions and in between we do our warm up before them. Then, depending on the day, we have ballet class, high interval training class, Pilates. We make sure we stick to our physical therapy a few times a week into our schedule whether we're feeling great or hurting to keep maintenance up on our bodies to prevent injuries.
Saturdays, we skate depending on how our week went. If Monday through Friday was super productive and heavy training and if we need two days off, we'll take it. If it was a lighter week and we could use a little bit more time on the ice, we'll skate on Saturday. We always have Sundays off to utilize as a resting day to break away from anything skating. We might do something outdoors, stay in and rest or go shopping. We'll do something that isn't too physical.
FSO: What time does your Monday through Friday end then?
AS: 5 or 5:30.
FSO: This season, you have two very different programs. How did you choose them and what do you like about them?
AS: Last year, around this time, in November or December, we chose the music Metallica and we were tossing around the idea of using it for our free program. It is so us and we were struggling with our "An American in Paris" free program. Our team collectively decided to stick to what we had and make it work.
As soon as last season was over, we decided that Metallica was going to be our program. Julie (Marcotte, choreographer) decided it was a better short program because that type of music to go on for four and a half minutes is too monotone and does not have enough variation in tempo. It wasn't so much the music was different and out of the box. It was more about, when we listened, we could feel how we could move to it and it was a genuine response when we first heard it rather than finding a piece of music we didn't understand or connect to right off the bat.
FSO: How is your quad twist progressing since last season and are you planning a quad throw?
CK: The twist is a normal element we do every day. We are really trying to show a good tap which is the biggest thing that we missed because we haven't received the level three that we want. We have played around with a quad salchow, but it's not something in our program or we're training every day. Potentially, we might have it. The triple toe is a new element this year so at the end of the year we'll see what we decide to do with that.
FSO: Two months from now is Nationals in St. Paul. How do you feel about defending your title and what do you think about the field of other U.S. pairs?
CK: We're confident going in we can defend our title. There are good teams that are going to be at Nationals, so it is not going to be a walk in the park by any means. We know we are capable of defending our title. It is just a matter of going out and executing our elements.
FSO: The World Figure Skating Championships are in Boston. How is it going to be if, all bodes well, you will be on the World team representing the United States?
CK: We're excited. We want to get there again for the third time. That is the goal past Nationals. We've talked about Worlds. We say, "When we get to Worlds, we are going to do this." We're confident we are going to make the team.
FSO: You mentioned, if you qualify for the World Championships, that this will be your third time competing at Worlds. How does that help you being veterans?
CK: It helps a lot because we're now in the field of senior pairs, one of the more experienced and seasoned with a couple of Grand Prixs. It's not like a brand new event and we're trying to take in the experience. We really want to fight for the top group.
FSO: Are you planning on competing to the 2018 Olympics or just taking one season at a time?
AS: 2018 is the #1 goal. We want to be on the podium. We are taking one season at a time. We would nothing more than defending our title to the 2018 Olympics. Yes, we'll focus at one season at a time but the end goal is the Olympics.
FSO: Let's talk off-ice for a bit. You are planning your wedding for this coming June. How hard is it to plan a wedding and compete?
CK: We started planning early which helps and we're pretty much finished with the major stuff. The hardest part was picking the venue. Everything is coming together nicely and it hasn't been as hard as we thought it would be because we've had a long time before the wedding.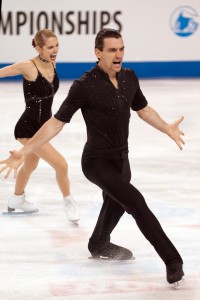 FSO: Any details you want to share about the wedding?
AS: It'll be sparkly!
FSO: I remember your little gray, Tabby. It's my understanding you have another cat and a dog now?
CK: That is correct. Besides Scarlet, we have another cat, Muffy, with long hair, and a dog, Cami, who is a Pyrenees Mountain dog and St. Bernard mix. She's only about 55 pounds and is six months old. We've taken her on a couple of fishing trips.

FSO: If you could be a super hero, who would you be?
AS: Cat Woman. Is she a super hero?
FSO: Sure, why not?
AS: I picked her because her outfit is sexy and my obvious love of cats.
FSO: Chris?
CK: If she's Cat Woman I'd have to be Batman.
FSO: But they're rivals though I think there may have been some love interest back in the 60's.
AS: Sometimes that tension and chemistry is good.
FSO: Alexa, you have a special friendship with U.S. pairs bronze medalist, Tarah Kayne. How did that develop?
AS: We are very similar in our physique and in our intensity as competitors. We are both hungry and want to be at the top. It brings us closer together. We have respect for each other and we want each other to do well. We have a sense of humor that we share so we can be sarcastic with each other and outwardly competitive. There's a fine line between us, but there's also an underlying support.
FSO: In closing, you had friends competing at Trophee Eric Bompard in Bordeaux, France, the same weekend as the horrific attacks on Paris, France. The event ended up being cancelled because of it. Is there anything you'd like to add as the nation of France and the world mourns the lives lost and those injured.
AS:  We understand that it's disappointing they have to miss their free programs that they have been training and focusing so hard on, but in perspective and considering the circumstances, skating is a gift to all of us and we want our friends and training mates to come home as soon as possible and to be out of harm's way. Skating can come second this time and their safety comes first.