By Gina Capellazzi, Team FSO website administrator
Photos by Robin Ritoss
Though she came home last month from Skate America with a bronze medal, her first Grand Prix medal of her career, Amber Glenn acknowledges she made some mistakes.
"Winning a Grand Prix medal is incredible, but it wasn't my absolute best performance," she admitted. "I left out a combo. I didn't do an extra double toe where I should have because I wanted to try and just stay on my feet and have a good performance."
But when she competes at her second Grand Prix of the season this week in Sapporo, Japan, hoping to possibly qualify for the Grand Prix Final, the 23-year-old from Plano, Texas is hoping to build upon her performances from Skate America, but this time, she won't be holding anything back.
"I'm not playing it as safe as I did at Skate America," Glenn told Figure Skaters Online Nov. 2. "At NHK (Trophy), I'm just going to really try and go all out."
"So far this season, I've had pretty decent free skates, but they've all been safe and I haven't gone quite all out like I know I can," she added. "So that's really just what my goal is to try and get out of my comfort zone a little bit. It's gonna be hard, but I will try my best."
Preparing for NHK Trophy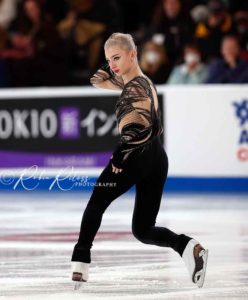 Since returning home from Norwood, Mass. last month, Glenn has been working to improve on those mistakes she made at Skate America. She said she has made no changes to her programs.
"Honestly, it's just about doing the darn thing," Glenn said. "It's really just been about repetition and small choreography details."
Glenn is also continuing to work on her triple Axel, which she will attempt in her free skate in Japan. The 2021 U.S. silver medalist first attempted the element during the 2020-2021 season, but has yet to successfully land the jump in competition. Glenn said she trains the jump each day at practice.
"If I have landed 5 (triple Axels) a session, then I try to leave it unless I have direct instructions to do more," she explained. "It's definitely something that I have to keep my body feeling physically well. I have had situations to where I'm not feeling my best and I'm still able to do it. But it, of course, is usually better when I'm in a good physical state."
Looking back on last season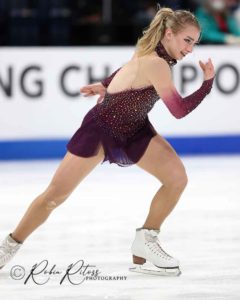 While Glenn is focused on the current season, she's often reminded of her 2021-2022 season.
"It's been asked in every interview," she said with laugh.
As the 2021 U.S. silver medalist, Glenn was considered one of the favorites to make the Olympic team, heading into the 2021-2022 season. She had even participated in Olympic promotions and events.
"It was very much implied (I was going to the Olympics)," Glenn said.  "All this outside pressure that I eventually started putting pressure on myself."
But competing at the Olympics was never a dream of Glenn's as a child. She said she just dreamed of skating on television, which came true when she was 14-years-old.
"It (Competing at the Olympics) wasn't like this huge thing that I've been thinking of my entire life," she mentioned. "It was something that 'oh, this actually might be possible.' As an elite athlete, who doesn't want to go to Olympics. But it wasn't necessarily something that I thought was possible (for me)."
In the offseason heading into the Olympic season, Glenn suffered some minor inquires that hindered her training and she felt that she wasn't consistent as she had previously been. Then heading into the 2022 U.S. Championships, Glenn said she felt the pressure building. She competed her short program in Nashville, but then had to withdraw from the event after testing positive for COVID-19.
"I started feeling bad, but I thought it was nerves," Glenn explained. "I saw someone got COVID, so I ended up taking a test and then I was positive. There was nothing I could do at that point."
"I felt like I was expected to make it (the Olympic team), so that made it all the more devastating. It was hard," she added.
Making a change
After the devastation of not making the Olympic team, Glenn knew she wanted to continue skating. "There's no way I could leave it the way I did," she said.
But in order to continue competing, she knew she had to make a change. At the end of April, Glenn left her home state of Texas and coaches Peter and Darlene Cain, who she had been working with since 2016. Glenn revealed that leaving the Cains was amicable.
"It was nothing harsh," she said, noting that the Cains were among some of the first people that congratulated her on her bronze medal at Skate America. "It was just that I needed to grow, not just as a skater, but as a human. I lived in the same city, the same place, my entire life."
So, Glenn relocated to Colorado Springs, Colorado to train under Damon Allen, Tammy Gambill and Viktor Pfeifer. She briefly stayed at the Olympic Training Center, but now lives with her partner, who  moved to Colorado with her.
Glenn isn't shy when sharing her thoughts on her new training environment.
"Being on the ice with a bunch of people where there's triple Axels flying every minute is great and it's been very motivating, she exclaimed."
Allen serves as Glenn's main coach. Glenn said she has known Allen for years.
"We have always gotten along, so having him has been wonderful," Glenn described of her new coach. "He's very level-headed and able to assess situations and put me in the right mindset."
Finding the right programs
For her short program this season, Glenn is skating to "Hit the Road Jack" performed by 2WEI, which was choreographed by Katherine Hill, an international choreographer and coach, and wife of 2006 Olympic silver medalist ice dancer, Ben Agosto. Hill is based in Colorado Springs. For her free skate, for the third year in a row, Glenn worked with Misha Ge, former Uzbekistan competitor turned choreographer and coach. Her free skate this season is to "Without You" by Ursine Vulpine & Annaca.
Glenn said when it comes to deciding on music for her programs, she just finds music she enjoys.
"Once I hear it, I'm like 'Oh, I can imagine a program to this,'" she explained. "I knew I wanted to have a strong, entertaining short program and I knew I wanted to have something that was more somber that goes into being really powerful for my free skate."
On top of the podium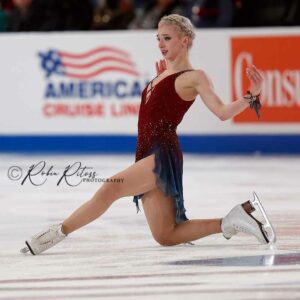 With one medal already on the Grand Prix, Glenn is hoping to medal at NHK Trophy and possibly qualifying for her first Grand Prix competition. She knows the competition is going to be tough as once again she faces World champion Kaori Sakamoto, of Japan, who won gold at Skate America. She will also face Japan's Rinka Watanabe, who won gold at Skate Canada.
"There are a lot of great competitors that are going to be there," she said. "At this point, I just want to skate relatively well."
Looking beyond the Grand Prix season, Glenn said her goal is to be on top of the podium at the 2023 U.S. Championships in January.
"My ultimate goal is to win Nationals," she remarked.
Glenn has been on the U.S. senior scene since the 2014-15 season. With the retirements of Alysa Liu and Mariah Bell, and the uncertain future of Karen Chen, Glenn is seen by many as the "veteran" among the top U.S. women. While she's thankful that her 23-year-old body has been able to keep up with the demands of the sport, Glenn sees the role as "veteran"  and as a way to assist the younger skaters coming up in the sport.
"Anytime I can be of any help to the younger generations, I try to be, especially when it comes to anything mental health wise or stuff that I know I struggled with when I was around their age that I wish I would have gotten some help or advice," Glenn shared. "I want the best for these kids that are going to be the new faces of figure skating and of course, I'm going to try and do my best to stick around and get my stuff done."